Your African Violet is developing a "neck" – a tall, leafless central stalk. Instead of the neat rosette of leaves you originally bought, your plant looks like an awkward, messy little tree. It may also be tilting to one side. Why do African Violets grow necks, and what can you do about it?
Necks are a normal part of African Violet growth. However, they look unsightly, and most Saintpaulia growers prefer to cover them up. You can repot your African Violet a little deeper to bury the neck. Or you could chop off the stem, scrape the scales off the bottom, and plant it in fresh soil.
Fixing a neck on your African Violet is an opportunity to give the whole plant a makeover. We'll give you some tips on grooming your Saintpaulia, along with instructions on helping it bounce back afterward. Let's get your African Violet looking gorgeous again!
---
What is a Neck on an African Violet?
If you're not used to growing African Violets, you might be wondering what exactly we mean by a "neck". You rarely see them in photos, because growers are usually careful to keep them under control! To hardcore African Violet fans, a photo of a necky plant is like a selfie with lipstick on their teeth.
The neck is the central stalk of the plant. When your African Violet is young, it's covered up by leaves. But as the plant matures, it gets taller, and the older leaves die off and drop away. This leaves an exposed stem that looks like a miniature tree trunk, complete with bark-like scales. That's the neck – sometimes called a gooseneck.
As time goes on, the stalk starts to droop under the weight of the crown of foliage. It will tip over to one side, sometimes taking the plant with it. Overgrown Saintpaulias have been known to shatter clay pots by flopping off of shelves and tables. Eventually, the upper part of the plant may even snap off.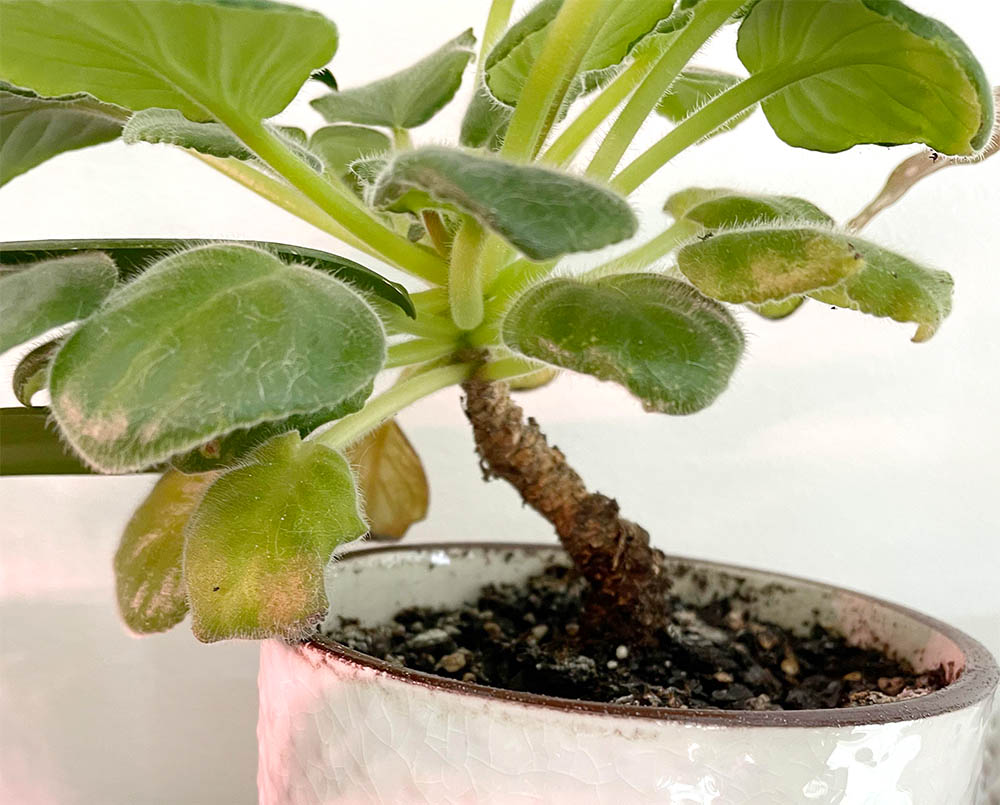 ---
Why Do African Violets Get Long Necks?
Necks may look weird and can be a major inconvenience for indoor gardeners. But they're not a sign of poor health. All healthy African Violets develop necks in time.
It's hard to be certain why this happens, but growers believe it helps wild Saintpaulias spread by asexual reproduction. We keep them in neat little pots in our homes, but in nature, African Violets like to sprawl. Their long, brittle necks may help Saintpaulias to colonize new areas. When the top snaps off, it can take root where it falls. One goosenecked African Violet can easily turn into two or more.
---
How to Fix Your African Violet's Long Neck
What can you do when your African Violet grows a long neck? Assuming you don't want to just let your plant's freak flag fly, you have two basic options.
First, you could transfer your Saintpaulia to a deeper pot, burying the neck under the soil. Or, if you want to keep the same container size, you could chop off the neck and replant it.
Either way, you should prepare some fresh potting mix – it's good to replace it periodically. You can make a good blend from 40% perlite, 30% coconut coir, 20% vermiculite, and 10% worm castings. Or you can get a premade African Violet soil, though we'd still suggest adding perlite to improve the drainage. Around ⅔ potting mix with ⅓ pelite should be good.
It's also a good idea to water your plant thoroughly the day before you transfer it. The move will stress out its roots, so let it get a big drink first.
You'll probably want to correct your African Violet's long neck once or twice a year to keep it looking nice. It's best to do it while the plant isn't in bloom. The beginning of spring, before the growing season gets underway, is ideal.
---
How to Repot an African Violet With a Long Neck
Repotting to bury your African Violet's neck is fairly simple. Start by choosing a new container that's deep enough for the stem and roots to fit under the soil. A pot that's a little wider than it is tall is best for these shallow-rooted plants. Click here for more information on choosing a pot for your African Violet.
Grip your African Violet loosely by the base of the stalk and tip it out of its container. If it's root bound, you may need to squeeze the pot or tap the base to loosen it. Once it's out of the pot, brush most of the excess soil away from the roots. You don't need them to be totally clean, but get rid of anything that's not stuck tight.
At this point, many African Violet owners like to remove some of the lower, older leaves. This can help restore your Saintpaulia's symmetry. It also lets your plant redirect some energy to repairing its root system and growing fresh foliage.
The leaves are very easy to remove by hand. Just pinch them at the base and give them a sharp tug. You can remove a significant fraction of the foliage without harming your African Violet. Just remember that the more leaves you remove, the deeper you'll have to plant your Saintpaulia to cover the neck.
Scrape off the outer surface of the neck with a sanitized fingernail or knife. Get rid of the scabby-looking brown bits, leaving a green stalk. This helps promote new root growth after you replant your Saintpaulia.
Now add some lightly moistened soil to fill the bottom ⅓ of the pot. Place your African Violet inside and bury it until the stem is underground again.
---
Cutting and Replanting Your African Violet's Crown
You can also fix an African Violet with a long neck by slicing off the crown and replanting that. This removes the need to shift it into a larger container. It's good for those who like their Saintpaulias compact. Some guides also claim there's less risk of rot this way.
It's up to you whether to take your entire African Violet out of the pot before chopping off the top. If you leave the roots in place, they may sprout new foliage. You can move the crown to a new container and get two plants for the price of one.
Either way, you should disinfect your shears before clipping through the stem. Try to do this with a single, clean cut. If your African Violet's neck is curving to one side, you might want to chop far enough up the stalk that you're left with only the vertical part. Otherwise, the plant may continue to grow at an angle once you replant it.
Next, remove the lower leaves and scrape away the scales from the neck as we described above. Bury the exposed stem in the potting soil. The lower leaves should be just above the lip of the pot.
---
Taking Care of an African Violet After Fixing its Neck
Your Saintpaulia will be extra-vulnerable to root rot and sunburn for a few weeks after you fix its gooseneck. To help it survive, water only when absolutely necessary, and keep the humidity high.
Many growers cover up their plants with a baggie, a vase, or some other transparent container. This prevents most of the water vapor from escaping. The soil stays lightly moist without any need for you to water it. You're basically creating a miniature terrarium – an environment that African Violets love.
Keep the plant away from any direct sunlight, too. It shouldn't be in the dark, but the sunlight shouldn't fall right on its leaves.
Once new leaves begin poking out of the top, you'll know your African Violet has made the transition successfully. You can remove the bag if you're using one. It's often best to take it off for just a few hours a day at first. Sudden humidity changes may shock the plant.
---
Final Thoughts
Dealing with long necks is a normal part of African Violet care. Once you've owned yours for a few years, you'll be able to perform this operation in your sleep. Until then, feel free to refer back to this guide for advice on keeping your African Violet's gooseneck under control.