Houseplants are an excellent addition to any room but can be tricky to balance the elements necessary for their growth. If you've recently purchased a Money Tree or have had one for a while, you may be curious if you've got the right light balance for your beloved plant. While we all know that trees need light to grow, but is it possible to have too much?
Is too much light a problem for Money Trees? Yes, too much direct light can cause damage to Money Tree leaves, resulting in scorched and discolored foliage. While you can't reverse the discoloration, you can make some simple adjustments and save your Money Tree from further damage.
We know that too much sunlight is harmful to our human skin, so it should come as no surprise that some plants are sensitive as well. If you're faced with discolored or damaged leaves on your Money Tree, don't lose heart. With some simple adjustments, you can rescue your Money Tree and keep it healthy and thriving for years to come.
---
How Much Light Does a Money Tree Need?
Money Trees thrive in very bright but indirect light. It is extremely important that while you give your tree tons of bright light, you do so out of the reach of the sun's rays. Money Trees cannot tolerate direct light on their leaves, even for a short period of time.
This means you need to avoid placing the trees directly in front of a window to get harsh light all throughout the day. Instead, place it a few feet back from the window. This will ensure it receives bright light but removes the potential for damage.
While many of us know which plants prefer direct or indirect light, there is sometimes confusion on what differentiates between the two.
Direct light is an unimpeded path of sunlight, while indirect light has been filtered or impeded in some way. You can always check the type of light your Money Tree is in by putting your hand out in front of the light. If your shadow has sharp edges, you're in direct light. If your shadow is more fuzzy and soft, this is indirect light and a great spot for a Money Tree.
You'll also want to take into account light intensity and light duration. Light intensity is the quantity of light received on a given area of a plant, while light duration is the length of time a plant is exposed to light.
While plants thrive with long periods of light, the light intensity can play a significant role in your plant's health. If there is too much light, the plant will convert some of that energy to heat and will need to use some of its water reserves to cool off. Over time, that can deplete the moisture in the soil and result in scorched leaves.
---
How to Know If Your Money Tree Has Been Exposed To Too Much Light
Have you noticed leaves turning white or yellow on your Money Tree? Your tree may be getting too much sun. Faded Money Tree leaves are often an indicator of too much light.
While discolored leaves are sometimes a sign of other problems with the plant (overwatering, underwatering), if you're confident in your watering routine, there's a good chance it has to do with light. If you're seeing these signs but are not convinced light is the problem, check out this article on diagnosing your Money Tree issues).
Check the soil to see if it feels overly damp, especially toward the container's bottom. If the soil doesn't feel excessively moist, sunburn could be the culprit. Here are some easy solutions to repair the plant.
---
What To Do When Your Money Tree Has Been Exposed To Too Much Light
Rest assured, if you've exposed a Money Tree to too much light, your plant can be saved, even if you have to lose a few leaves in the process. Experts recommend a few simple steps to remedy the situation:
First, move the plant to a location with less harsh light.
Next, trim off the damaged leaves with sterilized scissors or pruning shears. (Clean utensils matter for plants too!)
Rotate the pot after each watering to ensure even light hits the leaves.
---
The Best Location for Money Trees
Now that you know how to rejuvenate your plant, let's talk about how you can keep this from becoming a problem for your Money Tree again in the future: by placing it in the proper location.
Just because the corner in your living room is the most photogenic locale (sometimes we do it for the 'gram), that doesn't mean it's the best place for your Money Tree to live. While it's OK to move your plants around to stage a photo, make sure your Money Tree mainly resides in a spot where it can get consistent, indirect light.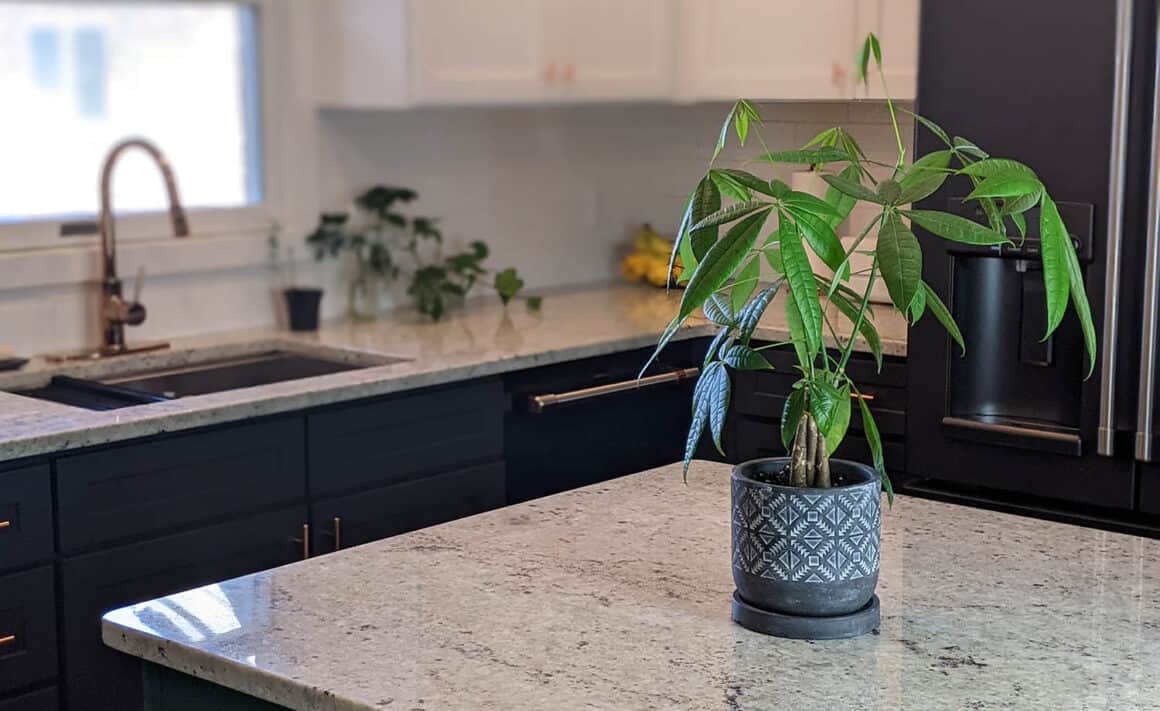 If you think you've found the perfect spot but notice direct light falling onto the leaves of your tree at some point during the day, move it back a few feet to a safer spot, further from the sun's rays.
Bathrooms can be a good option for plants that thrive on extra humidity (like Money Trees), but make sure they aren't too close to a vent or heater. Overly cool or hot drafts can affect the humidity surrounding the plant, moisture in the soil, and the health of the leaves. To add humidity to another room of your house, consider adding a humidifier. For more info on the best humidifiers for tropical houseplants, click here.
Some people take into account the ancient Chinese practice of Feng Shui when finding a spot for their Money Tree. Feng Shui is believed to regulate the energy flow through an interior space. Tradition suggests that placing your Money Tree in spots located with fortune or wealth, like a home office, may be optimal. The practice also suggests avoiding placing the Money Tree in areas associated with rest, like a bedroom.
Whether you subscribe to Feng Shui thinking or not, you'll still want to take into consideration the light and humidity conditions as mentioned earlier when finding a spot for your Money Tree.
---
Which Windows Are Best for Money Trees?
A north-facing window will provide indirect light all day, but east, west, and south-facing windows will provide brighter light. All three have direct light for some portion of the day, so you'll need to plan accordingly. If you have an extra sunny window, opt for placing the Money Tree a few feet away from the window instead of directly in the sill.
Blinds, curtains, buildings, or trees outside work as filters for some of the light coming in through windows. Keep that in mind when choosing the best light source for your tree.
---
What If My Money Tree Is Not Getting Enough Light?
As easy as it is for plants to get too much light, they can also get too little, which causes different problems. Plants need adequate amounts of sunlight to perform photosynthesis. Without enough sunlight, photosynthesis is significantly slowed, resulting in physical changes to your plant.
The leaves on a plant contain chlorophyll, which converts the sunlight for photosynthesis and gives leaves their green color. When the leaves can't absorb enough light, they turn lighter and may eventually turn yellow and fall off.
You may also notice your plant getting leggy or leaning toward the light. The leaves may become sparse, and the stems weakened. The scientific name for this state is etiolated, and it means your Money Tree needs a better light source. The growth rate of your plant will be stunted if it is not receiving enough light.
You can quickly fix the problem by moving the plant to a place with better sunlight, while still ensuring it doesn't receive harsh, direct light. If you can't find a good spot in your home, consider adding a grow light for additional light. Click here to find out more about grow lights.
By keeping a close eye on your Money Tree and making simple, but strategic adjustments to its light intake, you can keep your tree happy and healthy as it brings delight to your home.