When it comes to propagating a new Monstera deliciosa from a cutting, many people assume that water propagation is the best option – or even the only option. However, it is possible to grow a Monstera cutting directly in soil without starting the roots in water first. Both methods work equally well, although many plant owners have a preference as to which one offers more advantages.
Propagating Monstera deliciosa in soil is an easy process. Simply take a cutting from a healthy Monstera that includes at least one node and plant it directly into well-draining potting soil. Rooting Monstera cuttings in soil instead of water saves the step of moving the rooted cutting into soil later.
There are several reasons that people choose to propagate in soil instead of water. Some may find that it's a more straightforward method or that they get new growth from their Monstera more quickly using soil propagation. Others have curious cats that won't let a container of water sit undisturbed. And for some houseplant owners, they're just interested in trying out a different way of propagating this popular plant.
---
Can You Propagate Monstera Directly In Soil?
Water propagation seems to be the most common method of reproducing Monstera deliciosa, but it's equally easy to propagate this plant directly in soil. It makes logical sense that you can propagate this plant in soil because Monsteras growing in the wild spread by producing roots that attach to any available earth nearby.
Monstera deliciosa can grow roots even in poor soil or nutrient-deficient circumstances, but they tend to thrive when given the right environment to reproduce. Both water propagation and soil propagation methods have their advantages and disadvantages, so it's up to you which one you prefer.
---
Advantages and Disadvantages of Propagating a Monstera in Soil
Propagating in soil is easy. Both water and soil propagation are simple and straightforward and can be done successfully by novice plant owners. Soil propagation, compared with water propagation, removes one step from the process. When you propagate in water, you will eventually need to move your rooted cutting to soil. Propagating directly in soil eliminates this step.
Soil propagation also takes some of the maintenance out of the propagation process. With water propagation, you will need to change the water every couple of days and monitor to ensure the water does not become cloudy. Soil propagation still takes some attention, but it does not require checking as frequently.
Monsteras grow soil roots from the beginning. If you have ever propagated a Monstera deliciosa in water, you might have noticed that the roots it develops are different from roots on a Monstera that's growing in soil. They tend to be more delicate, even wispy, and lighter colored than soil roots. They are adapted to their moist environment, which is why you never get root rot in a water propagated cutting, but it can occur in plants that are in potting mix.
Although soil roots tend to take longer to grow than water roots (which can appear in two weeks or even sooner), they are the plant's "permanent" root system. Soil roots are more resistant to damage than water roots. By having soil roots from the start, you can avoid the wilting that sometimes occurs when you move a water propagated cutting into a pot.
You can't see the roots developing in soil. One disadvantage to soil propagation is that you have no visibility to what the roots are doing, unlike with water propagation. You have to rely on other signals (listed in the Caring for New Monstera Propagations section below) from the plant to determine root health.
Watering a soil-rooted cutting can be tricky. Unlike water-rooted cuttings, those growing in soil will need more attention paid to their moisture levels. In general, cuttings rooted in soil will need more water in the beginning as their roots form, gradually tapering off to the level that is typical of mature plants.
Too much moisture before the roots develop could lead to the stem getting soft and mushy, leading you to lose the node. Without the node, a new plant cannot grow. On the other hand, if you don't keep the soil-rooted cutting moist enough, the cutting will dry out and die before it can produce roots.
---
Taking Healthy Monstera Cuttings
To propagate a Monstera or any plant, you will need to take a healthy, undamaged cutting. It does not need to be a large piece, but there are a few requirements to ensure your cutting will produce new growth.
The ideal cutting will have 2-3 leaves and at least one node. It should be shorter than 6″ long if possible, to avoid the cutting falling over from the weight of the leaves. If the piece already has one or more aerial roots, that's even better. A single leaf that doesn't have a node will not generate a new plant because it does not have all the cellular components required.
A Quick Note On Nodes: If you're not familiar with Monstera nodes and what they look like, I recommend reading my other article on that topic to get a solid understanding. Nodes are the slightly thicker area on a Monstera stem, just below where a leaf, stem, or aerial root emerges from the main stem.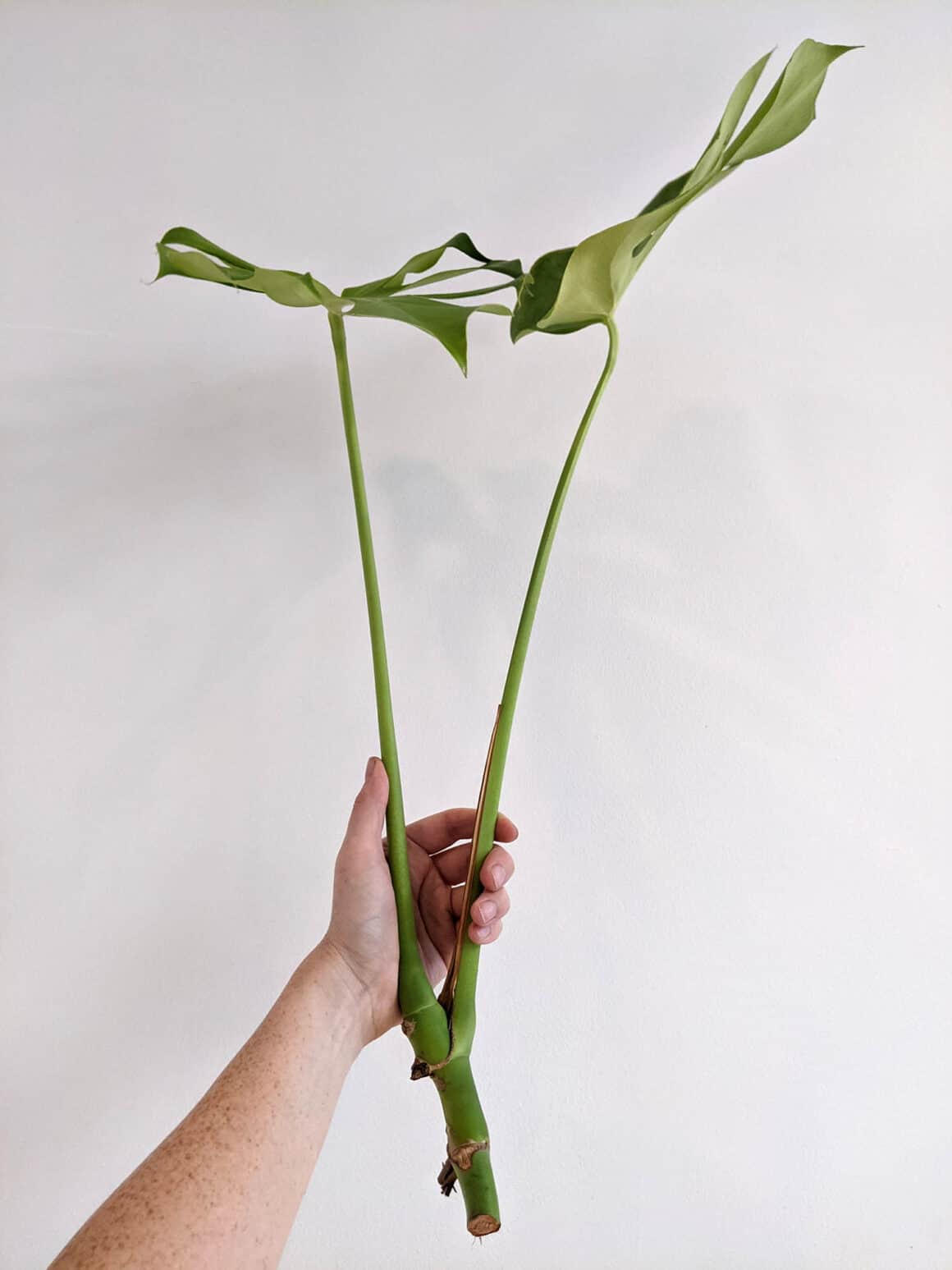 After you've identified an appropriate piece that includes a root node, you will need a sharp, sterilized cutting tool. A knife would work, or you can use pruning shears if you have them. Cut at least an inch below the node to make sure you include the entire node with your cutting. Make your cut at a 45-degree angle to the stem to maximize the surface.
If your cutting includes an aerial root, do not remove it. You can plant the aerial root, and it will help take in nutrients from the soil right away, just like a regular root would. In wild Monsteras, aerial roots will attach to and grow in soil or other surfaces they come in contact with, so they will do the same in your container.
---
Rooting Hormone: Do You Need It?
Rooting hormone is sold in liquid, gel, or powder form and contains a mix of ingredients intended to stimulate the development of new roots at the location on a plant cutting where it is applied. Commercial rooting hormones usually list indolebutyric acid (IBA) as the active ingredient, but there are a number of different options on the market, in addition to DIY options.
When it comes to rooting hormone for a Monstera deliciosa cutting being planted directly in soil, you can certainly use it to speed up the process if you already own some. It would not cause any harm and may encourage faster root development, but it is definitely not necessary for growing strong, healthy roots from a Monstera cutting. You can easily propagate them in soil without any rooting hormone.
---
Planting Monstera Cuttings in Soil
Be sure to have a container and potting mix chosen for your cutting before you start this process. You will want to pot your cuttings in a container with plenty of drainage holes to make sure the potting mix doesn't retain too much water.
A plastic nursery pot usually works fine. It is best to choose a fairly small pot to start and move up in size as your plant develops roots. However, it should be large enough that your plant will not be top-heavy.
To plant your new cuttings, fill the container with potting soil, and insert a pencil or finger to make a small hole to accommodate your cutting. Place your Monstera cutting into the hole with at least one of the nodes under the soil line, as this will be the place where the roots will emerge. Then cover with more soil and gently pack it down into place.
If the cutting you take is larger, you may need to stake the plant initially until the roots can form a solid foundation for themselves. A dowel or small stake should be all you need to keep the plant from falling over.
---
Choosing a Potting Soil for Monstera Propagation
Monsteras are not very particular about the kind of potting soil you use, but it should be coarse and drain well. This is necessary because Monsteras dislike having too much moisture around their roots. Mixing in some perlite or orchid bark can improve drainage if needed. You can read more about soil and containers for Monsteras in this article.
When you plant your cutting, at least one root node should be buried in the potting soil. If you have aerial roots, you can coil them around inside the pot and cover them with a layer of soil as well. Water generously and place your plant in a sunny spot.
For the first couple of weeks after you plant your Monstera deliciosa cuttings, you will want to keep the soil reasonably moist while the roots are developing. The plant may look dry or wilted during this time, as it is cut off from its source of nutrients and water. Don't panic, as this is completely normal. It should start to perk up in a short amount of time.
---
How to Know if Your Cuttings Have Rooted
Unlike water propagation, cuttings rooted in soil do not easily reveal when roots have started to grow. It can be a bit nerve-wracking to a plant parent because it is difficult to know if your propagation is successful or not without disturbing the plant to check the roots.
There are a couple of main ways to check for roots. The first would be to watch your plant for new growth and general health. If you see any new leaves emerging from your Monstera, you can be sure that it has healthy root growth under the soil. A plant can't put out growth without sufficient moisture and nutrients from the roots, so this is a clear sign.
The second method would be to pull gently on your cutting to see if there is any resistance. I don't really recommend this method unless your plant otherwise looks unhealthy, and I would not try it for the first few weeks after planting (since you could accidentally break delicate new roots).
If the cutting slides right out of the soil with this method, you will know that something went wrong in your process. If the cutting still looks healthy and there are no signs of rot, you could try again with the same cutting. Experiment with moving it to a brighter location or using the water propagation method again to see if you get better results.
---
Caring For New Monstera Propagations
After potting your cutting, you will want to give it a bit of extra attention until it has developed a root system and started to grow. You should give it as much bright, indirect light as possible during the initial growing period, which is why it's recommended to root cuttings during the spring and summer to maximize the potential for growth.
Be careful not to put your Monstera deliciosa cuttings in direct sun, though, as they can get burned. Leaves that are yellow around the edges or have dry, brown spots are indicative of too much sun. A sheer curtain can help to diffuse bright sunlight so that it is more suitable for Monstera's preferred light levels.
Aside from providing optimal light conditions, you will want to keep an eye on your watering patterns. Monsteras usually like to dry out between watering because they are susceptible to root rot when the soil is kept too moist. Rooted cuttings prefer more moisture than mature plants but still should not be allowed to get too soggy.
As much as possible, avoid temperature fluctuations around your Monstera cuttings. These plants grow in tropical locations in the wild, so they tend to dislike conditions that are too cold or drafty.
You might also like to provide some extra humidity while the cuttings develop, to give them the best possible conditions. Monstera deliciosa prefers humidity on the higher side of normal (around 60%-75%) for most homes. You could increase humidity by using a humidifier, a pebble tray, or by misting the plant occasionally.
In general, you should have roots established on your plant about a month after you put the cutting in soil. Monstera deliciosa is an easy plant to propagate and doesn't generally require a particularly green thumb to keep it happy.
---
Transplanting Monstera Cuttings to Larger Containers
Depending on the size of the pot you choose for your cutting, it will probably be happy growing in that container for the first year or longer. It is important not to move your plant into a larger container too soon since Monsteras can suffer if they're in a pot that is too big.
This rule especially applies to Monstera deliciosa that are growing their initial set of roots. Although the plant may be larger (depending on the size of the cutting you started with), it will take time for the cutting to develop a root system that corresponds to the size of the leaves. You want to take care not to disturb the plant before it has established itself.
That said, once a Monstera starts to grow, they can get huge very quickly! Most people need to repot this plant every two or three years. You will know it is time to size up your pot if you find you need to water more frequently than before or when you see roots emerging from the drainage holes.
Moving your plants to a larger pot is also a good time to think about adding a moss pole or trellis to support the plant as it grows. If your eventual goal for your Monstera deliciosa is to have it climb and get really large, the best time to add support is at the time you are repotting the plant. I have another article about moss poles and other supports that can help a Monstera deliciosa climb if you are interested in learning more.
---
Final Thoughts
Propagating your Monstera deliciosa is a great way to grow your houseplant collection or share plants with your friends. This plant is one of the easiest ones to propagate, regardless of which method you choose.
Propagating in soil instead of water has a couple of advantages, depending on your preferences. For the simplicity of keeping the plant in a single container and growing a strong, permanent root system from the start, propagating in soil is the way to go. If, on the other hand, you prefer to be able to monitor what is happening with the root development and you don't mind changing out the water every few days, water propagation is a tried-and-true method that suits Monstera deliciosa well.
Whichever method you choose to propagate your Monstera, ensure that you obtain a healthy cutting and give your cutting the right soil, light, and water. Providing good conditions will be the key to successfully growing lots of baby Monsteras!