Taking care of a new plant can be daunting, especially when you don't even know where to put it. One of the most important parts of being a plant parent is understanding where your plant babies want to live. And while Monsteras are resilient plants that can live just about anywhere, the key to a thriving Monstera is knowing where to put it.
Not sure where to place your Monstera deliciosa in your home or office? Monsteras love lots of bright, indirect light and high humidity levels, so any room that meets those needs will do. Also, be sure to keep your plant away from drafts from windows, doors, or heating/cooling vents.
Understanding the best location for a Monstera really comes down to understanding the care requirements for this beloved plant. Once you learn what conditions are best for thriving Monsteras, you'll have no trouble deciding where to place it in your home.
---
The Best Location for a Monstera Deliciosa is a Room That Meets Its Needs
Monsteras grow to be huge in the wild, so it is natural to wonder how well they can actually live indoors. Specifically, you might be wondering if your home and bedroom can give the Monstera the aspects it needs to thrive rather than just to survive.
As long as your bedroom, or wherever you would like to place your Monstera, has the right light conditions and meets its basic needs for humidity levels and environment, that room is a great choice for your Monstera. Monsteras are tropical plants, so if you are doing your best to recreate their natural habitat, your Monstera should grow healthy and happy.
So what exactly does a Monstera need when it comes to light, humidity, and environment? I'm glad you asked!
---
How Much Light Do Monsteras Need?
The easiest answer to how much light a Monstera really needs is lots and lots of it. Despite Monsteras being able to survive in low light conditions, the more light you can give your plant, the better. With more light, your Monstera's stems will become stronger, their leaves will fenestrate, and they will grow faster and fuller.
People often think that because a Monstera starts off growing in the rainforest's understory, they don't need much light, but that is far from the truth. In fact, if we look at the way they grow in the wild, that is all the proof we need. These plants develop aerial roots that are used to climb trees and reach heights over 50 feet. They do this to find light–that's how important bright light is to Monsteras.
But beware! The wrong kind of light will actually harm your Monstera. Direct light, or light that is too strong for your plant, can scorch Monstera leaves and permanently damage the plant. The key is to place your plant close to a light source but far enough back that the light is only indirect.
If you are unsure how to tell the difference between direct and indirect light, simply stick your hand between your plant and the window. If the sunbeam that hits your hand casts a shadow with hard lines, or if you feel the warmth of the sun on your skin, your plant is in direct light and needs to be moved further back into the room and away from the window. If you cannot feel the sun's warmth and your shadow is soft with fuzzy edges, congrats, you've found a good spot for your Monstera!
Don't put your Monstera right up against a window–that is a recipe for disaster as their leaves will sunburn from too much direct light. Instead, I typically keep my Monstera (and most of my plants) a few feet away from my southern-facing window, so they receive optimal amounts of light without the intensity of direct exposure.
Not sure if your Monstera is getting enough light? There are a few signs you can look for to help you determine. Check out this post, where I discuss five signs to tell whether your Monstera is struggling and needs more sunshine.
---
Monsteras and Humidity
It is important to remember that since Monsteras are from tropical climates, they love humidity and thrive in humid places. The humidity helps plants regulate the moisture in their leaves, and if there isn't enough, leaves can often get crispy or change color, which is hard to fix or reverse. Monsteras prefer areas with high humidity levels of at least 50%.
Different rooms in your home will have different humidity levels. Bathrooms, kitchens, and basements generally have the highest levels and are, therefore, some of the best locations for Monsteras. But you don't have to guess; there is a simple way to measure humidity levels.
To determine the humidity levels in your home, you'll need to purchase a hygrometer. A hygrometer is a small device that measures temperature and humidity and displays it on a screen similar to a thermostat (I have this model from ThermoPro). This small device is easily movable from one room to the next, allowing you to measure and determine the best locations in your home for healthy houseplants.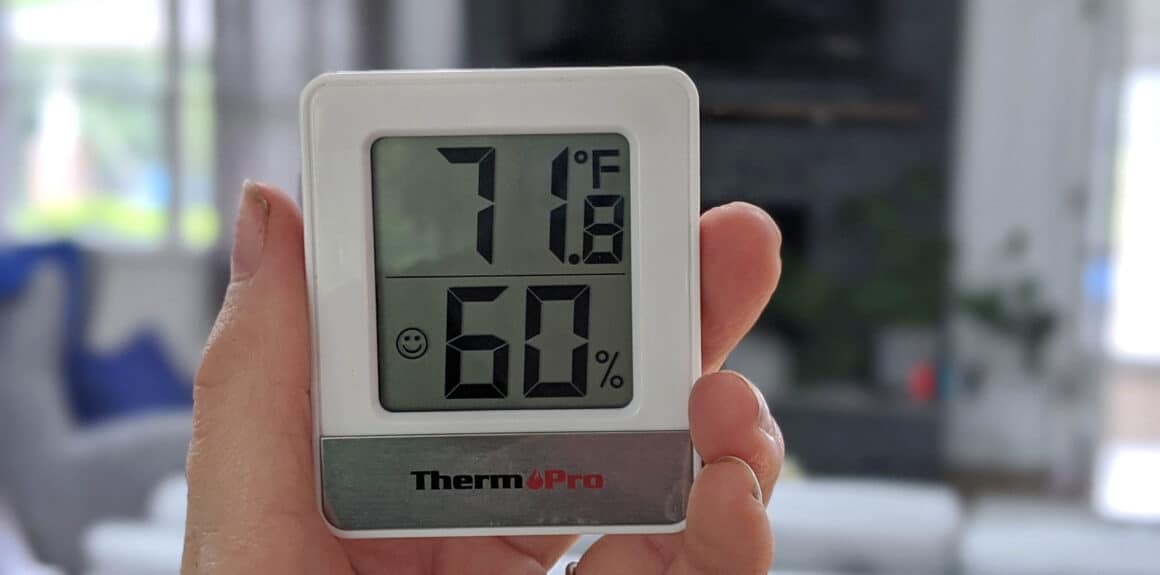 Depending on where you live and the time of year, humidity levels of 50% or more may be out of reach for you. In that case, you may need to add humidity to the area surrounding your Monstera for your best chance at a happy plant.
There are several ways to boost the humidity in your home. You can mist your plant regularly, group it with other plants, or place it on top of a pebble tray. But the most effective method is to add a humidifier to the room.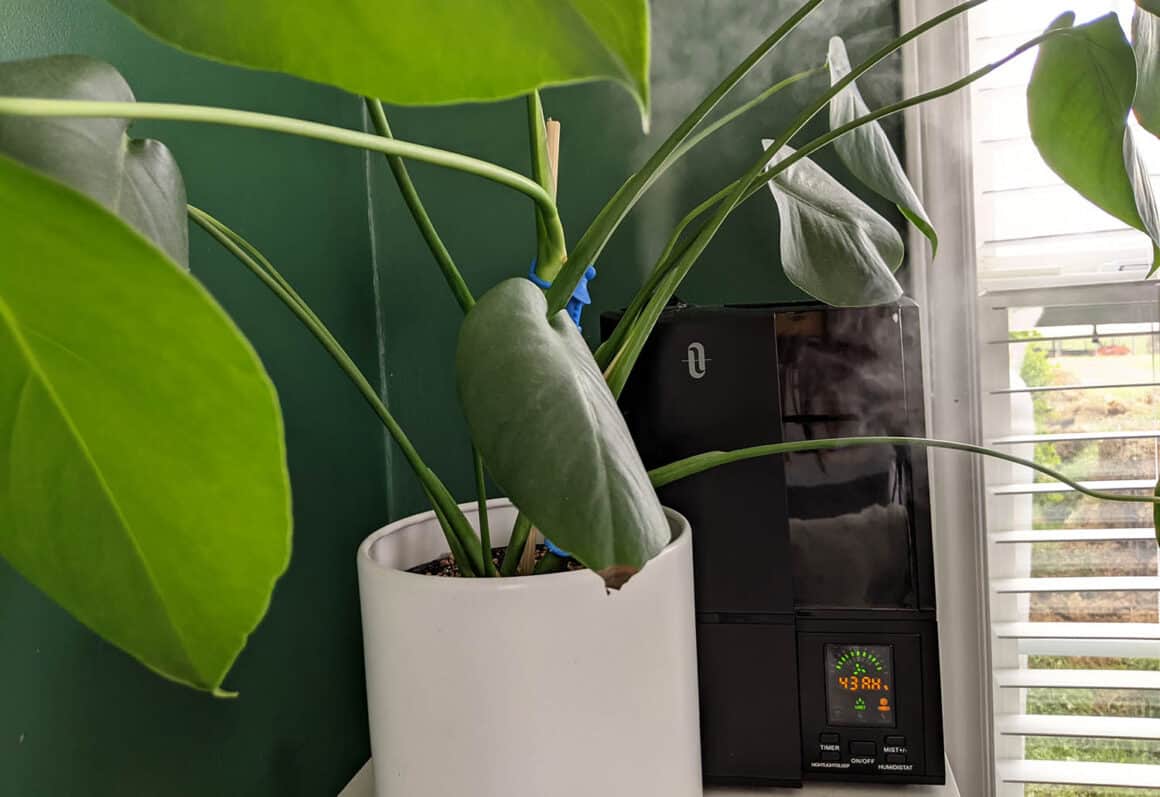 Humidifiers come in a range of sizes, options, and prices and can do wonders for your tropical, humidity-loving houseplants. My personal favorite is the 6L Warm & Cool Mist Humidifier. With a high-end humidifier like this, you can set the humidity level you want, and the built-in hygrostat will kick the machine off and on as needed to keep your room at your desired level.
---
Environments to Avoid for Monsteras
Just like there are places where you should place a Monstera, there are also general places to avoid. I've already mentioned avoiding direct sunlight exposure, but you should also avoid putting it near a draft or heater or anyplace where it will experience extreme temperature changes.
Cold air from drafts might send your plant into shock (especially since they thrive in hot, humid places), and while heaters provide heat, they blow out incredibly dry air that will cancel out any of your efforts to boost the humidity in the room.
It is always best to keep your Monstera out of any area with fluctuations in temperature. When placing your plant, take time to make sure that it won't be affected by sudden bursts of cold or hot air from open doors, windows, or HVAC vents.
---
Is Monstera Good For Your Bedroom?
I see a lot of people asking which plants are good for bedrooms. I am assuming this has to do with a plant's ability to purify toxins in the air and release oxygen. While all plants release oxygen during the day, few do so during the night time. If you are looking for a plant that releases oxygen during the night, consider adding a snake plant or bromeliad, which uses Crassulacean Acid Metabolism (CAM) for photosynthesis, and gives off oxygen at night. For more information on Monsteras' ability to purify the air, read this article.
If you're just asking in general, your bedroom may be a great spot for your Monstera, as long as it fulfills the plant's environmental requirements. In fact, a Monstera is an excellent plant for any part of your house that has adequate light, enough access to humidity, and is out of the path of any drafts of cold or hot air.
---
Where To Place a Monstera Deliciosa
Monsteras are tropical plants that love and need light to thrive. Plants that don't receive enough light become stretched out (or "leggy") and don't fenestrate (develop the beautiful splits and slits in their leaves). This not only highlights the importance of recreating its natural environment in your home but emphasizes the necessary amount and type of light needed for these gorgeous climbers.
Each plant and each home is different, but thankfully Monsteras are pretty resilient. But while a Monstera can survive in almost any situation, make sure it has enough humidity and bright, indirect light if you want it to thrive.