Whenever I get a new plant I always do my research to find out what environment will allow them to thrive. Humidity is often an important factor to consider. If you have a Pilea Peperomioides, also known as a Chinese Money Plant, and are trying to determine the conditions you need, I can help.
Do Pileas like humidity? Pileas are tropical plants, native to southern China. They do best in 65-75° F and prefer humidity levels of 50-75%. If your home humidity levels are low, you may want to add more humidity to the air with a humidifier or directly to your Pilea by misting it twice per week.
Home humidity levels can be easily measured by a small device called a hygrometer. If you don't have access to a hygrometer, you can look for other signs to give you a good idea of your home humidity levels. Pileas thrive in humidity levels of 50-75%. If you believe your home is on the dry side, consider using an additional source of moisture for your home and plants. Keep reading for my tips on raising humidity levels for healthy Pileas.
---
Ideal Conditions for Pilea Peperomioides
Pileas are hardy plants and can live in a range of environments. However, adjusting your temperature to between 65-75° and your humidity levels to 50-75% will allow these awesome plants to thrive.
Humidity in homes is often affected by the HVAC systems we use to provide air conditioning in the summer and heat in the winter. Running both air and heat will lower the humidity of your home and often bring your indoor humidity levels to around 40%, depending on the area in which you live. This problem is usually worse in the winter as cold air holds less moisture than warm air.
Low humidity can cause houseplant leaves to brown around the edges and if the problem is not remedied, leaves will become dry and crispy. When the air is drier, you may need to adjust your watering schedule to make sure your plants are keeping the levels they need.
---
How to Determine Your Home Humidity Levels
Different rooms in your home will have different humidity levels. Kitchens, bathrooms, and laundry rooms will normally have the highest humidity levels, along with basements which are notorious for high levels of humidity. That means that the rooms closest to those areas of your home will have higher humidity levels and may be more ideal for houseplants.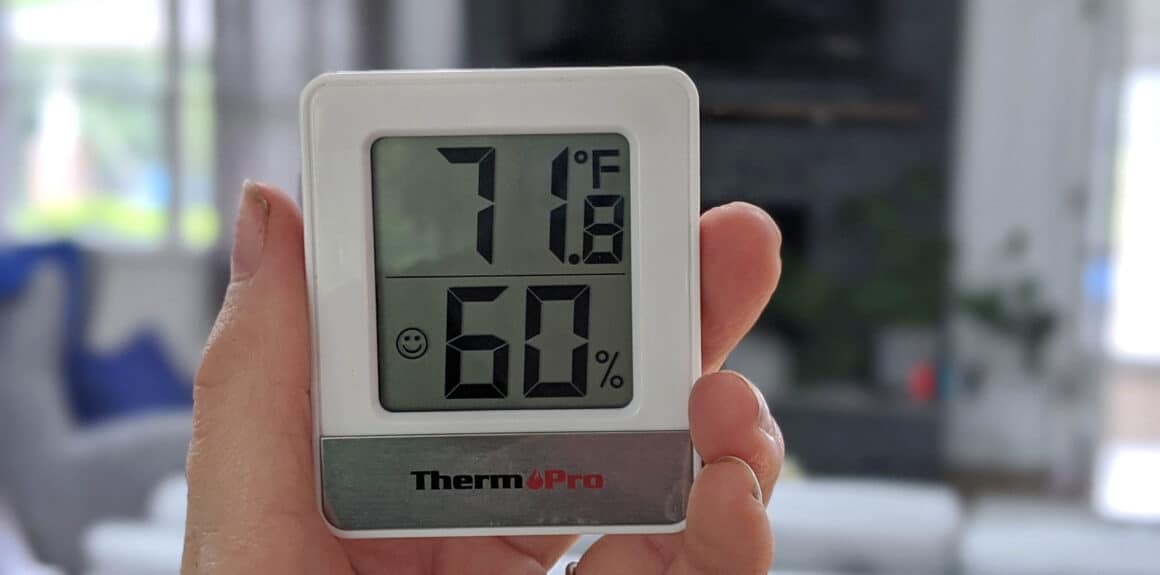 But how do you determine the actual humidity level in your home? The simplest way is to purchase a hygrometer. A hygrometer is a small device that measures temperature and humidity and displays it on a screen similar to a thermostat. Hygrometers can be purchased cheaply. (I have this model from ThermoPro). This small device is easily movable from one room to the next which will allow you to measure and determine the best locations in your home for healthy houseplants.
Without a hygrometer you can check your home for signs of high and low humidity. Fogging or condensation on the windows is an indicator of high humidity levels. Also, mold and moisture on walls points to high levels. On the flip side, low humidity is characterized by high levels of static electricity and dried or cracking paint or wood.
---
Using A Humidifier to Add Humidity To Your Home
The most effective way to raise the humidity level in your home is to add a humidifier. These machines come in a range of sizes, options and prices and can do wonders for your tropical, humidity-loving houseplants. If your home has low humidity levels, consider adding a humidifier to the room your plants reside in.
My personal favorite is the 6L Warm & Cool Mist Humidifier. This machine has a ton of features and a beautiful, sleek, modern look that doesn't detract from the aesthetics of my home. With a high-end humidifier, you can set the humidity level you want and the built-in hygrostat will kick the machine off and on as needed to keep your room at your desired level.
I've written an article all about why humidifiers make excellent additions for your houseplants, as well as lots of information on which ones are best and my personal favorites. To read more, click here.
---
Three Free Ways to Increase Humidity for Your Pileas
Are you noticing dry leaves with brown edges and tips on your Pilea? You should consider raising the humidity levels around your plant to give it the ideal conditions it needs to thrive. There are three simple ways that you can do this at little to no cost.
The first suggestion I have is to place your Pilea plant on a tray of pebbles as some people like to do with ferns. To create a pebble tray, simply fill a low dish or tray with small stones about one inch deep. The tray should be wider than your Pilea container. Fill the tray with water and set your Pilea pot on top of the tray. As the water evaporates from the tray beneath, your Pilea will receive extra humidity. Be sure not to put any stones or pebbles on your Pilea soil as it can make it more difficult for pups to come through to the surface.
Get the eBook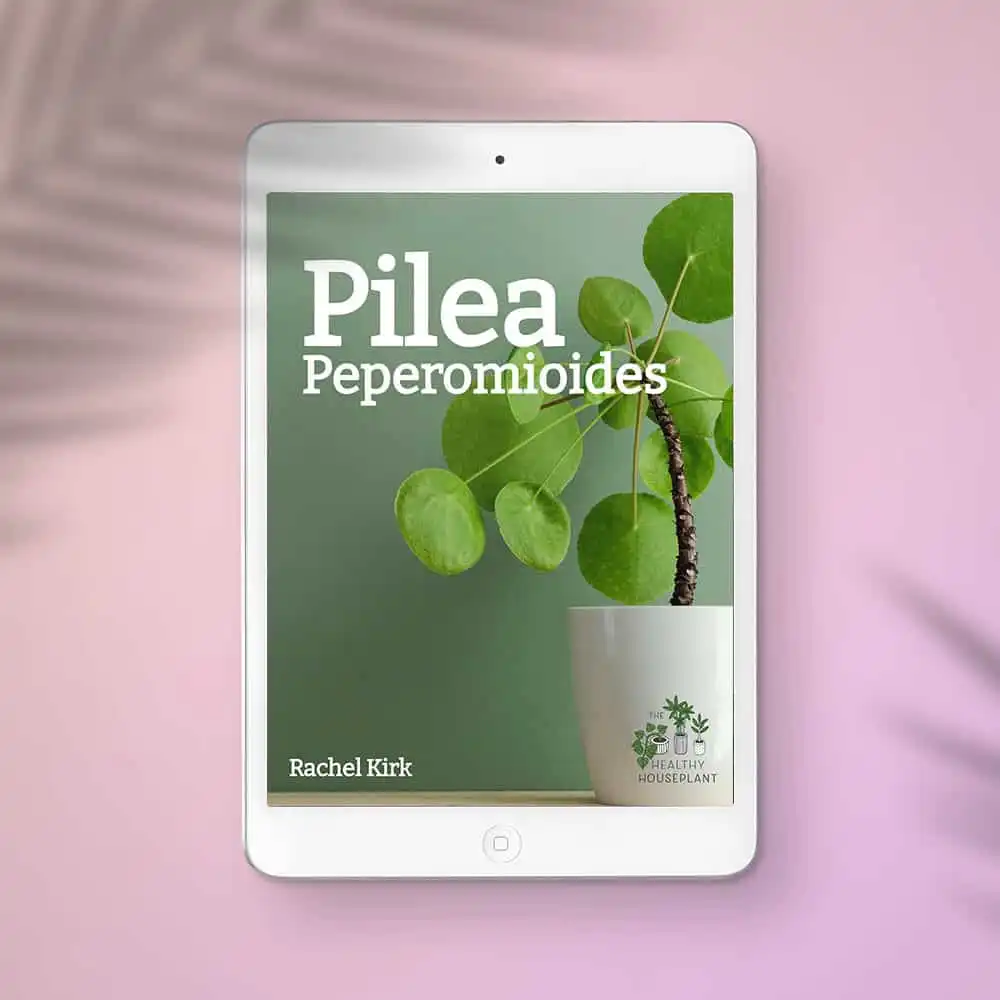 The Ultimate Pilea Care Guide
Don't waste your money by bringing home a Pilea that you're going to kill. Get our 70+ page ebook, and learn all the tips and tricks it takes to make your Pilea happy and healthy for years to come.
GET YOUR COPY NOW
A second option for increasing the humidity for your Pilea is to group it together with other plants. Plants release moisture from their leaves in a process called transpiration. When that moisture is released from plants, the water vapor increases the local humidity around the plant. With more plants together, the humidity level will be higher in that area. Do be careful not to overcrowd your Pileas though as they still need a lot of bright, indirect light to keep them from becoming leggy.
Finally, the most controversial option for adding humidity to your Pileas is misting. People debate the success of misting plants. Some believe that misting is helpful to raise humidity levels for tropical plants, while others believe that it may lead to problems for your plant like inviting pests and fungus.
I believe Pileas do well to be misted a few times per week But they don't like to sit in soggy soil, so you will need to be careful not to overdo it. Misting should not replace your normal watering schedule.
---
Misting: How to Do It and What to Use
Misting is a good way to slightly increase the humidity levels for your plant as it helps to decrease the speed in which Pileas lose water from their leaves. If you've opted to mist your Pileas, you may still have questions about how or when to do it. I believe that misting your plants two times per week is ideal.
To mist your plants, fill a spray bottle or misting bottle (like this one from OFFIDIX) with lukewarm water. Spray your Pilea leaves on top and bottom of the leaves. Your plant should look like there has been a light dew. Misting is best done in the morning so that your Pilea has time to dry out throughout the day.
---
How to Add Humidity to Your Home
Low humidity can have effects on humans as well as houseplants. Often, low home humidity levels can lead to dry skin and lips, scratchy noses and throats, and even nose bleeds. If you are looking to add humidity to your whole home instead of just the area surrounding your Pilea, there are several options you could consider.
The most common solution is to add a humidifier to your home. There are lots of options for humidifiers, from small, portable ones to bigger more industrials types. Humidifiers use a reservoir to hold water which it then releases into the air. The reservoir will have to be refilled regularly.
For a lower cost, more natural option, consider adding moisture to the air by placing a vessel of water on or near a heat source, such as a vent or radiator. As the water is heated, it will evaporate into the air adding moisture to the surrounding area. Be sure the vessel you use will not melt or release any toxins into the air when heated, like plastic or styrofoam.
---
Adding Humidity, Is It Necessary?
While Pileas do like to have extra humidity, especially in the drier, cold months of the year, it is not necessary to increase humidity levels to keep your Pilea alive. Pileas will be fine without adding additional moisture to the air around them, but often this small addition can cause the plant to thrive.
Do remember that Pileas do not like to be wet. In fact, it is important when watering Pileas to let the top inch of soil dry completely before providing additional water. When the air is drier, adjusting your watering schedule will probably be enough to keep your plant healthy, but adding humidity can help it thrive.