I was really hesitant to fertilize my Pileas at first, worrying it was either too complicated or a waste of my time. After I did my research though, I found that fertilizing Pileas is really essential to helping them grow and thrive, and it's not nearly as complex as I had originally thought. So, what should you feed your Pilea? And how much and how often should Pileas be fed?
Pilea Peperomioides like a balanced 10-10-10 fertilizer. They should be fed once per month during their growing season from spring to early fall. Too much fertilizer can burn your plant's foliage and may eventually kill your Pileas, so I always recommend diluting fertilizers to half strength.
When you first start researching, fertilizer can be a confusing topic. Between the N-P-K numbers and all the different ingredients, it's difficult to know which type is best for your houseplants. Even after you picked the right fertilizer for your Pilea, you still have to know when, how much, and how often to feed your plant. This article should answer all of your fertilizing questions as they specifically pertain to Pilea Peperomioides.
---
Why Fertilize Plants? Do They Really Need It?
Your first two questions are probably: Do Pileas really need to be fertilized and why does it matter? The quick answer is this – if you want them to live happy and healthy for many, many years, Pileas need fertilizing.
Let's think about it this way. In nature, plants have access to new nutrients all of the time. Whether by rainfall or by extending their roots to reach new soil, wild plants are usually able to find the nutrition they need.
When we move plants indoors, they do not have access to new nutrients as they are restricted to what is available in their small containers. Initially, Pileas are able to gain what they need from potting soil, but the available nutrients are soon depleted. Unless we specifically add nutrition into their soil, they are left without the elements they need to thrive. This is where fertilizer comes into play.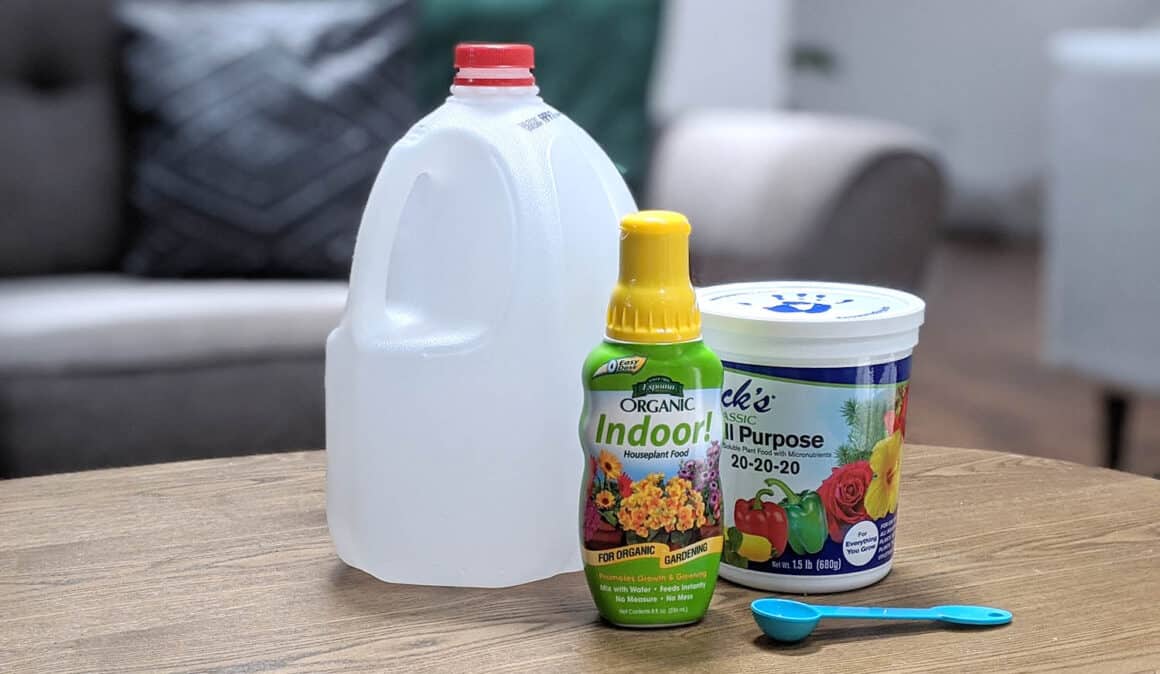 There is a common misconception that fertilizer is food for your plant. This is not true. Plants make the food they need from light, water, and gases in the air through the photosynthesis process. Fertilizer acts more like vitamins which can be added to your plant to make it stronger, healthier, and more able to fight off disease.
Most potting soil bought in stores is fortified with nutrients to help your plant thrive, but because Pileas only need to be replanted once every two years or so, they will use up what is available well before they're ready to be repotted in new soil. You cannot rely on the nutrition in your potting soil to keep your Pilea healthy over a long period of time. To keep a Pilea happy, you will need to continue to give it access to nutrients in its soil.
If you choose not to fertilize your Pilea, it most likely will not die. Pileas are extremely hardy and can live in less than ideal conditions. However, if you want a healthy and fast-growing Pilea for years to come, fertilizing can be extremely helpful for your plant.
---
What is Fertilizer Made Of?
Houseplant fertilizer is made up of a number of ingredients. Those ingredients are usually categorized as macronutrients and micronutrients. Macro or micro refers to the amount of that nutrient that plants need to be healthy, not to the importance of the nutrient to your plant.
The three primary macronutrient ingredients in fertilizers are nitrogen, phosphorus, and potassium. They are required for healthy growth in the largest quantities by plants. I'll discuss each of these ingredients and their benefits more in the following section. The most common secondary macronutrients include calcium, magnesium, and sulfur. Plants need smaller amounts of these items.
Micronutrients are just as important to plants, but they are needed in even smaller quantities. Micronutrients found in fertilizers are iron, zinc, manganese, copper, boron, molybdenum, and chlorine. Compared to macronutrients, only a very small amount of any of these nutrients is included in fertilizer mixtures.
---
Get the eBook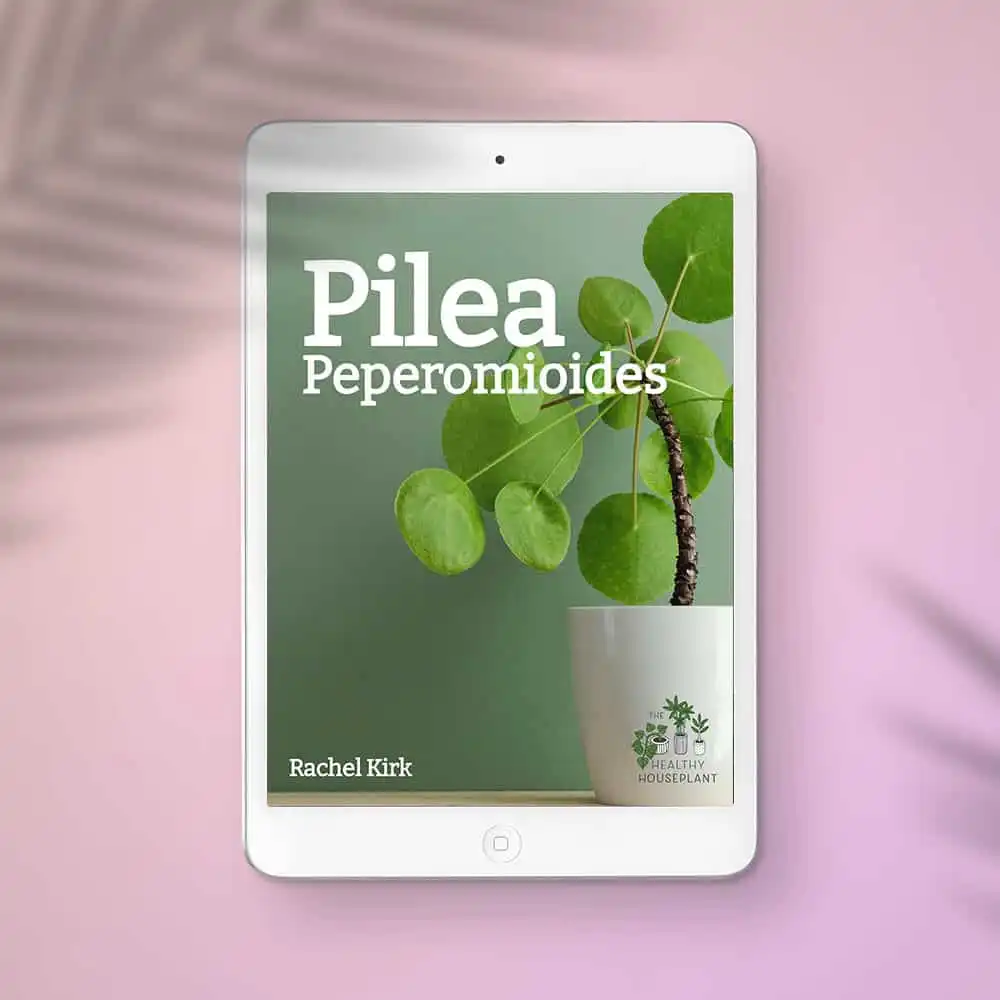 The Ultimate Pilea Care Guide
Don't waste your money by bringing home a Pilea that you're going to kill. Get our 70+ page ebook, and learn all the tips and tricks it takes to make your Pilea happy and healthy for years to come.
GET YOUR COPY NOW
---
What Do Fertilizer Numbers Mean?
On most fertilizer containers you will find a set of three numbers that look like this: 10-6-4. These numbers are N-P-K ratios and they tell us about the composition of a fertilizer which, in turn, denotes what type of plant each particular fertilizer is best used for.
N, P, and K stands for nitrogen, phosphorus, and potassium. The numbers tell us what percentage of the fertilizer mixture is composed of each of these primary macronutrients. A fertilizer that is 10-10-10 has 10% nitrogen, 10% phosphorus and 10% potassium, while a 12-6-8 mixture has 12% nitrogen, 6% phosphorus and 8% potassium.
Different types of plants need different nutrient ratios. The fertilizer you use on your lawn will have a different N-P-K ratio than one you would use for gardening homegrown tomatoes. Even different types of houseplants need different ratios of primary macronutrients, as each nutrient is helpful in different plant processes.
Nitrogen is the first primary macronutrient and is one of the major components in chlorophyll, which is essential for photosynthesis. Nitrogen helps to stimulate leaf and stem growth and it is extremely important for green foliage plants.
Phosphorus is the next macronutrient and encourages growth in roots. It is also very important for plants that have fruits or flowers. Plants that bloom need higher amounts of phosphorus to be healthy.
Potassium is represented by K in N-P-K, which is its elemental symbol on the periodic table. Potassium is the macronutrient that helps plants to become hardy and able to tolerate less than ideal conditions. Potassium also helps regulate water uptake and improves a plant's ability to fight off disease.
When Pileas have nutrient deficiencies, they become slow-growing and lose their bright green color, oftentimes resulting in leaves that turn yellow or brown before falling off. To avoid nutrient deficiencies in my Pileas, I like to use a diluted balanced fertilizer of 10-10-10 or 20-20-20, where the mixture contains an equal percentage of nitrogen, phosphorus, and potassium.
---
Organic vs Synthetic Fertilizer for Pileas
There is a large debate over which type of fertilizer is best: organic or synthetic. I use both and believe that either is a good option. Both accomplish the same thing but are composed of different materials. Which type you use is a matter of personal preference.
Organic fertilizer is made up of only natural ingredients and is usually more expensive than the synthetic, or chemical, options. Often a combination of plant and animal waste and bone meal, natural fertilizers are sometimes rather stinky. The components of natural fertilizers have usually not been processed and are therefore not as easy for your plant to immediately uptake. This type of fertilizer usually breaks down in the soil and treats the soil more than the plant itself.
Synthetic, or chemical, fertilizer is made of ground minerals and can be formulated with near-exact amounts of nutrients for plants. Chemical fertilizers are more cost-effective than organic fertilizers and are often more concentrated – meaning you'll want to dilute them before using them on houseplants.
For herbs or other plants that I eat, I stay away from chemical or synthetic fertilizers. However, for plants like Pileas, I have used both organic and synthetic fertilizers with good outcomes.
---
Different Types of Fertilizers
There are three types of fertilizers on the market: liquid, granular, and slow release. Pileas are not heavy feeders and should be given fertilizer that has been diluted to half strength. I find liquid fertilizers to be the easiest and best option for Pileas as they are easier to control how much you feed each plant.
Liquid fertilizer is either a concentrated liquid or a powder that is mixed with water and poured from your watering can onto your plant. Liquid fertilizer can be easily diluted and gives you a lot of control over how much is applied to your Pilea.
Granular fertilizers are pellets that can be mixed in with potting soil to feed a plant. This type of fertilizer releases all the nutrients at one time and can result in an overfed plant, burning the leaves of your Pilea. I do not recommend using granular fertilizer.
Slow-release fertilizers are available as pellets or stakes and are coated in a time-release shell that allows the fertilizer to slowly release into the soil each time you water. These formulas cannot be altered or diluted easily. Again, I prefer liquid fertilizer for Pilea Peperomioides and most other houseplants.
---
How to Mix or Dilute Fertilizer for Pileas
Too much fertilizer can be detrimental to your Pilea. Overfed plants are burned by excess fertilizer which results in discolored leaves and will keep roots from being able to absorb what they need, eventually killing the plant. For this reason, it is always best to err on the side of under-fertilizing plants.
The strength of the fertilizer you use is extremely important. Each fertilizer should come with instructions about how to dilute it with water. For Pileas, I always dilute my 10-10-10 fertilizer to half the recommended strength, so if a mix says to add 1 tsp fertilizer to a gallon of water, I always use ½ tsp instead. For 20-20-20 fertilizer, I dilute it to quarter strength. So for the above example, I would only use ¼ tsp.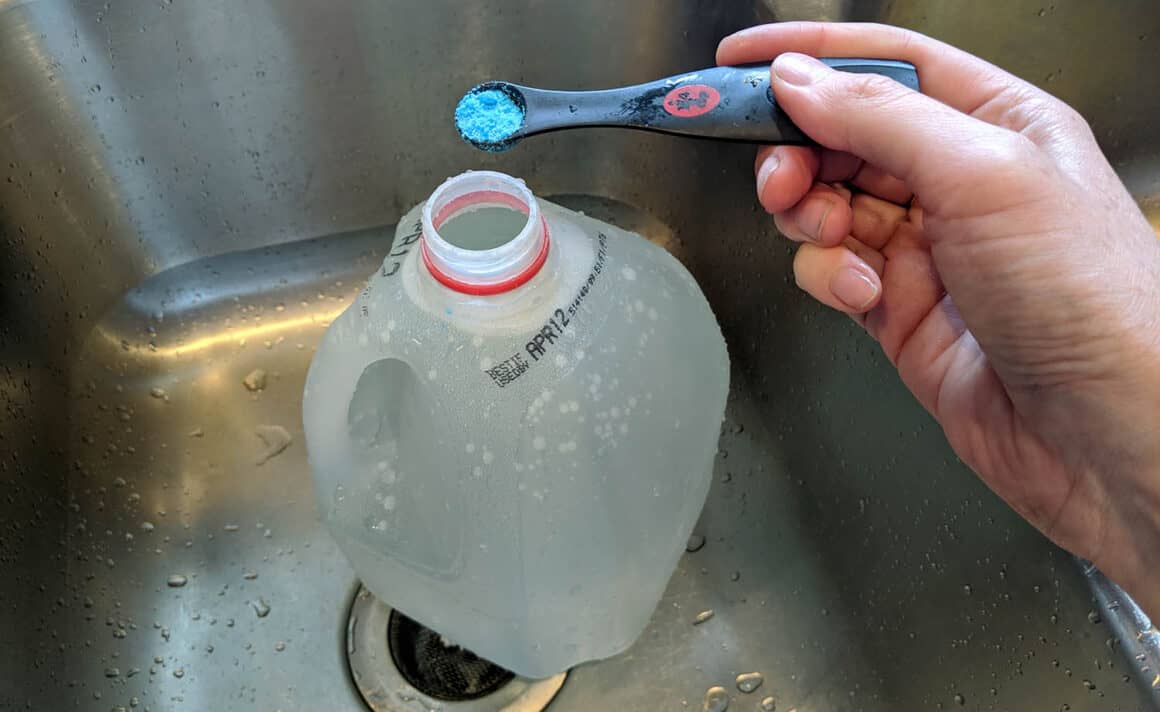 When using liquid fertilizer, which I believe is best for Pileas, you should mix your concentrate with water in a pitcher or jug. I prefer to use a milk jug as most instructions tell how much fertilizer you'll need per gallon of water. Mix until the fertilizer is fully dissolved before pouring on your Pileas.
---
How to Fertilize Pilea Plants
When it is time to fertilize your Pilea plant each month, it is important that your plant's soil is not completely dry. Soil must be damp for the fertilizer to reach all the way to the roots, which is necessary for absorption.
I like to fertilize my Pileas the day after I water them. Pileas do not like excess water but I find that watering the second day for fertilizing does not hurt my plants if I only do it once per month.
The fertilizer mixture should be poured over your plant until it runs out of the drainage hole. This will ensure that enough fertilizer will reach the roots to be absorbed by your Pilea.
---
When and How Often to Fertilize Pileas
Pileas should be fertilized once per month during their growing season. For most of us, the growing season for our Pileas will be from spring through early fall.
In nature, growing season is the time of year where the temperature and rainfall are ideal to allow a plant to grow successfully. When we pull plants into our homes, we expose them to consistent temperatures and watering, but we do not negate the growing seasons. Houseplants still have a portion of the year where they do most of their growing.
Growing season takes place during the warmest months of the year. For most people in the US and Europe, the growing season is from spring to early fall. During this time, you will see faster growth from your plant as it turns sunlight into energy more quickly.
During the part of the year where a plant's growth is slowed, it is said to be dormant. Pileas and other houseplants do not need to be fertilized when they are dormant as they are not in a state of active growth and aren't quickly absorbing nutrients.
Some plants are heavy feeders and need to be fertilized often for healthiest results. Pileas do not need as many nutrients and should only be fertilized once per month during the growing season.
---
My Favorite Pilea Fertilizers
As I said before, I prefer to use a balanced fertilizer mixture with equal parts nitrogen, phosphorus, and potassium. There are a ton of options on the market, but I am going to share with you my two favorite fertilizers, one synthetic and one organic, for Pilea Peperomioides.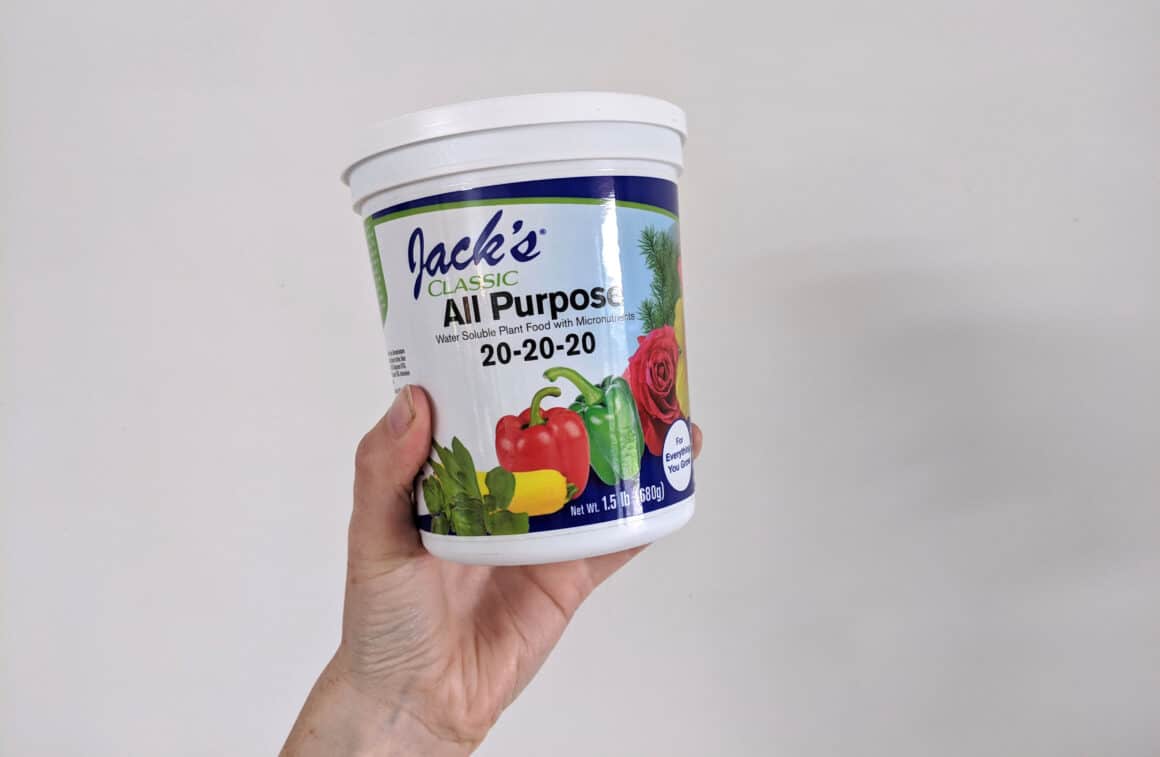 My favorite synthetic fertilizer for Pileas is this Jack's Classic All Purpose Fertilizer. Because it is a 20-20-20 mixture, I dilute it to quarter strength before watering my Pileas with it each month. That means I only use ¼ tsp per gallon of water instead of the recommended 1 tsp.
For a natural or organic fertilizer, I like to use Espoma Organic Indoor Fertilizer. For this, I dilute to ½ strength by adding one dose of 7ml to 2 quarts of water (or half of a gallon) and water my Pileas with it once per month.
Both fertilizer options will work well for your Pilea and which you use will depend on whether you prefer a synthetic or natural fertilizer. Personally, I use Jack's on my plants more often but have had great results with both.
---
A Quick Review
Whether you're the type of person who skips straight to the end for the answer, or you're just looking for a summary of the large article above, let me give you a quick review:
Pileas do not have to be fertilized, but because they quickly use up the nutrients available to them in the potting soil in their containers, Pileas are healthiest and happiest when they are supplemented with fertilizer.
I prefer to use a balanced 10-10-10 fertilizer diluted to half strength or 20-20-20 diluted to quarter strength on my Pileas. I feed them once per month when their soil is damp, during their growing season from spring through fall.
If you've been on the fence about purchasing a houseplant fertilizer for your Pileas, I hope this has explained the process well enough to remove any fear you have surrounding fertilizer. So what are you waiting for? Buy your plants some fertilizer today and get on your way to a healthier Pilea.