Most plants respond to changes in season, and the Money Tree (Pachira Aquatica) is no exception, even when grown indoors year-round. A native to the swamplands of Central and Southern America, the tree will slow its growth rate as it starts to enter a period similar to hibernation called dormancy.
Do Money Trees go dormant? Yes, like almost all plants, whether indoor or outdoor, Money Trees do go dormant in the colder months of the year. During this time, an indoor Money Tree will not shed all of its leaves but will slow its growth rate as it stores up energy for the coming spring.
Many people want to know what will happen to their Money Tree during the winter. While it won't lose all of its leaves, it will stop growing as an effort to store energy for the spring. Knowing what to expect from your Money Tree during the winter months can help you to provide the best in care for it, as it goes dormant.
---
What Does Dormancy Mean
All plants have a season where they are growing and a season where they are dormant. In nature, the growing season is the part of the year where the weather provides what a plant needs to produce new growth. When we move plants indoors, we expose them to a constant light source and temperature, but we do not negate their growing season.
The growing season takes place during the warmest months of the year. Growing season is denoted by the last and first frosts of the year, and for most of us occurs from spring to early fall. During this time, you will see faster growth from your plant as it turns sunlight into energy more quickly.
The further you are from the equator, the shorter your area's growing season will be. The opposite is true, as well. Tropical locations have growing seasons that last for most of the year, while those areas much further north or south of the equator will not have adequate heat or sunshine in the spring and fall, cutting growing seasons much shorter.
During the part of the year where a plant is not growing, it is dormant. The plant enters a state of metabolic inactivity and will slow its growth to conserve energy. This stage will continue until temperature rises, and conditions are better for fostering new growth.
The easiest example of this phenomenon can be seen each year on your front lawn. The grass around your home stops growing as the temperatures lower, and the days get shorter. Then, once spring arrives, your yard starts to turn bright green and grow quickly, needing to be mowed once again.
The same thing is occurring in your Money Tree. As winter nears, you will not see new growth from your Money Tree. You must keep in mind that your Money Tree is not dead or dying. Think of the plant as merely being in a type of suspended animation. Some of those once glossy green leaves may turn yellow and fall from the tree. Life, however, is still within the core and the roots of the plant.
While dormancy is naturally occurring, it may also be controlled artificially. As an example, daffodil and tulip bulbs are often chilled to send them into premature dormancy. They are then warmed and brought out of their dormancy to force them into bloom for a specific occasion.
---
How Does Dormancy Affect Houseplants?
Most, if not all, of your houseplants will go dormant in the winter. For your Money Tree, this is a crucial period of rest that is needed to help it store the energy it needs to grow again in the spring.
Houseplants that have been neglected may go into a period of dormancy until they are once again cared for. The plant will pull back all growing efforts, and instead focus all of its energy on keeping the roots alive, or on growing a more substantial root system.
As the summer temperatures fade, you don't need to do anything to get your Money Tree to go dormant. Dormancy takes place all on its own.
Houseplants have a natural ability to detect that the days of sunshine are shortening at the end of the summer. As the cooler temperatures approach, with the shortening of the days, the houseplant's growth will begin to decline as they approach dormancy.
If you live in an area that sees long, warm days year-round, it may help to relocate your houseplant into a darker and cooler area of your home in the fall and winter. This will encourage them to go dormant.
Dormancy will affect the watering schedule for your Money Trees and other houseplants. When your tree is not in a state of active growth, it will absorb less water. Keep this in mind and adjust your watering schedule to meet the winter's needs. A good rule of thumb is to water when the top 1-2 inches of soil are dry.
But do not completely neglect a tree in dormancy. It can be all too easy to forget about it and let it completely dry out. This will damage your Money Tree. Even a plant in dormancy needs some moisture to the roots.
The best time to transplant a Money Tree to a new or bigger pot is in the early spring. Your plant will be leaving its dormancy phase for its growing season. Transplanting at the time will give your tree the best chance to thrive as it will be ready to begin growing new roots and foliage to fill your new planter.
---
Do Money Trees Die or Lose Leaves in Winter?
Unlike the oaks and maples outside your home, your indoor Money Tree should not lose its leaves in the winter. The consistent temperatures and watering schedules inside our homes will keep your plant from needing to shed its leaves.
If you are noticing a steady loss of leaves in the winter, the cause is most likely an inadequacy in the care routine of your Money Tree. The most common issues are over and underwatering, too much direct sunlight, and insufficient nutrients in the soil. For more information on Money Tree leaf loss, read this article.
---
What to Expect From Your Money Tree This Winter
It can be unsettling to watch your thriving Money Tree start to appear like it's declining. If your Money Tree has otherwise been healthy and happy, the good news is that it's merely going dormant for the winter.
Your Money Tree should be kept in an area where it will be protected from the coldest temperatures. The plant's native habitat is warm and humid, so you will need to keep it out of the way of drafty windows and doors and away from heating vents.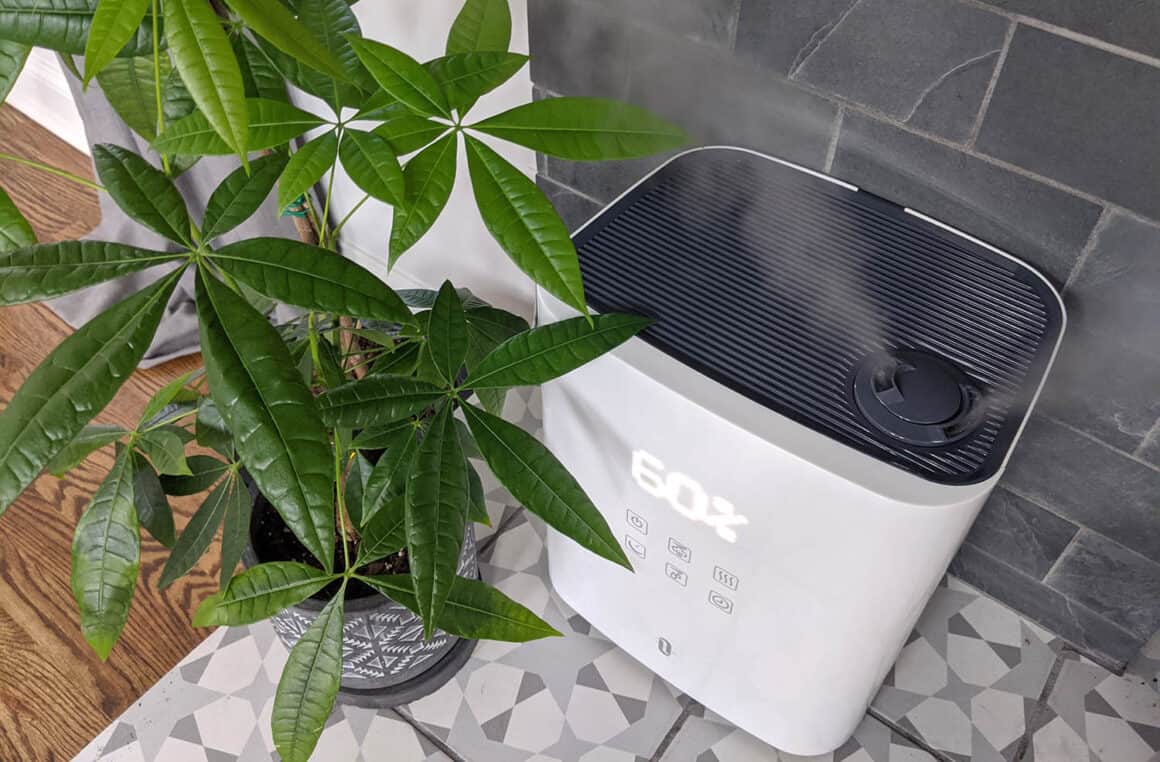 To keep the humidity levels your plant needs year-round, consider adding a humidifier to the room. (For information on my favorite humidifiers for houseplants, click here.) Other suggestions include misting, using a pebble tray, or grouping your plants together to keep the moisture in the air at a high enough level. 
Keep an eye on your Money Tree throughout the cold months of the year. Even though it is not in a state of active growth, it will still need water and sunlight. By adjusting a few small things within your care routine, you can keep your tree happy all winter long and help it to gain up its strength to start growing again in the spring.