Pilea Peperomioides are extremely popular houseplants right now. But, if you're anything like me, after completing a quick google search you're noticing that there is a whole family of plants out there with the same "Pilea" name. So I did some digging to compile information about the most common Pilea varieties.
There are over 600 varieties of Pilea within the Urticaceae family. All Pileas are tropical plants, and while some species make excellent houseplants in pots or hanging baskets, others prefer to live outdoors and are used as ground cover or border-edging plants.
If you have questions about what type of Pilea you have or what type you might be interested in purchasing, I hope this will help. This is not an exhaustive list of all types of Pilea, but I have given you information on the seven most common varieties.
---
Scientific Classification
Pilea is part of the scientific family Urticaceae, also called the Nettle family. Many species within this family are known for having small stinging hairs beneath their leaves which cause a painful rash upon contact. Pileas are one of the few Urticaceae species that do not have these stinging hairs. Urticaceae is within the order Rosales, which also contains the rose family and many common fruit trees.
---
Pilea Genus: What They Have In Common
The genus Pilea contains more than 600 species of tropical plants. They vary greatly from species to species and include both bushy, upright, and trailing varieties. They like high humidity, well-draining soil, and temperatures above 50° F.
Pileas are very easy to care for and because of this several of the smaller varieties have been cultivated as houseplants. The indoor varieties usually stay small, under 12" in height, and do well without much attention.
Like other plants, Pileas enter their growing season in early spring and will grow more quickly from spring to early fall. Once the colder months arrive, Pileas go dormant and growth will slow significantly through the winter.
Pileas love bright light but cannot tolerate direct sun on their leaves. They have a tendency towards sunburn, resulting in brown spots on their foliage. Indoors, Pileas should be placed near a bright window but out of reach of direct light. Outdoors, Pileas should be planted under overhangs or in areas where the light is filtered.
Pileas are tropical plants and many varieties will not survive outdoors year-round unless they are planted in USDA Hardiness Zones 10 and above. Some people have success setting Pileas outside in the warmer months in containers and then bringing them inside during the winter.
It may surprise you to know that Pileas are flowering plants. Pileas do bloom from time to time, but when they do their pink or cream flowers are so small that they often go unnoticed.
Pileas have a predisposition towards legginess, or etiolation, which is characterized by long, brittle stems. This is a result of the plant reaching out towards the light. Even with great attention to keeping your plant bushy or compact, many Pilea varieties begin to look leggy after a few years. Pileas are generally propagated easily through root cuttings, and some species are simpler to restart each year through cuttings rather than dealing with the unkempt legginess of older plants.
---
Pilea Peperomioides
Also Known As: Chinese Money Plant, Pancake Plant, Missionary Plant, UFO Plant
Certainly the most Instagram famous of the Pilea genus, Pilea Perperomioides have recently become a huge trend among houseplant lovers. While once scarce, these plants are now readily available. Pilea Peperomioides is a great plant for people who like to share cuttings with their friends as they are extremely simple to propagate.
Originally from the Yunnan province in Southern China, the plant was acquired by missionary Agnar Espergren who brought it back to his home country of Norway in the 1940s. As he shared planting cuttings with his friends, this plant became more and more available in Norway, becoming known as the Missionary Plant.
Pilea Peperomioides are known for their unusual, dome-like shape. They have large, round, coin-like leaves that grow from the end of long stems and connect to one central trunk. If Pilea Peperomioides are evenly rotated, they will develop the round orb-like shape that these plants are known for.
Pilea Peperomioides are very simple to care for, as are most Pilea plants. The biggest danger we pose to these Pileas is overwatering. They do not like to sit in soggy soil and will drop leaves and develop root rot if overwatering is consistent.
This Pilea variety does not need to be repotted often and can be left in the same container for one to two years before moving to a larger one. They do well to be fertilized with a houseplant fertilizer diluted to half strength once per month during their growing season.
Need more information on caring for your Pilea houseplant? Grab a copy of our book, Caring for Pilea Peperomioides, and learn everything you could need to know about watering, lighting, pruning, propagating and more.
---
Pilea Cadierei
Also Known As: Aluminum Plant, Watermelon Pilea
Another popular house plant variety is the Pilea Cadierei. Native to Vietnam, Pilea Cadierei is a perennial plant that grows quickly indoors. These Aluminum Plants, as they are mostly called, will grow to 12-18" tall and can only be kept inside as a houseplant except in tropical areas (USDA Zones 10+).
Aluminum plants are very simple to care for. They don't need much pruning and have few problems with pests. They should only be watered when the top of the soil is dry and fertilized once per month with houseplant fertilizer diluted to half strength during their growing season, from spring to fall.
This plant is characterized by beautiful, oval-shaped leaves, accented with metallic silver which create a quilted design. Bright light is important for this plant as its leaves will lose their variegation in low light. For the brightest leaves, it is best to set this house plant near a sunny, south-facing window, just out of reach of the direct sun.
Like most Pileas, the Aluminum Plant loves humidity. Pilea Cadierei actually does best in humidity levels of 70-80%, which is extremely high for indoors. To help these plants thrive, a humidifier is often the best source of help. If you do not have a humidifier, consider placing Pilea Cadierei in more humid rooms of your home such as the bathroom or kitchen.
Pilea Cadierei is known for its extensive root system which will even break a container to gain more space. The root density should be checked every spring to ensure there is enough space for your plant. If you notice the roots spiraling in on themselves and becoming tightly compacted, repot the Pilea Cadierei into a larger container.
---
Pilea Involucrata & Pilea Mollis
Involucrata also known as: Panamiga, Friendship Plant

Pilea Mollis also known as: Moon Valley
I'm addressing these two variations together as Pilea Mollis is a cultivar of Pilea Involucrata and is extremely similar. Cultivars are plants that have been created through selective breeding. Therefore, Pilea Mollis is a variation of Pilea Involucrata.
Native to South and Central America, these Pilea types make excellent houseplants. If you can accommodate their need for warm temperatures and high humidity, everything else they require is just basic houseplant care.
Both varieties are loved for their textured leaves which are fuzzy and almost quilted, with sawtooth edges. The color of the foliage varies but is most commonly bright green around the edges with deep maroon or bronze veins and red or purple undersides.
Pilea Involucrata, or Friendship Plants as they're more commonly known, are creeping plants that form dense mounds of textured leaves. The Friendship plant grows to an average height of 6-8" tall. Moon Valley, or Pilea Mollis, is more of an upright plant than the Friendship Plant, growing on average to a height of 12."
Like other Pileas, these two need bright, indirect sunlight to thrive and are best when placed near a sunny, south-facing window. Remember, direct sun will scorch the delicate leaves of Pileas.
These Pileas like to be kept in quick-draining soil and only watered when the soil is dry. Neither Friendship nor Moon Valley tolerate soggy soil well. Both thrive best with monthly fertilization from spring to early fall while the plants are in growing season.
---
Pilea Microphylla
Also Known As: Artillery Plant, Rockweed
Another super easy to care for Pilea is the Pilea Microphylla, most commonly known as the Artillery Plant. This plant is native to Mexico and Brazil and is less known as a houseplant but can thrive indoors if you can provide the plant with the humidity it needs.
The Artillery Plant has very small leaves that look almost like a succulent, round and plump. They spread out to create a nice umbrella-like canopy of foliage. The average Pilea Microphylla can grow up to 12" tall.
The Artillery Plant is sometimes called the Artillery Fern, although it is not a fern at all. The word artillery refers to the way the plant explosively "pops" its small, green flowers to eject seeds and pollen, like an artillery shell, allowing it to self-seed over a wide area.
This plant is a short-lived perennial and needs bright indirect light and monthly fertilization like other Pilea species. Artillery Plants should only be allowed to dry out a little between waterings and, because of their love for humidity, do well to be misted or placed in humid areas of your home.
In the wild, this plant grows and spreads quickly as a ground cover and is considered an invasive species in many countries. While it can only survive outdoors year-round in tropical zones from USDA hardiness zone 10 and up, it can be left outdoors in the summer and brought indoors for winter in cooler climates.
---

Pilea Nummulariifolia
Also Known As: Creeping Charlie
Not to be confused with Plectranthus Verticillatus, or Swedish Ivy, Pilea Nummulariifolia is another popular variety of Pilea. Mostly commonly known as Creeping Charlie, this Pilea is easy to care for and grows well in hanging baskets indoors.
Native to South America and the West Indies, this plant is often considered invasive when planted outdoors as it grows extremely quickly. A low crawling vine, Creeping Charlie will attach to anything in its path and can be found in the southernmost states in the US.
The foliage of Pilea Nummulariifolia is medium-sized, bright, glossy green, and has scalloped edges. Each leaf has sunken veins, giving the leaves a puffy or crinkly appearance.
Creeping Charlie needs to be pruned more often than most other Pilea species because of its quick, carpeting growth. The plant needs to be cut back regularly to keep from overtaking everything around it. Indoors, Pilea Nummulariifolia loves humidity and moisture and does well in hanging baskets.
---
Pilea Depressa
Also Known As: Baby's Tears
Native to Mexico, Brazil, and the Caribbean, Pilea Depressa is another plant that is simple to care for. Able to tolerate high humidity levels, like in a terrarium, this variation also does well in normal indoor humidity levels.
This Pilea has tiny leaves, smaller than a fingernail, that are bright green, round, and plump. The rigid stems of Pilea Depressa are easy to propagate and can be rooted at each node that touches the soil.
As with other Pileas, Baby's Tears are best when kept out of direct sunlight. Very little pruning is required of this plant, and it is a popular choice for a hanging basket where its stalks with many leaves can hang down.
---
Get the eBook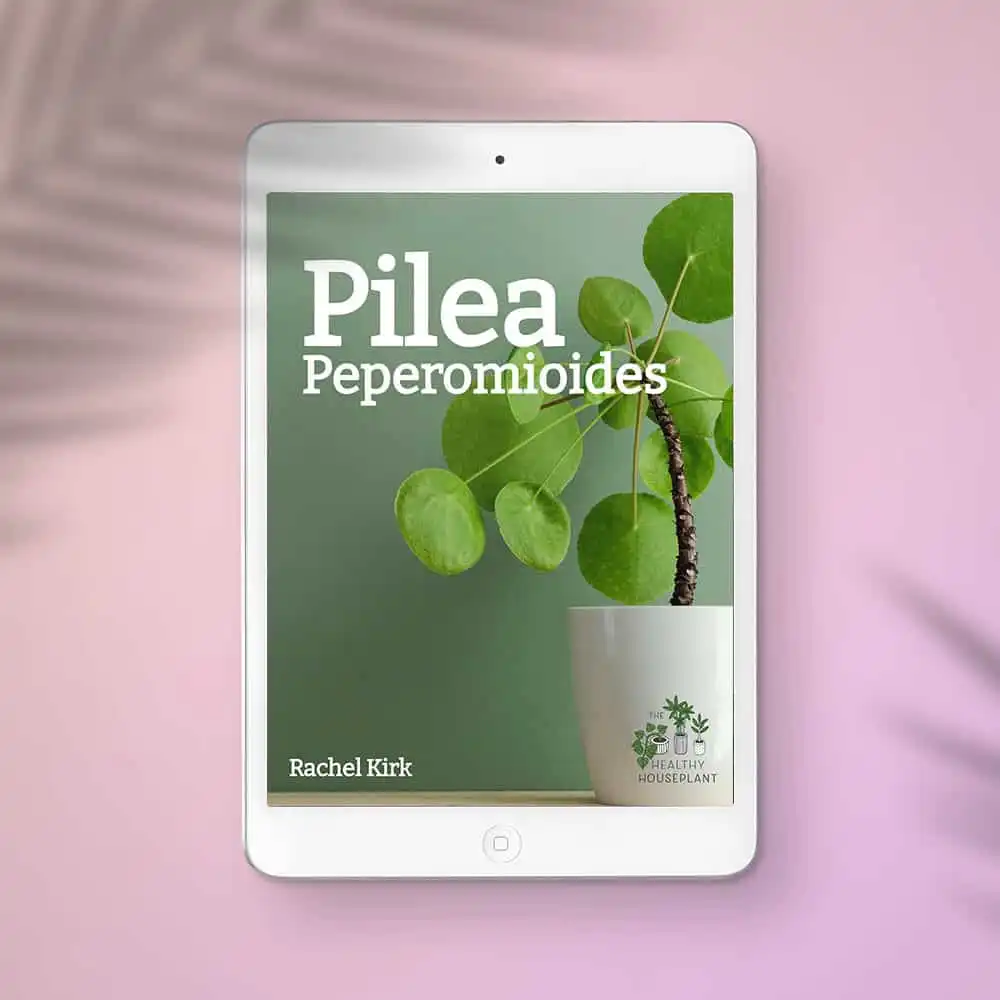 The Ultimate Pilea Care Guide
Don't waste your money by bringing home a Pilea that you're going to kill. Get our 70+ page ebook, and learn all the tips and tricks it takes to make your Pilea happy and healthy for years to come.
GET YOUR COPY NOW
---
Final Thoughts
No matter which species you choose, Pileas make great plants for houseplant enthusiasts as well as beginners. They come in all shapes and sizes and do not take a lot of work to keep alive.
Remember to keep all Pileas out of direct sunlight as they have a tendency to develop small brown spots when sunlight is allowed to touch their leaves. Whether they are upright in a planter or hanging from a basket, they do best near sunny windows but out of reach of the sun's direct rays.
Pileas can be purchased in home and garden stores locally, but are often more readily available online. Specialty shops such as Bloomscape and The Sill as well as lots of independent sellers on Etsy carry Pilea varieties. If you've been thinking about adding a Pilea to your collection, get one today and see how easy they are to care for.