Monstera deliciosa owners prize this plant for its large, shiny leaves, easy care, and the tropical ambiance it lends a room. They are also great for people who want to make a statement with a giant plant but don't want to spend a fortune. Monsteras can grow surprisingly fast when they have the right conditions, but they don't always naturally grow in the exact shape their owners want them to.
How do you shape a Monstera? You can change the shape of your Monstera deliciosa by pruning it or changing its environmental conditions. Pruning involves cutting off some parts of the plant, while environmental changes include altering light levels or container size or staking the plant.
In the sections below, I'll give you a brief overview of why Monsteras grow the way they do and what you can expect from this plant when allowed to grow naturally. I will also give you some tips for achieving specific Monstera shapes and information on training methods to reach your plant's desired look.
---
What to Expect from a Monstera Deliciosa
You may already know that the "Monstera" in this plant's name refers to its monstrous size. It is native to Central America and Southern Mexico but can be found growing in many other tropical areas, including the southeastern United States and Hawaii. If you have seen these Monstera deliciosa growing in the wild, you will know that they can be found clinging to trees as high as 70 feet.
Likewise, the largest leaves can be up to two feet wide on a wild Monstera. While you can't expect to reach these heights when growing Monstera deliciosa indoors, many people find this plant gets unruly and starts to take over a lot of space when allowed to grow without any training.
Indoors, Monstera deliciosa usually reaches a maximum growth of around 7-8 feet tall. Compared with a wild specimen, that may seem short, but it's still the height of many interior ceilings. Without being provided some direction, a Monstera deliciosa will usually get large and a bit messy within a few years, which is why many plant owners like to train their Monstera to grow a certain way.
---
How Fast Do Monsteras Grow?
Monsteras can grow very quickly, but their growth rate will vary significantly depending on the care they are given. They will grow much faster in the summer months than in fall and winter, especially if you can move the plant outside during the growing season.
Temperature, humidity, and light influence how quickly this plant grows, as do the pot size and the type of soil you use. For maximum growth, you would also want to provide a balanced fertilizer while the plant is putting out the most new growth.
Most sources suggest that you can expect 1-2 feet of growth per year if this plant is provided with ideal conditions. Unfortunately, most of us cannot provide exactly what Monsteras want, so it is probably more realistic to keep your expectations at the lower end of that range. Even so, there aren't many other houseplants that can reward you with that kind of growth rate!
---
How to Change the Shape of a Monstera Deliciosa
There are two main ways to change the shape of a Monstera deliciosa: pruning and training. Pruning refers to the strategic cutting of some parts of the plant (don't worry, you can propagate from the cuttings!) to remove stems or leaves in places you don't want them. Training the plant simply means redirecting the growth through some physical means – usually by staking it with a trellis or moss pole.
---
Pruning a Monstera Deliciosa
Monstera deliciosa is a plant that will probably need pruning occasionally to keep it from getting out of control. Because this plant grows as a vine, it will continuously stretch and reach for new areas to establish itself. That means that unlike many other houseplants, you can't really predict where and how it will grow.
By pruning the plant, you can limit its size and influence the shape of growth. Pruning should be done in the spring, ideally, just before the growing season. The only equipment you need is a sterile cutting tool (garden knife or pruning shears).
The first step is to choose which pieces of your Monstera to remove. You will want to make this choice based on the location of the nodes, and whether or not you want to propagate the cutting. For detailed information on Monstera deliciosa nodes, you can read this article.
Planning your cuts in advance is essential to creating the overall shape you desire. Step back and look at your plant. Decide which areas could use a trim and which should be left alone. Consider tying a small piece of yarn to the portions you want to trim, to remind you of your choices when the time comes to cut.
Once you have determined where to take your cutting, cut cleanly through the stem at a 45-degree angle. Be sure you do not cut through the node – cut at least an inch above or below so it stays intact.
Although Monsteras tolerate pruning well and usually recover by getting even bigger and stronger, it is best to limit your pruning to a maximum of about 20% of the plant's total size at one time. More than that can cause stress to your beloved houseplant. If you have more questions on pruning Monsteras, read this article for a more thorough overview.
---
Training a Monstera Deliciosa
Depending on your goal, you can train your Monstera in different ways. You can provide it with some support structure, prop it up or move parts of it around, or tie certain parts of the plant so they will grow in a different direction.
You can train your Monstera to grow in certain directions by tying it with string or twine or by simply moving some parts of the plant around. For example, I had a long stem trailing over the side of the pot and had several small leaves on it. I could have simply pruned off that piece, but instead, I was able to curl that stem back into the pot without damaging it. Before long, it had grown roots and was established in the pot.
If you use a trellis or moss pole, you will probably need to train the plant by tying it to the support for a while. However, once your Monstera starts its vertical growth, it will most likely continue in that direction up the support without needing further training.
Want more information on training Monsteras to climb? Click here.
---
How to Make a Monstera Fuller/Bushier
Is your Monstera deliciosa looking a little sparse or scraggly? A few different factors lead to a plant looking full or bushy, but they mainly have to do with the number of leaves and where they are located on the plant.
Monsteras tend to get leggy when they aren't exposed to enough bright, indirect light. Leggy Monsteras have smaller leaves at the end of long stems and petioles and little to no fenestrations. Some people like this sort of appearance, while others feel that the bare stems are unattractive – especially when they have a lot of mature nodes that can look dry or woody.
There are a few good options to get a full, compact plant. I recommend using all of them for the best result. First off, check your light, soil, and pot size to ensure you are providing the right setup for your plant. Monsteras sometimes develop long stems to get their leaves closer to the light source, so you'll want to remedy any environmental issues before following any of the other tips.
Next, check out how many stems are actually in your pot. Several stems in your container will give you a fuller look than if there are just one or two. If you're able to take a cutting, you can propagate that piece right in the pot. If your plant isn't big enough to propagate yet, it's best to just wait for it to become more mature. It may become bushier on its own.
If you have plenty of stems but small leaves, use the tips in the section below (How to Grow Bigger Leaves on Your Monstera) since large leaves will hide many of those bare stems that you are noticing. Again, make sure your plant has plenty of light to remedy small leaves.
Finally, and most importantly, pruning will help you get a plant that looks full and lush. Start by cutting off the pieces that are growing farthest from the center of your plant.
Remember that new growth can be triggered at the node where you cut, so I usually like to cut long stems back to just above the node closest to the soil. That way, I have the best chance of getting a new stem located at the plant's center.
---
How to Grow a Monstera Bigger/Taller
A big and tall Monstera deliciosa is the natural result of giving your plant the best possible conditions. Basically, a happy Monstera will grow big and tall. While we don't all have tropical greenhouses to create ideal homes for our plants, there are several things you can do to grow a giant Monstera, even in less-than-perfect circumstances.
First and most importantly, your plant will need plenty of light (but minimal direct sun). People refer to fertilizer as "plant food," but it would be more accurate to say that sunlight provides a plant with the energy to grow.
South- or west-facing windows (with a sheer curtain if it's too sunny) give Monstera deliciosa a great amount of sun, but of course it will depend on how big your windows are, whether there are any obstructions, etc. It can be challenging to gauge exactly how much sun your plants are actually getting, so some people like to use a light meter.
If you can, move your Monstera to a shady outdoor area during the summer. This is hands-down the best way to get incredible growth in one season. Not everyone has the right environment to do this, but if you can find a way, you'll be rewarded with lots of new leaves and several inches of growth by the time you bring it back inside in autumn.
Second to light levels, other environmental factors like temperature, airflow, and humidity contribute to the overall size your Monstera can reach. This plant is tolerant of most of the typical household conditions, but they can suffer in conditions that are particularly dry, cold, or drafty. Make sure to remedy any of these issues to encourage maximum growth.
Finally, Monstera deliciosa grows bigger and taller if you provide it with support to grow on. Not only does the plant itself grow larger and faster, but leaves also get bigger when they're growing vertically compared with Monsteras that are allowed to trail. For more details about how to grow a huge Monstera deliciosa, read this article.
---
How to Keep a Monstera Small
There are definitely some Monstera owners who find themselves overwhelmed by the size these plants can obtain. That cute plant you brought home from the nursery may be two or three times bigger after a couple of growing seasons, and it can be hard to make enough space in some homes to let this plant keep on growing.
If you're wondering how to have a Monstera but not a monstrous one, you'll be glad to know there are some options for keeping this plant small and manageable. Consistent pruning is the most common method. Once your Monstera reaches the size and shape you prefer, you could simply remove new growth as it comes in.
Another option is to restrict the root size by keeping it in the same pot for as long as possible – the plant will not be able to get too big since its access to space and nutrients in the soil will be restricted. Eventually, though, you will need to prune the roots themselves if you want to continue growing the plant in the same pot. For more information on keeping Monsteras small, click here.
---
How to Grow Bigger Leaves on Your Monstera
One of the hallmarks of Monstera deliciosa is its large, distinctive leaves. Mature Monstera leaves develop the fenestrations (holes) that are one of this plant's defining features. However, when the plant is still young, and the leaves are small, they don't have fenestrations.
Although there is no consensus about why Monsteras grow perforated leaves, one theory is that it prevents damage during high winds by reducing wind resistance. If that is the reason, it makes sense that young plants would not have them since they are usually closer to the ground.
Bigger leaves with fenestrations generally come along with the overall growth of the plant, so the most important thing is to make sure that it has the right environment to promote growth. That means proper sunlight, hydration, and nutrients that correspond with where the plant is in the growing cycle, along with the proper potting mix and a container suitable to its size.
There are also a few things that seem to help Monsteras grow larger leaves in particular. Anecdotally, it seems that bigger leaves develop on this plant when it is given something to climb, such as a moss pole or trellis.
If it's the growing season, and you have all the other factors right for your Monstera, a balanced fertilizer can give your plant that extra boost to develop some massive leaves. Be sure you're not using fertilizer to try to correct deficiencies in care, though. It is not a substitute for giving a plant the proper conditions and attention. For more info on fertilizing Monsteras, read this article.
---
How to Grow a Monstera Upright/Vertically
One of the problems that people encounter with Monstera deliciosa is that it starts to grow out instead of up. Since most of us have more vertical space than floor space, I wrote another article about how to get your Monstera to grow upright, which you can find here.
The primary way to get a Monstera deliciosa to grow vertically is to provide it some kind of support to climb instead of trailing onto the floor. Moss poles are popular since many people like the natural look that complements Monstera's tropical appearance.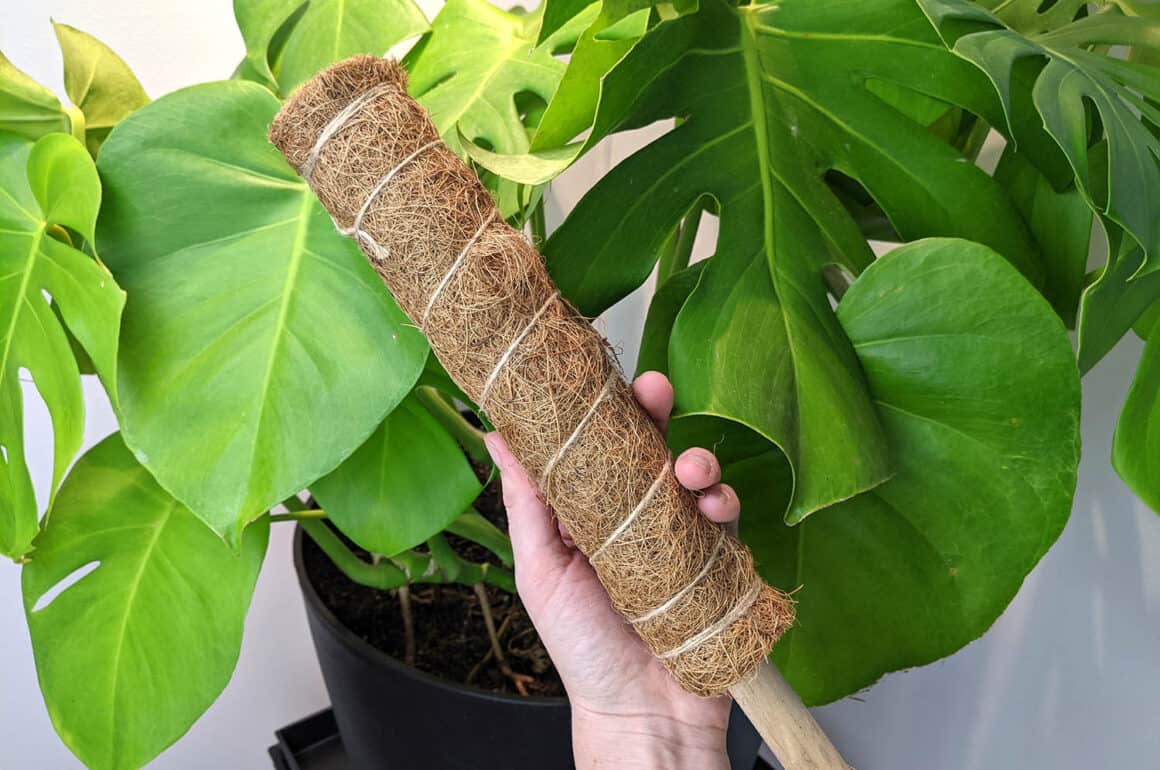 But moss poles aren't the only option. A trellis or bamboo stakes are also frequently used to provide support for Monstera deliciosa. Just remember that the support structure needs to be sturdy enough to handle the weight of a mature stem. If you are interested in some additional information about growing your Monstera deliciosa on a moss pole, you should head over to this article for details.
You might also use judicious pruning to shape the plant into an upright growing pattern. That just means removing the stems and leaves growing out (as vining plants do) instead of up (like a tree). Ironically though, plants tend to create new growth at the point where you prune them, so this idea may keep you pruning often.
Finally, you can encourage upright growth by taking advantage of plants' natural tendency to grow toward their light source. In our homes, this would usually mean that the plant grows toward a window that's on one side of the plant, but a Monstera directly under a skylight or grow light will naturally grow more vertically than one that gets light from a window.
Ultimately, a Monstera deliciosa that doesn't have a support structure, such as a moss pole, will not sustain its own weight if it gets big enough. These plants are not made to hold up their own weight, so they will get too top-heavy. Most likely, the stems will start vining onto the floor or rest on whatever is nearby.
---
How to Grow a Monstera Up a Wall
You can often see vining plants like pothos or philodendrons trained to grow up a wall with adhesive hooks or a similar attachment method. Since we know that Monstera deliciosa grows with a pattering (climbing vine) in the wild, you might wonder if it's possible to train it to grow up a wall.
Monsteras out in the world don't only grow on trees – you can sometimes see them growing up the sides of walls or stone cliffs, and they can thrive in those environments too. Not only that, but some Monstera owners have inadvertently grown this plant up a wall because their plant started to grow this way naturally.
But, before I tell you how to do it, a warning: aerial roots can definitely damage your paint job. I haven't heard of Monstera roots tunneling into walls or causing any structural problems (after all, they don't hurt the trees they grow on), but they do grasp onto the paint and can't be removed without taking some paint with them.
If you're okay with the risk, the easiest way to train your Monstera deliciosa to grow up a wall is to train the plant against the wall until the aerial roots attach on their own. Depending on how your Monstera is currently growing, you may just be able to rest some of the stems against your wall and wait for the process to happen naturally.
To get the Monstera growing up the wall faster, or if you want to train it to grow in a certain shape, you can use adhesive hooks (make sure they're the removable type), garden tape, or twine to guide where the plant grows. The aerial roots are the parts that attach to the wall, so try to maximize the surface of the aerial root that is in contact with the wall.
It will probably take a few months for the roots to attach themselves, depending on how quickly the roots are growing. Remember that it will be difficult to reposition your Monstera once it starts growing on the wall, so take the time during this training phase to ensure that it is exactly where you want it.
---
Alternatives to Growing a Monstera Up a Wall
If you love the look of a Monstera on the wall but don't want to cause damage, there are a couple of ways to achieve a similar appearance. One option would be to create a sort of trellis from rope or twine hanging from the ceiling and then train your Monstera deliciosa to climb it. Although the rope would be obvious at first, as the plant begins to grow up the rope, it would become less evident and eventually create a living wall of Monstera vines.
Alternately, you could provide a layer of something between the wall and your Monstera so that the roots would attach to something other than your paint. On the simple end, a piece of plywood could be attached to the wall, perhaps with some pegs to support the heavier stems and leaves as the Monstera climbs.
An artificial grass or boxwood panel could be installed on the wall as a climbing surface for your Monstera deliciosa, or you could purchase one of the living wall systems that are available in many garden centers and online. Just be aware that Monsteras are likely to outgrow them quickly.
There are multiple options to take advantage of a Monstera's vining growth pattern. A little creativity and assessment of your particular space will help you choose the option that is right for your home and plants.
---
Final Thoughts
Monstera deliciosa is an amazing houseplant, and it can adapt to grow in a variety of shapes, from tree-shaped to hanging like a vine. The best way to ensure your Monstera will have the appearance you prefer is to make a plan while the plant is still young and pliable. It is easier to train your Monstera from the beginning than trying to go back and fix some unwanted growth after the fact.
Whether you choose to add a moss pole, keep your Monstera deliciosa as small as possible, or grow it up a wall, this versatile plant will reward you with the flexibility to adapt to your home decor. Monsteras are a beautiful addition to your collection, no matter what shape you choose!
---
Have More Questions About Monsteras?
Still looking for more information? Want to know what you can do to keep it happy and healthy? Grab our latest book, How to Care for Monstera Deliciosa, and get all that and more.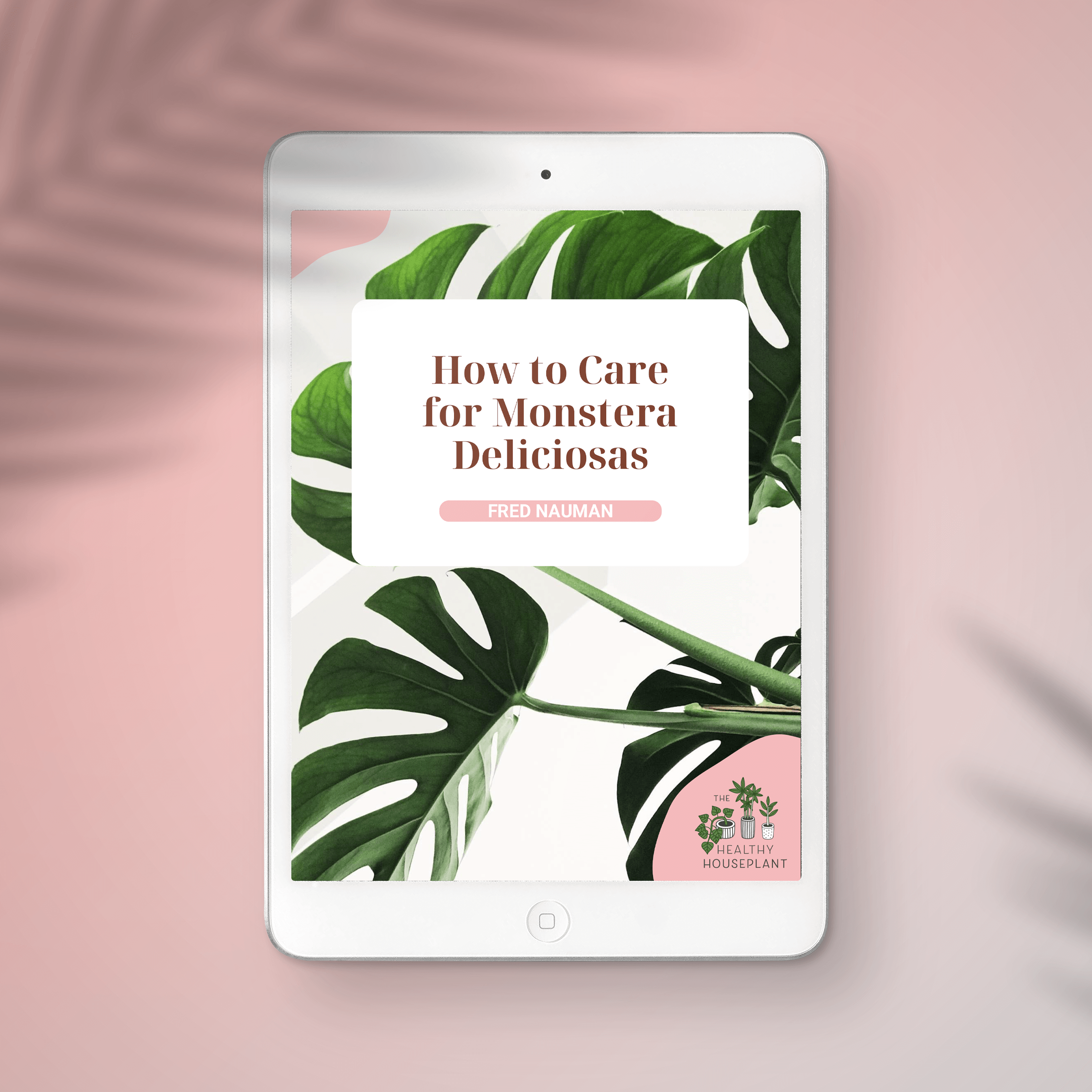 Our eBook covers:
Signs Your Monstera Isn't Getting Enough Light or Water
How to Grow Your Monstera to Epic Sizes
What are Fenestrations and How Can You Encourage Them
Tips for Fertilizing Monsteras
The Best Way to Prune this Plant
Propagation Tips and Tricks
The Best Type of Soil for Monsteras
Help Diagnosing Unhealthy Plants and How to Treat Them
And More!!
If you've got more to learn, grab a copy of our book today and get your Monstera Deliciosa back on track. Get your copy now!