The first Money Tree I ever owned was given to me by my grandmother when I was first married. Over eight years later, it is one of my most-treasured houseplants. Now, it is nearly five feet tall in height and makes a beautiful addition to my home. But it didn't always grow so quickly. So what was the trick? What should you do if you want your Money Tree to keep growing and growing and growing…?
Why isn't your Money Tree growing? Your Money Tree may not be growing for several reasons, the most common of which are overwatering or underwatering. In other cases, you may need to adjust your light, humidity, or feeding schedule, check your Money Tree for pests, or transplant it to a larger container.
No matter the cause, there are almost always things you can do to encourage your Money Tree to start growing again. Read through the list below to find the top eight reasons your Money Tree might not be growing and what you can do to get it growing again.
---
Are Money Trees Fast Growing?
Money Trees are generally fast-growing plants. When they are young, they can grow up to 24 inches from a seedling in as little as two months. These naturally fast-growers can reach heights of over 60 feet in their native habitats in Central and South America.
But don't worry. This tree won't grow to its Amazonic conditions in your home. Instead, you can expect an indoor Money Tree to reach a max height between four and six feet. If your goal is to keep your Money Tree much smaller than that, click here to read more information on keeping Money Trees small.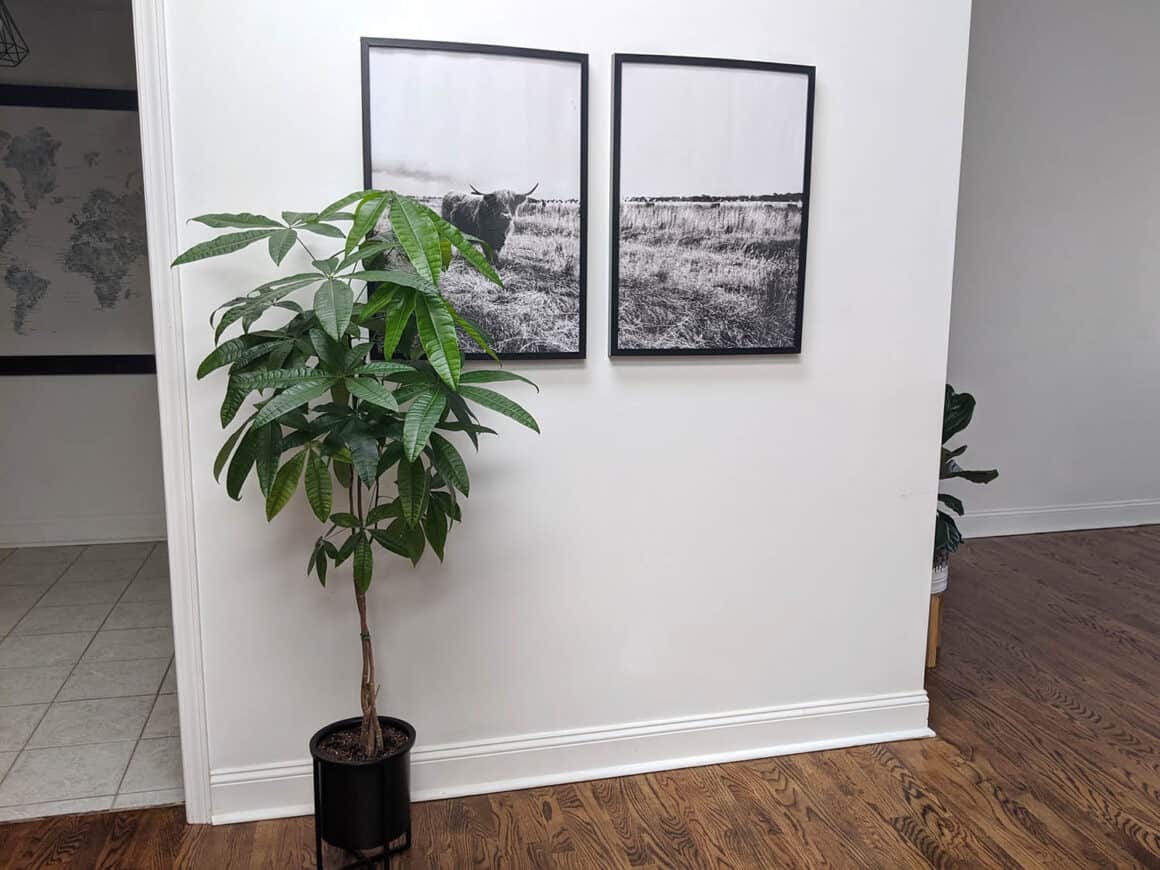 As long as your houseplant has what it needs (enough light, water, space, etc.), it can grow to fill the large corner of a room, and become the envy of all of your houseplant friends. But before we get into the top eight reasons your plant may not be growing, let's discuss what causes plants to grow in the first place.
---
It's All About Energy
Plants rely on photosynthesis to create the energy that they need to grow. This is the process of converting water, carbon dioxide, and light into oxygen and glucose, the chemical energy that plants rely on.
This energy is directed to all parts of your plant. It is sent to the roots to allow them to grow and absorb nutrients and water, to the leaves so that they can absorb sunlight, and to the trunks to help them grow tall. The plant, in turn, absorbs the water and sunlight to create more glucose and oxygen. Then, the oxygen, a byproduct of the process, is released into your home from the leaves of the plant.
If your Money Tree isn't growing, it's often because the energy that should be pushing your plant to reach new heights is being redirected somewhere else. When your plant is having to use energy to recover from stress or reach to gain access to more light or nutrients, you won't see much new growth.
So now, let's get into this. Why is your Money Tree not growing? Keeping in mind what we've discussed about how plants use energy, let's talk about the top eight reasons why your Money Tree might not be growing.
---
Reason #1: Your Money Tree Is Dormant
All plants have a season where they are growing and a season where they are dormant. In nature, the growing season is the part of the year where the weather provides what a plant needs to produce new growth. When we move plants indoors, we expose them to a constant light source and temperature, but we do not negate their growing season.
Growing season takes place during the warmest months of the year and is denoted by the last and first frosts of the year. For most of us, it occurs from spring to early fall. During this time, you will see faster growth from your plant as it turns sunlight into energy more quickly.
During dormancy, your Money Tree's growth will slow down while it saves up energy for the spring. You won't see much, if any, new growth at this time. But don't worry, your plant needs this time to rest and store up for the coming growing season.
HOW TO GET IT GROWING AGAIN
When it comes to dormancy, there is only one thing you should do: wait it out. When the weather warms up outside, your houseplant will return to its regular growing schedule without any real encouragement from you.
It is important to note that your plant care should be adjusted during these periods of dormancy. Your Money Tree, and most of your other plants, probably won't require as much water as they do in the summer months.
Growth will start back up in the spring, once your region has started to warm up again. If you need to replant your Money Tree, you should plan to do it then. This will encourage it to grow because it will have more room for its roots to expand.
---
Reason #2: Your Money Tree Is Overwatered
If it's not the time of year for your Money Tree to be dormant, the most likely cause has to do with watering habits. Because of that, we need to talk about both extremes: overwatering and underwatering.
The most common cause of houseplant death can be traced back to one single issue: too much water. Plant owners, especially ones who are new to the hobby, worry about neglecting their plants, and in turn, end up killing them with too much care in the form of water.
The problem with overwatering is that Money Trees are highly susceptible to root rot, which is caused by a fungus that grows in soil that is wet for too long. Once a root has rotted, it can no longer take up the nutrients in the soil and send them out to the rest of the plant. Left unchecked, root rot can quickly kill a Money Tree. If your Money Trees is no longer able to take up nutrients and water, this will prevent it from growing.
The first signs of overwatering your Money Tree will most likely be found in the leaves. If you notice any yellowing, browning, or dropping leaves on your tree, you should check the soil. If it's wet, you may be overwatering your plant. Also, soft trunks are often the result of overwatering.
HOW TO GET IT GROWING AGAIN
If you've caught the issue before it becomes severe, all you need to do is adjust your watering to let the plant dry out between waterings. Money Trees should only be watered when the top inch or two of soil is dry.
To check when it's time to water, insert your finger into the top of the soil and check for moisture. For a more specific measurement, consider purchasing a moisture meter (like this one) and only watering when it indicates the soil is dry.
If your plant has been affected by root rot, you'll need to follow a few more steps. To check, take a look at the roots of your plant. Carefully slide your Money Tree from its pot and brush back or wash away the soil from the roots. Once you have a clear view, look for roots that are brown or mushy. If you find roots that are no longer white and crisp, your Money Tree has root rot. For more information on these steps, read this article.
If caught quickly enough, the Money Tree can be saved! Clean off the roots as well as you can and trim back any that are brown and mushy. Repot in a sanitized pot with fresh soil. Be certain the new pot has a drainage hole to allow your Money Tree to dry out more quickly between waterings.
---
Reason #3: Your Money Tree is Underwatered
While overwatering is often the most common cause of unhealthy Money Trees, the runner up is underwatering. It is not as likely to kill your plant quickly like root rot, but underwatering can definitely stunt the growth of a Money Tree.
Money Trees are tropical plants and must have adequate water to continue growing. When they don't have access to what they need, these trees will be forced to slow growth and expend energy to focus on finding more water.
There are plenty of signs that your Money Tree isn't receiving enough water. If you notice that the leaves of the plant are turning yellow or brown, or beginning to fall off, that's usually a sign that something is wrong.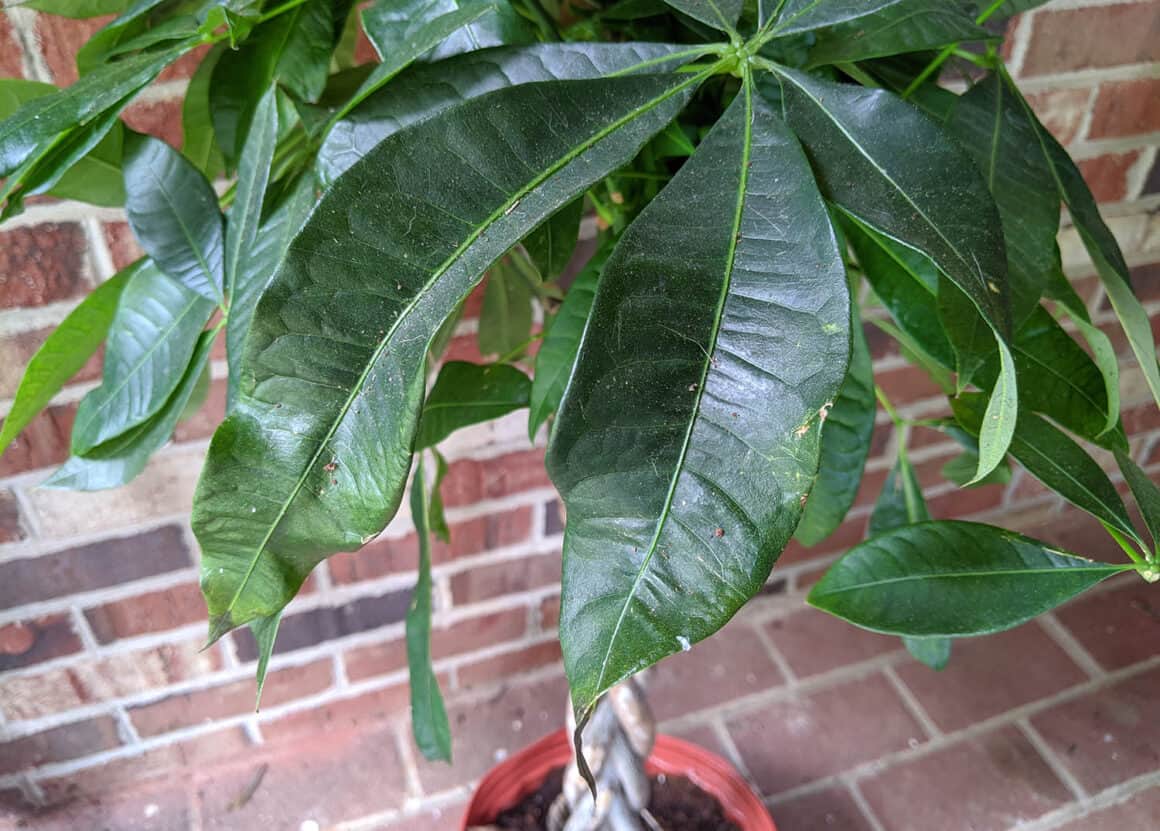 While discoloration can point to several different factors, the surest indicator of underwatering is wrinkled leaves. When Money Trees do not have enough water, their leaves curl up on the ends and become wavy. Wrinkled leaves always mean that your plant needs more water.
HOW TO GET IT GROWING AGAIN
As with overwatering, adjusting your watering routine will be the most critical step in correcting the underwatering issue. If you suspect that your Money Tree isn't getting enough water, check the soil. You can do this by feeling the top inch or so. If it's dry, it's time to water your plant.
When watering, be sure to do so thoroughly so that about 20% of the water you put in runs out of the drainage hole in the bottom. Once your plant has been thoroughly watered, pour out any excess water from the tray beneath it.
---
Reason #4: Your Money Tree Isn't Getting the Right Amount of Light
One of the most important resources a plant needs is sunlight. Without it, the plant cannot properly photosynthesize and create glucose: the energy needed for new growth.
Money Trees like bright indirect sunlight. They can tolerate areas with less light, but they'll need an adequate amount to thrive and grow. When a Money Tree doesn't have enough bright light, it will extend itself out in search of more. This uses up energy that is normally reserved for healthy new growth. The result of this is a gangly, leggy Money Tree.
If you're noticing yellowing or wilting leaves, or a stretched out plant with small leaves, too little light might be your problem.
On the opposite end is giving your plant too much light. Money Trees should never be placed in direct sunlight, and doing so can result in scorched or burnt leaves. If you have exposed your Money Tree to too much sunlight, you may notice brown marks on the leaves.
When a plant has been through stress, like scorched leaves from direct sunlight, it has to use its energy to heal. This takes away energy from new growth and can be why your Money Tree isn't growing.
HOW TO GET IT GROWING AGAIN
Ideally, a Money Tree should be placed near a window with a lot of bright, indirect sunlight. Notice that I said near and not against. It is essential that your Money Tree is not exposed to direct sun shining on its leaves. Placing a Money Tree three or four feet away from a south-facing window can be an excellent location.
If you suspect that your Money Tree is suffering because of its lighting conditions, try moving it to a different area. You will need to be careful when doing this, though, because plants are sensitive to changes.
If you live in an area where you cannot provide enough light to keep your Money Tree happy year-round, consider adding a grow light to your home. Grow lights are an excellent option for rooms with very little natural light and can be purchased for as little as $20. For more information on the best grow lights for houseplants, click here.
---
Reason #5: Your Money Tree Isn't Getting Enough Humidity
Money Trees love humidity. These plants are native to the tropics of South and Central America and thrive in hot, humid environments. If your home's humidity does not meet the Money Trees requirements, you may find your plant refusing to grow.
To check your home's humidity levels, you'll need a small, inexpensive device called a hygrometer (like this one). Hygrometers can measure the humidity and help you decide which room is best for your beloved houseplant. Money Trees love areas with high humidity (between 50-70%).
HOW TO GET IT GROWING AGAIN
If you believe your Money Tree isn't getting enough humidity where it is currently located, there are several options you can try to remedy this.
First, move your Money Tree to a room in your home with higher humidity levels. Bathrooms, kitchens, and basements are generally the most humid rooms in a home, so try and relocate your Money Tree to a new, more humid environment.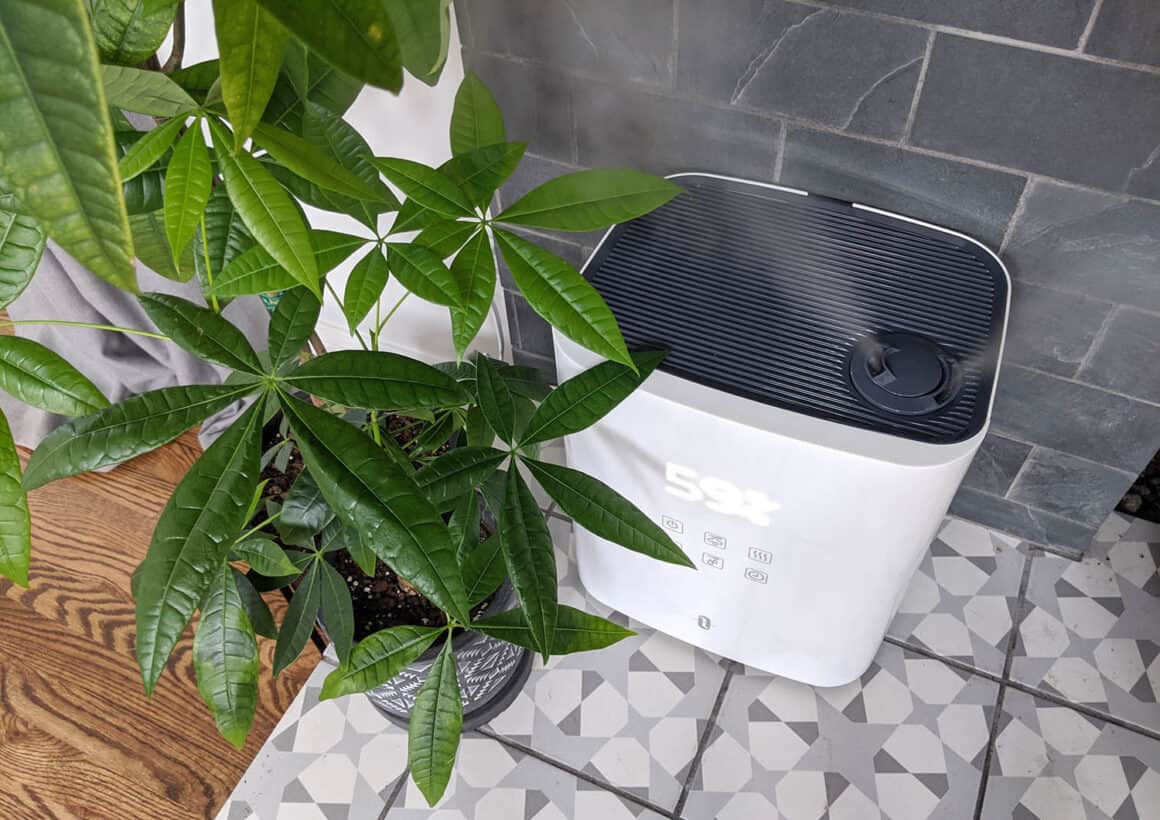 If no room in your home is humid enough for your Money Tree, consider adding a humidifier. I recently placed my Money Tree directly beside my humidifier and could not believe the difference it made in the health of the plant. I knew that these trees loved humidity, but was surprised at how quickly it improved the health of the leaves on my mature plant. For more information on the best humidifiers for houseplants, click here.
Additionally, Money Trees respond well to being lightly misted periodically with a spray bottle. I mist my Money Trees lightly, in the morning, once or twice each week.
---
Reason #6: Your Money Tree Has Pests
Unfortunately, Money Trees are quite susceptible to pests and bug infestations. The types of bugs can vary, including mealybugs, spider mites, and soft brown scale. Each of these insects presents a different problem for the Money Tree and can be the cause of your Money Tree's lack of growth.
If you're confident in your care routine but have noticed very little growth from your Money Tree, check it thoroughly for insects. To read more about the most common pests affecting Money Trees, click here.
HOW TO GET IT GROWING AGAIN
Most pests can be eliminated with a natural product: Neem Oil. Neem oil can be applied to your plants every day and will help to break down the shell of, and eradicate, most pests on your tree.
If the infestation is especially bad, you should prune the heavily infected areas. Carefully dispose of these plant parts to prevent cross-contamination with any other plants in the area.
For specific information on the most common pests infesting Money Trees, and step by step instructions on how to deal with them, read this article.
---
Reason #7: Your Money Tree Is Lacking Nutrients
Most plants need to be fertilized periodically. In their native habitats, Money Trees are always exposed to fresh nutrients through rainfall or by being able to grow their roots to reach fresh soil. Unfortunately, when kept indoors, they are confined to whatever is available to them in their small pots.
If your Money Tree has been in the same container for longer than six months and is not showing any new growth, it may be because it doesn't have any nutrients left in its pot. Initially, plants get what they need from potting soil that has been fortified with nutrients, but after six months to a year, all that was available has been depleted.
HOW TO GET IT GROWING AGAIN
If this is the case, you will want to fertilize your Money Tree. This should only be done about once a month during the spring and summer. Doing it more frequently than that can result in the plant suffering from being overfertilized.
To fertilize your plant, use a liquid fertilizer diluted to half strength. Be very careful not to add too much! Fertilizer can burn the roots and leaves of your plant, causing irreversible damage.
To provide nutrients more organically, you can collect rainwater for your tree. Rainwater has natural nutrients that are beneficial to plants. (Learn more here!)
---
Reason #8: Your Money Tree's Pot Is Too Small
If your Money Tree suddenly stopped growing but isn't showing any signs that it is in trouble, it may have simply run out of room in its pot. Because these are fast-growing plants, they need to be repotted every year or two to allow their roots the space that they need to continue growing.
Check if your Money Tree needs to be repotted by sliding it out of its pot and looking at the roots. If they're tightly bound and wrapped around each other, its time to move up a size.
HOW TO GET IT GROWING AGAIN
If you've found that your Money Trees roots no longer have room to spread out and grow, it's time to repot. Select a container that is roughly two to four inches larger in diameter than the previous pot and transplant it.
Always remember to plant Money Trees into containers with drainage holes. This will allow the plant to dry out quickly between waterings and help avoid overwatering and root rot in the future. For information on the best soils and containers for Money Trees, read this article.
For best results, Money Trees should be replanted in spring and early summer, right before they enter their growth season. Giving the plant a slightly bigger pot and fresh soil will do wonders for its ability to grow.
---
Final Thoughts
If you've made the necessary adjustments to your Money Tree, you'll need to be patient before seeing new growth! The plant may need to recover, especially in the cases of root rot or pest infestations. If you've had to move your Money Tree, it will also need time to adjust to its new habitat.
Keep a close watch on your Money Tree, give it some time, and don't worry! These things take time. With a few small adjustments, you'll begin to see new growth soon.