Monstera Deliciosa is a popular houseplant that adds to interior decor with its strikingly large leaves and ability to grow into a tree-sized focal point of any room. You've probably seen larger Monsteras trained to grow on trellises or moss poles, but how can you know if your Monstera is ready to be staked? Is it always necessary to stake a Monstera?
What are the signs it's time to stake your Monstera? If your Monstera is not growing upright, or the stems are bending toward the floor, these are signs that it could use some extra support. Although staking isn't necessary, moss poles or other supports can help mimic a Monstera's natural growth pattern and keep it from taking up too much space.
Although there is no definitive timeline for when to stake a Monstera, I've identified several main indicators that you should consider for adding support to your plant. Moss poles are the most popular method of staking Monsteras, so we will review the specific benefits of adding this type of support before going into more detail on the signs that it's time to stake your Monstera.
---
Why Do Monsteras Need Moss Poles?
In the wild, Monsteras grow by climbing vertically up trees and other surfaces where their aerial roots attach to the bark to provide support to their large leaves and heavy stems. Monsteras are not parasitic, since they do not cause any harm to the plant they're growing on. Instead, Monstera deliciosa is considered an epiphyte, which simply means that it is a plant that grows on another plant.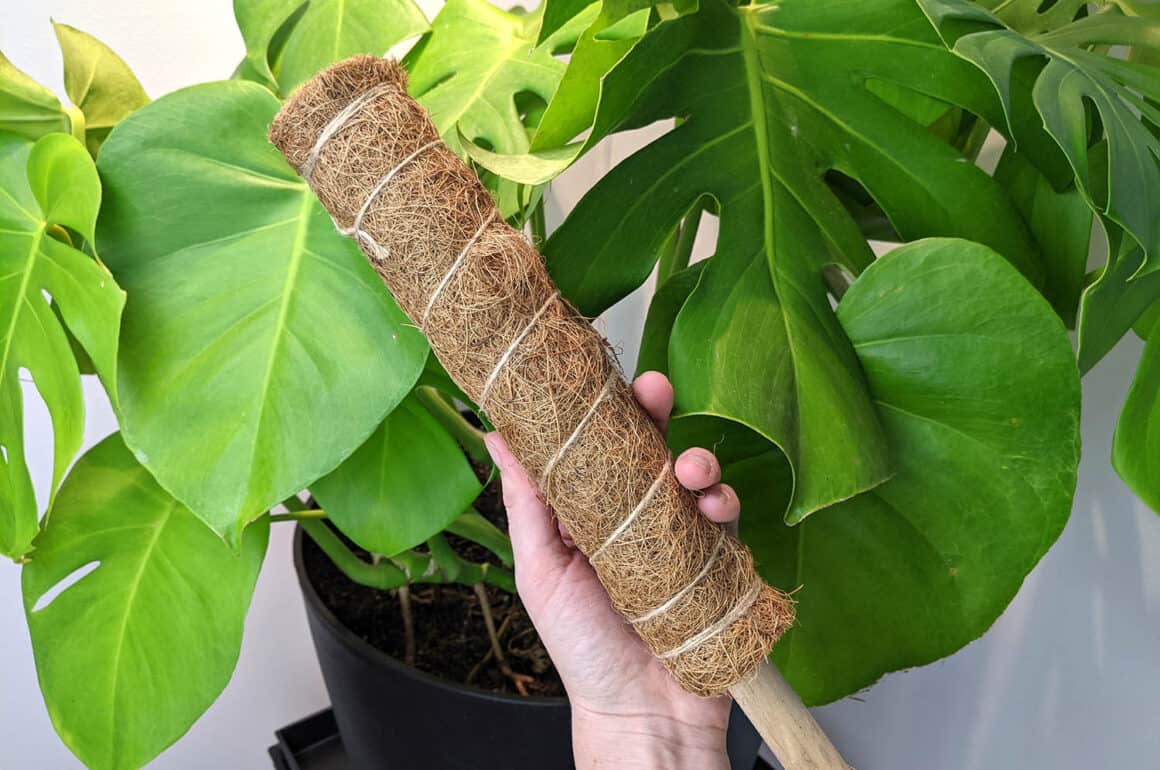 For an indoor plant, moss poles or other support structures provide a couple of benefits. First, they can help to train the plant to grow the way you want it. A Monstera without a moss pole can grow to one side (usually toward the light source) and get unbalanced enough to fall over. By using a moss pole, the Monstera is directed to an upright growing pattern. An upright Monstera will look nicer and prevent your plant from taking up too much floor space in your room.
Monsteras growing on moss poles also tend to put out larger leaves and develop their distinctive fenestration (holes in the leaves) more quickly. And misting the moss pole provides extra humidity and nutrients via the aerial roots, which will help your plant to thrive.
---
When is it Time to Support Your Plant?
Most of the time, when you see a Monstera Deliciosa for sale, it is a small and immature plant that doesn't require any support to grow straight up. But in the right conditions, this plant can grow 1-2 feet per year, meaning that you may need to provide support sooner than you'd think. If you're purchasing a larger plant, it might come with a pole already included.
Since Monsteras do grow very quickly and develop a lot of weight on the top of the plant, they can get unbalanced or unruly. You will want to provide some method of support once your Monstera starts to demonstrate some or all of the signs listed below, but you can always add support earlier if you prefer.
---
Does Your Monstera Need a Moss Pole?
If your Monstera is still young, growing upright, and none of the stems are growing to the side, you probably don't need a pole just yet. This is especially true if it is still in the nursery pot or is a recently rooted cutting. On the other hand, if the plant is starting to grow to one side or trailing over the side of the pot, it is time to start thinking about adding support.
Although you do not have to provide any type of support to keep your Monstera growing happily, many people like the look of this plant better when it is trained to grow more like a tree and less like a vine.
As you're considering a moss pole, coco coir pole, or other types of stakes for your Monstera, it's important to consider the final height you would like your plant to be. Since these plants attach to the support with their aerial roots, it's not easy to detach them again if you decide to upgrade to a taller pole later. For that reason, I prefer a pole like this one that can be extended as your plant grows larger and taller.
But now, let's get on with it. Below you'll find what you came for: Four Signs That It May Be Time to Stake Your Monstera Deliciosa.
---
Sign #1 That It Is Time To Stake Your Monstera: Aerial Roots
The appearance of aerial roots is a good indicator that your plant is old enough that it should be staked soon. You will not see aerial roots in a young Monstera, but as it matures, aerial roots emerge from the stems and start to dangle over the sides of the pot. Some people dislike the appearance of aerial roots and prefer to cut them off, but these roots are a sign of a healthy and growing Monstera.
Aerial roots develop when the Monstera is ready to start climbing. Their purpose is to anchor the stems to the support structure as the plant grows upward. Usually, Monstera Deliciosa will grow up a tree trunk in the wild, but you might also see them climbing up the sides of cliffs or even man-made walls.
Depending on your preference, you can tuck aerial roots back into the soil, prune them, or just let them grow naturally. If you add a moss pole or trellis, you can guide the aerial roots to attach by using floral wire or tape. In addition to helping the plant climb, aerial roots absorb moisture from the air and from the moss pole, which keeps your plant hydrated between waterings.
Have more questions about aerial roots? Click here to read all about them.
---
Sign #2: New Growth Develops Horizontally, Not Vertically.
Monsteras can and will put out leaves from any available node along the stem, but over time you will likely start to see more growth that branches out instead of up.
There is nothing inherently wrong about having a Monstera that grows horizontally, but most people find that the plant quickly takes up more space than they prefer. Unless you have a dedicated greenhouse or a lot of floor space to spare, you'll want to train this plant to grow vertically. That means it is time to add a stake to the plant.
---
Sign #3: Bent or Arching Stems
A mature Monstera gradually produces larger and heavier leaves over time. Without support, these leaves will cause the stems to start bending under their weight. As gravity slowly weighs the stems, they usually come to rest on the floor, or whatever other surface is available.
If the leaves' weight becomes too much, it could break the stem or cause the pot to topple over. For that reason, it is best to stake an older Monstera and give it the support it needs.
---
Sign #4: You're Repotting Your Monstera
This isn't so much a sign from your plant, but rather an ideal time for you to assess the situation and decide how to guide your Monstera's growth moving forward. If you are in the process of repotting your Monstera, now is the time to add in a moss pole for the future.
In general, Monsteras should be repotted every one to two years into a container one size larger than the one it was previously living in. However, if you find yourself watering frequently or roots coming out of the drainage holes, now is the time to move it to a bigger pot.
I would encourage you to add a moss pole at the same time you are repotting your Monstera, even if you aren't experiencing the signs mentioned above yet. It's much easier to add a moss pole to a new pot because you can see where roots are and avoid damaging those roots when anchoring the pole in the soil.
Once the Monstera adjusts to its upgraded pot, you may see a growth spurt. That's because it will have access to refreshed soil and nutrients, plus a lot more space to expand its roots. It is better to anticipate the need to add a moss pole when you're repotting, rather than trying to add one into an established pot later. For a step-by-step guide on repotting Monsteras, click here.
---
Closing Thoughts
There is no single right answer to exactly when is the right time to stake a Monstera, or even if you need to do it at all. Although your plant will provide you some signs that it is looking for support or trying to grow in specific ways, it is ultimately up to you to determine what approach to take.
For more information on Monsteras and moss poles, read this article. Once you know how you want your Monstera to look and how big you want it to be, you'll be ready to provide the support it needs to get there! 
---
Need More Help With Your Monstera?
Have more questions about your Monstera Deliciosa? Want to know what you can do to keep it happy and healthy? Grab our latest book, How to Care for Monstera Deliciosa, and get all that and more.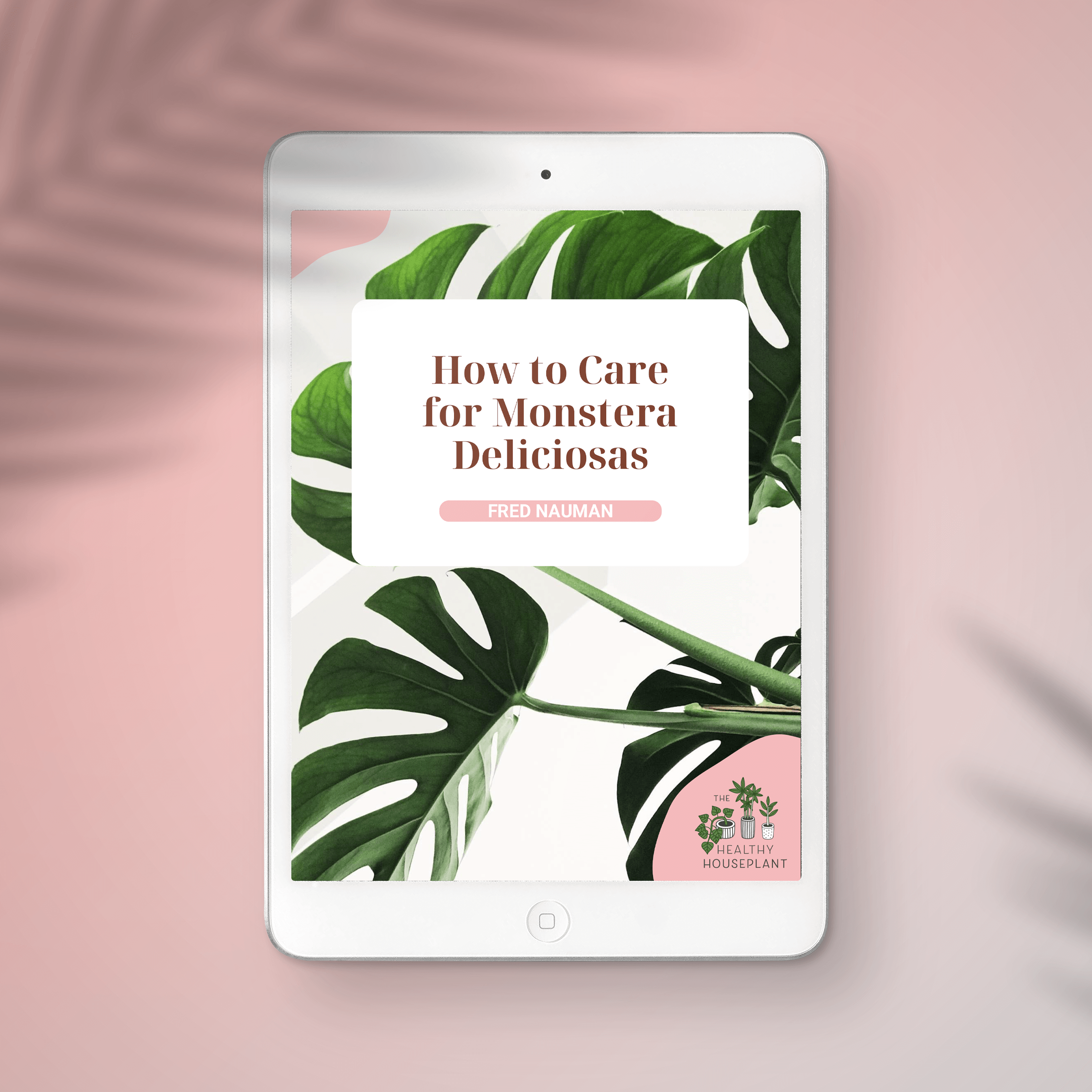 Our eBook covers:
Signs Your Monstera Isn't Getting Enough Light or Water
How to Grow Your Monstera to Epic Sizes
What are Fenestrations and How Can You Encourage Them
Tips for Fertilizing Monsteras
The Best Way to Prune this Plant
Propagation Tips and Tricks
The Best Type of Soil for Monsteras
Help Diagnosing Unhealthy Plants and How to Treat Them
And More!!
If you've got more to learn, grab a copy of our book today and get your Monstera Deliciosa back on track. Get your copy now!