Every Monstera deliciosa online seems to have huge, gorgeous leaves. But this doesn't always match what you find in a nursery. Despite being the same species, a juvenile Monstera and a mature one can look completely different. So, why do some Monsteras have big leaves and others not? And how do you get yours to grow giant leaves like the ones on Instagram?
Big leaves on Monsteras is predominantly a matter of maturity. Only a fully matured Monstera can put out gigantic leaves. Monsteras also need ample access to water, sunlight, and nutrients to put out massive leaves. Missing any of these elements can result in small leaves on your Monstera Deliciosa.
This article will cover how big Monsteras leaves can get, what kind of care a Monstera needs to grow big leaves, and some of the reasons that a Monstera might not be growing big leaves as it should. There are plenty of variables that can go into a Monstera's ability to grow big leaves, so keep that in mind as you read.
---
How Big Do Monstera Leaves Grow?
The leaves of a fully-grown Monstera deliciosa can get huge—some reaching over two feet wide. While they can get even more prominent in the wild, exceeding two feet in width will likely never happen for an indoor Monstera.
But young Monsteras will start with smaller leaves. The first few that a seeding puts out will only be a couple of inches wide at most. The plant will produce larger leaves over time, as it establishes itself and as you begin to figure out precisely the kind of care that it needs to thrive.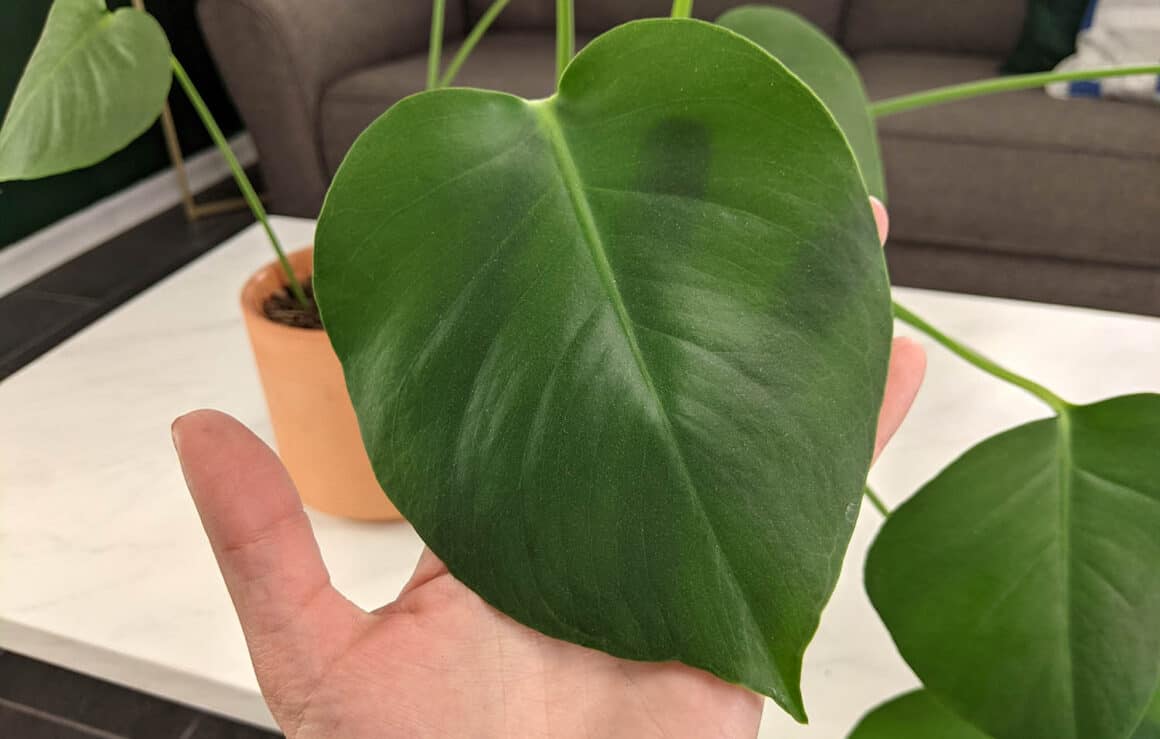 Fenestrations are also a part of this process. As a Monstera matures, it will produce larger leaves with the characteristic slits and splits we've come to love from Monsteras. For more information on why Mosnteras split and help in encouraging your Monstera to fenestrate, read this article.
---
How Old Do Monsteras Have to Be to Produce Gigantic Leaves?
There isn't a set age that a Monstera must reach before it starts putting out huge leaves. Instead, producing enormous leaves has to do with the overall maturity of the plant. On average, Monsteras reach maturity at around two to three years old.
A mature Monstera is one that is established in its habitat and isn't as prone to some of the drama that a younger plant might experience, like extreme sensitivity to changing environmental conditions. Mature Monsteras tend to have quite a few leaves, some with fenestrations, and should be producing new growth at each node. Mature Monsteras will also have several aerial roots, something that you may notice on younger plants too.
This is only a guideline, however. You may find that your Monstera has reached this point before the two-year average. A lot of this is a generalization, and a plant's development will be strongly impacted by its care. It can be difficult (read: impossible) to mimic the natural conditions a Monstera experiences in the wild. Variations in watering, humidity, and sunlight can all impact how rapidly your Monstera puts out new growth.
---
Reasons Why Your Monstera Might Be Growing Small Leaves
If you're reaching the two-year mark and still have a Monstera that looks underdeveloped and is putting out small, uninspiring leaves, there may be an issue impacting its growth. These can be difficult to diagnose, but usually, it comes down to a few variables that can hinder a Monstera from growing big leaves.
Reason 1: Your Monstera Needs More Sunlight
The most common cause of smaller leaves is from an inadequate amount of sunlight. Part of the purpose of a Monstera deliciosa having such big leaves is to collect more light (and photosynthesize better). While it may seem like an excellent response to low lighting would be growing bigger leaves, Monsteras don't really work this way.
A Monstera that doesn't have enough light is stressed, just like one that's receiving inadequate water. This almost always presents itself as a Monstera producing small, non-fenestrated leaves regardless of its maturity level. Monsteras that don't have enough sunlight may also develop leaves that are thin and lightly colored.
If you've noticed these signs, try investigating the lighting conditions your Monstera lives in. Monsteras need at least six hours of bright, indirect sunlight a day. Windows facing the west, east, or south are perfect for Monsteras.
Ideal window placement isn't always possible, though, especially in apartments with limited lighting. In this situation, a grow light is an excellent option for supplementing the available sunlight. There are plenty of options at various price points and in all kinds of designs and styles, so this is something to consider for anyone looking to help their plants.
Reason 2: Your Monstera is Underwatered
If you've researched Monsteras, you may have noticed that watering is one of the first things you should troubleshoot when a plant is having problems. Underwatering is a big problem that can hurt an otherwise healthy Monstera deliciosa and prevent it from growing into a gorgeous, dramatic plant.
If your Monstera is underwatered, it frequently dries out too much and will have leaves that droop significantly. To diagnose this, feel the soil in its pot. If it's bone dry after the first inch, it needs to be watered.
Instead, a Monstera should be watered when the first inch or soil of soil has dried out. For many people, this is about once a week. Don't rely on that guideline, though. Other conditions, such as your home's humidity levels and the type of pot your plant is in, can impact how quickly your plant dries out. Checking the soil's moisture content can be done with your finger, or a small tool called a moisture meter.
Reason 3: Your Monstera is Overwatered
As with any issue pertaining to a Monstera deliciosa, overwatering is an even more severe issue than underwatering. While both are stressful for the plant, overwatering can lead to other problems, including fungus gnats and root rot. Root rot is a serious issue that can be fatal to your Monstera. (More information on root rot here!)
Overwatering is diagnosed by checking the moisture content of the soil. Is your Monstera frequently sitting in soil that is wet, soggy, or mushy? Have you noticed that it takes longer than a week to dry out? Both of these are reasonable indications that there's a problem with the watering, the soil, or the drainage. These issues have to be addressed immediately.
If you've just overwatered your Monstera once or twice, let it dry out before you water it again. The top inch or so of soil should be dry, though it's a good idea to let it dry even more after you've realized that it's been subjected to overwatering. Once you've done this, watering it thoroughly and draining any excess water only when the soil is dry will prevent the issue from going any further.
If you have more questions about the best way to water your Monstera Deliciosa, read this article.
Reason 4: Your Monstera Needs To Be Repotted
For a Monstera to put out the enormous leaves that make the species so coveted, it needs plenty of room to spread its roots. Without a proper-sized pot, a Monstera won't have the space it needs to continue to grow roots that will support its new leaves. Repotting is vital to encouraging your Monstera to put out big leaves.
In general, Monsteras should be replanted every two years. As with everything, there is a lot of variability in this. The Monstera's size, the volume of growth, and the other conditions in the home can all play a role in determining how often your Monstera needs to be planted up into a larger pot.
If you're not sure if it's time to repot your Monstera, but you've noticed it isn't producing big leaves like it should try checking on the roots. There's a possibility that the plant has become rootbound. A Monstera becomes rootbound when it runs out of space in its pot. If this is the case, the root ball will fill the pot, and there won't be very much soil left in the container.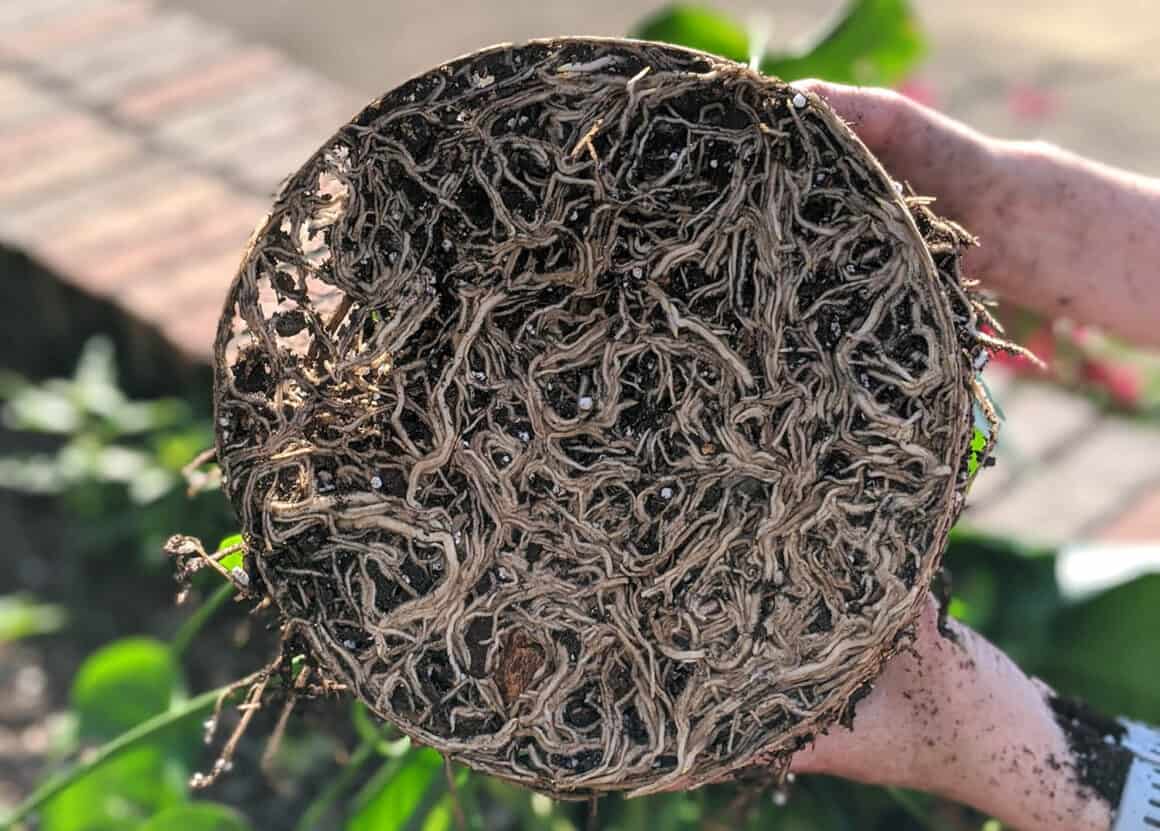 If this is what's going on, you need to repot your Monstera. We have a complete guide on how to do that here, so check it out. This article covers everything you need to know on how to replant a Monstera properly.
Reason 5: Your Monstera Needs To Be Fertilized
Another fact that can prevent a Monstera from growing big leaves is the nutrients it has access to. All plants need certain nutrients, including potassium, nitrogen, and several others, vital to their growth processes. Without these, Monsteras cannot thrive.
If you're replanting your Monstera, you won't need to worry about this right away—fresh soil is fortified with the nutrients that a plant needs to grow. But if your Monstera is a ways off from being replanted, giving it healthy doses of a diluted liquid fertilizer is the next option.
Be careful not to over fertilize! Adding too much fertilizer can do more damage than good because it can burn the roots. For this reason, I always recommend diluting fertilizer to half strength and fertilizing only once per month during the growing season. For more information on fertilizing Monsteras, click here.
Reason 6: Your Monstera Needs Better Water
The best water is an important topic that often gets glossed over but can contribute to why your Monstera isn't growing big leaves. Many people, especially those just getting started keeping houseplants, use tap water to water their Monsteras. While this doesn't have to be a big problem, excessively hard water can harm a plant's quality of life.
Hard water is water full of different chemicals and compounds, including calcium, chlorine, and fluoride. Over time, these additives will buildup in the soil and on the roots, resulting in low absorption. The effect is similar to what happens when a plant isn't fertilized.
To avoid this buildup, rainwater and filtered water are recommended. "Spring" water, as it's often labeled in stores, rarely comes from actual springs and isn't recommended. This type of water is almost always bottled from the same source as tap water, so keep that in mind. Rainwater can be collected during a rainstorm; all you need to do is set out a jar to collect it! Find more information on the benefits of rainwater here.
---
What to Expect From New Monstera Leaves
There's probably nothing more exciting than seeing a new leaf begin to appear on your Monstera. These little shoots are a very light green and appear at nodes, where they start as small buds and elongate over time. The process of a new leaf sprout appearing to it fully unraveling is a long one, though, so don't expect it to happen overnight.
The entire process (from the first appearance to a fully open leaf) can take several weeks. Unfurling, however, is highly variable. For some people, a leaf can unfurl in under five days. For others, it's another week or two before it's fully unfurled. And once they are unfurled, the leaves will stay thin and waxy looking until they've fully acclimated to being exposed to the elements.
Usually, a newly formed leaf is bright green, waxy, and thin. Some may have fenestrations, but not all do. It's difficult to tell whether the leaf will have fenestrations until it is unfurled, but they won't grow in after the leaf has finished opening up.
---
How To Grow Larger Monstera Leaves
Before you set out to encourage your Monstera to grow bigger leaves, remember that giant leaves are the hallmark of a happy, older plant. A young Monstera with only a few leaves and a thin stem won't start producing growth like that for several more years. Give it time and plenty of love!
If you have a Monstera that is mature enough to warrant encouraging bigger growth, remember the points above: water, sunlight, and nutrients are pretty much all it takes to get a Monstera to make big leaves. Of course, the size of the pot plays a big part, but don't be surprised if you see new growth despite the Monstera being a little bit rootbound. As long as the other three requirements are met, these plants will try their best to grow.
Don't let it go too far, though. Being confined to a pot it has outgrown for too long is detrimental to a Monstera's ability to grow, and if you want big leaves, it's best to address this right away.
Sunlight is arguably the most significant factor when it comes to gigantic leaves on a Monstera. Too little sunlight will always result in poor-quality, uninspired leaves, so give your plant the light it needs! Each Monstera is different, but six hours of bright, indirect sunlight is a pretty good guideline to follow. If you aren't sure about what that means, head over to this article. It covers exactly how to get your Monstera the right amount of sunlight.
A grow light is also a good choice for increasing the amount of light a Monstera gets. These lights mimic the natural spectrum put off by the sun, so your Monstera probably won't know the difference and will love having the extra dose of light. For information on the grow lights we love and use, read this article.
---
Final Thoughts
There is plenty of information on Monsteras about fenestrations, but not so much on how to grow big leaves. The requirements are pretty similar, though. Water and sunlight should be the first two things you look at when determining why your otherwise healthy Monstera deliciosa isn't growing gigantic leaves like it's supposed to!
Sunlight is most important for large leaves but don't let this deter you from trying your hand at growing a Monstera with big leaves. It can be challenging to accommodate, but there are plenty of options for people living in otherwise dark spaces. Just keep in mind that your Monstera probably won't produce the Instagram-worthy aesthetics if it doesn't get enough sunlight.