Zamioculcas zamiifolia, or simply ZZ Plants, have been gaining in popularity over the last few years as a stunning foliage plant. It also doesn't hurt that ZZ Plants are super easy to care for, often thriving in spots in your home where other house plants cannot. However, despite their low maintenance reputation, people still struggle with how to properly water ZZs.
How much should you water ZZ Plants? Because they are great at self-regulating water needs, ZZ Plants prefer only to be watered when the top two inches of soil are completely dry. When it is time to water, be sure to do so thoroughly so that water saturates all of the soil and flows out of the drainage hole in the bottom of your container.
ZZ Plants are tough and are not susceptible to a lot of common plant care issues. However, if your ZZ is exhibiting a problem, it can almost always be attributed to overwatering. So, what sort of watering habits do you need to practice to avoid these issues? What are the factors you should be paying attention to in order to avoid killing your ZZ Plant with too much water? What if you overwatered your ZZ…like, just now? Is it too late? Read on to learn everything you need to know in this complete guide for watering your ZZ Plants.
---
Why Too Much Water Will Kill Your ZZ
ZZ Plants are known to be the "un-killable" houseplant, which makes them an appealing choice for plant collectors. However, if ZZs were to have an Achilles' heel, it would be overwatering. More so than light exposure, nutrient deficiencies, and temperature fluctuations, improper watering has the biggest effect on, and is the quickest way to kill your ZZ Plant.
Why is that? When you overwater your ZZ Plant, the root system is overwhelmed with excess moisture and tends to get soggy and waterlogged. This can cause all sorts of problems, from depriving the plant of much-needed oxygen and nutrient uptake from the soil, to root and rhizome rot that can destroy necessary functions and spread to the rest of the plant.
When I speak of overwatering, I am, of course, talking about the obvious action of giving your ZZ Plant too much water too frequently, resulting in overly wet soil that chokes out the root system. However, overwatering can also result from poor drainage in your houseplant's pot, either due to the type of soil being used or the container itself.
To ensure proper drainage for your ZZ Plant, you must meet a few requirements. First and foremost, consider the soil your ZZ is planted in. It should be light and porous, so water can saturate it fully, but will also drain from it quickly, allowing the soil to dry out completely between waterings.
I have found that mixing in succulent mix or extra pumice to a regular potting soil mixture is sufficient to create a quick-draining soil media. For more information about the best soil for your ZZ Plant, read this article.
Regarding the container, whatever you have your ZZ Plant potted in must have a drainage hole in the bottom so water can freely flow out of it. Many people think they can skirt the drainage hole issue by adding a layer of gravel or pumice to the bottom of a pot, but this is a recipe for disaster for ZZ Plants.
Additionally, the pot must be the proper size for your ZZ Plant. Containers that are too large for the plant require more soil, which, when watered, will hold onto excess moisture and take longer to dry out between waterings.
---
How Often Should You Water ZZ Plants?
In order to correctly answer this question, it helps to consider where ZZs come from. ZZ Plants are native to the forests and grasslands of Eastern Africa, where long periods of warm, dry weather are only occasionally interrupted by rainstorms.
ZZ Plants have evolved to survive these conditions using their rhizome. A rhizome is a large, potato-like storage structure that grows under the soil, from which the stems and roots protrude. Water and nutrients are absorbed from the roots and stored in the rhizome for the plant to utilize at a later date.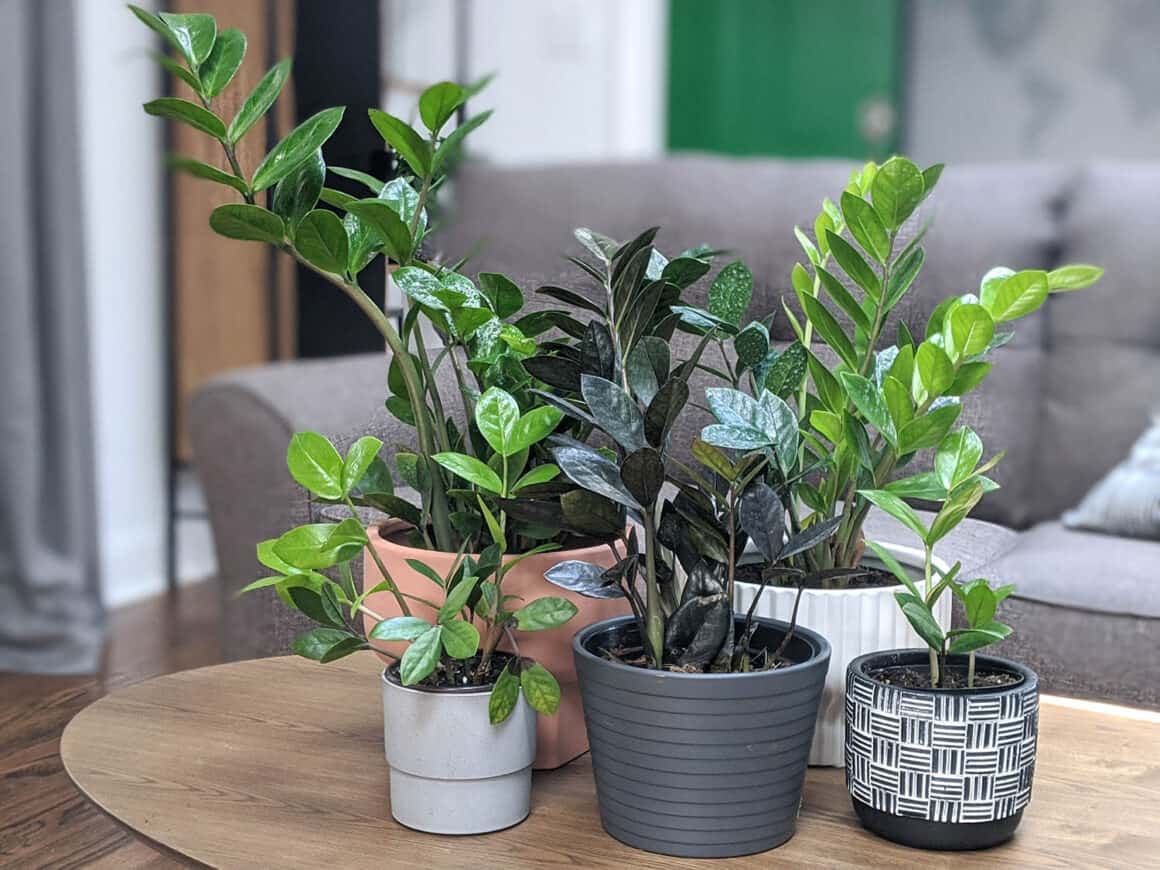 This ability to store what it needs allows the plant to comfortably wait for the next rainstorm to pass through, regardless of how dry the soil gets. Because your ZZ Plant is already used to this feast or famine situation and has developed the structures necessary to survive it, when considering how to water them in your home, it's best to mimic what they are already used to. The key to a happy ZZ Plant is to let the soil dry out in between waterings.
I know a lot of people like to water their houseplants on a schedule. I get it…Saturday is watering day! However, you'll be doing yourself a big favor if you can shift your "schedule" so that, rather than planning to water once a week, you are actually checking the soil moisture levels of your plants every few days to determine if they actually need water.
This practice is the best for ZZ Plants. If you check your ZZ's soil and the top two inches are completely dry, it's time to grab the watering can. I actually wiggle my finger down into the soil to that depth so I can feel if the soil is still wet. If it's dry to the touch and I don't have any moist soil stuck to my fingertip when I pull it out, I know I'm good to water.
If you aren't sure the soil is dry, it's best to wait a few days to water. Too little water is better than too much. Remember that the rhizome will make sure your ZZ Plant survives long enough for you to determine the right time to water.
If you are uncomfortable with the inherent open-endedness of "letting the soil dry out," or if you just want to nerd out on your houseplants a little more, you can always pick up a soil moisture meter. A meter will give you a more tangible illustration of the moisture level in your soil, which you can use to determine when you need to water.
---
How to Properly Water ZZ Plants
There are basically two types of plant waterers in this world. The first is someone well-intentioned and ready to give their plants the attention they deserve. Perhaps they don't have the greatest track record with keeping plants alive and have too often found the crispy remains of some long-forgotten housewarming gift.
These folks have vowed to do right by their plants and tend to water in smaller amounts, but frequently, every few days or so. It seems logical that if a plant needs water but is susceptible to overwatering, then giving just a little bit of water more frequently might be a good strategy.
The second type of waterer has learned that this practice almost always ends up causing issues. Even though you're not oversaturating the soil with water, you also never give the soil a chance to dry out completely.
Instead, they water their plants less frequently, but deeply. This allows for plenty of water to be absorbed by the root systems but then permits the soil to dry out enough that essential functions like oxygen and nutrient absorption can occur.
In regards to ZZ Plants, when it comes time to water (meaning the top two inches of soil have dried out), water thoroughly until about 25% of the water you put in flows from the drainage hole in the bottom of the pot. This ensures the water has sufficiently wetted the soil throughout the pot.
Be sure to occasionally check that the drainage in the pot is adequate for your ZZ Plant. Sometimes soil gets compacted, or the drainage hole clogs up, creating standing water that your ZZ will hate. If you don't think your plant is potted in the right container, be sure to move it to a better-drained one to avoid overwatering.
---
Top Watering vs. Bottom Watering for ZZs
You may or may not know that there are two different ways to water potted houseplants: top watering and bottom watering.
Top watering is the most common method, in which you pour water onto the surface of the soil in your pot. This is typically a sufficient way to water most plants, but be aware that if you use a heavy stream to water, you could damage leaves and stems or disturb the soil enough that you'll need to level it out and pat it into place again.
Bottom watering is a method where you place your pots in a shallow dish filled with water and allow the soil to absorb the moisture through the pot's drainage hole. You'll know it is sufficiently watered when you see that the top of the soil is wet. This definitely takes a bit longer, but it's an excellent method for total soil saturation and can protect any fragile foliage up top.
In my experience, ZZ Plants are tough enough that top watering is almost always the preferred method since it's quick, and there's little threat of damaging the plant. It is also a great way to water since the excess liquid will flush out any salt or mineral buildups in the soil and wash them out the bottom of the pot.
However, if you fear your plant may be a bit root bound, or you think the top watering method is resulting in water just flowing down the sides of the pot and not saturating the soil, use the bottom watering method to ensure that your plant gets a proper drink. Most likely, you'll need to refresh the soil or repot the plant, but this method will keep your ZZ alive until you have the time to make the change.
---
Summer Watering vs. Winter Watering
Like most plants, ZZ Plants have different watering needs depending on the time of year. Plants absorb much more water when they are in the middle of their growing season than when they go dormant for the winter.
So, what is a growing season? While slightly different for every plant, the growing season is what we call the period of time when the temperature levels and rainfall are at ideal levels for the plant to put out growth. In nature, this is typically the period between early spring and fall.
During the winter, plant processes usually slow down, and the plant goes dormant. Even when we control for many of the variables when we put a plant inside our home, it doesn't mean that the plant will stay in a growing season year-round. Plus, dormancy is good for plants! This is when they stop focusing on growth and instead put energy into shoring up their root systems.
ZZ Plants require much more water during their growing season, as they are actively working on putting out more growth. This is when you'll notice that the soil is drying out faster between waterings, so you should be sure to adjust your watering habits accordingly.
When the ZZ Plant goes dormant for the colder months, you'll notice that the soil is staying damp longer, perhaps even taking a few weeks to dry out sufficiently before another watering is needed.
Always consider the time of year when deciding how much and how often to water your ZZ Plant.
---
How to Know When It's Time to Water Your ZZ Plant
The very best sign that indicates it is time to water your ZZ Plant can be found in the soil. Again, always check the top two inches of dirt in the pot by sticking your finger down into the soil to make sure it's dry. If you can't feel any moisture in the top two inches, you know it's ok to water.
The dry soil method is the best way to monitor your ZZ Plant for watering needs because it is proactive and preventative. There are a few other signs, like dry leaf tips or dropping leaves, that indicate your ZZ may be in desperate need of a drink and is already suffering because of it. You'll want to water as soon as possible to avoid further damage to your plant.
To learn more about the signs your ZZ Plant needs to be watered, read this article I wrote on the subject.
---
Signs Your ZZ Plant is Overwatered
ZZs are not complicated plants. They are easy to care for and don't require a whole lot to thrive. So, in almost every occurrence, any change in a ZZ Plants health can be attributed to the amount of water that has been provided. Overwatering can present a variety of symptoms in ZZ Plants, but I've listed the most common below.
By far, the most common sign of overwatering your ZZ Plant is that its leaves and stems will begin to lose their vibrant, green color and start to yellow. This is an indication that your ZZ's root system is waterlogged and cannot absorb the necessary nutrients to keep the plant healthy.
If the overwatering is severe enough, you might notice that the stems have soft, mushy, brown spots on them that tend to be spreading from the soil line up the plant. This is a clear indicator of rot, which is caused when the rhizome or stems stay in contact with overly-damp soil for too long. For information on saving a ZZ from root rot, click here.
Perhaps you've noticed that your ZZ Plant leaves look wilted or that the stems are starting to droop. While it is normal for one or two older leaves to droop and occasionally fall off the plant due to old age, if the entire plant is beginning to droop, you've most likely overwatered.
Leaves often fall off of ZZ Plants. In fact, as a survival mechanism, ZZ leaves will often shrivel up one at a time and fall of the plant as a way to combat severe drought, sacrificing one leaf at a time until more water is found. However, if you notice many leaves dropping off the plant all at once, often as the plant begins to yellow, this is a clear sign that your ZZ is overwatered.
As a side note, if you are noticing changes to the health of your ZZ Plant and are confident you haven't been overwatering, these symptoms can be indicative of other health issues that need to be remedied for your plant to recover. I've covered, in-depth, how to properly diagnose your ZZ Plant issues in an article here.
---
What Water Is Best for ZZ Plants?
ZZ Plant, being the tough as nails houseplant it is, is perfectly happy being watered with tap water. A good guideline to follow is if it's ok for us to drink, it's ok for a plant to drink. If you want to take watering a step further, though, there are a couple of different options you can try.
An easy alternative to straight tap water is to actually fill a pitcher with water from the tap and leave it out overnight. This allows any chemicals in the water to evaporate out, leaving you with cleaner water for your plants. This is especially useful if you live in an area where your local government adds chlorine or fluoride into the municipal water source.
Alternatively, you can also use distilled water. During distillation, all of the chemicals and minerals are removed from the liquid, leaving you with a very clean water. This is great for plants because you won't run the risk of these compounds building up in the plant or its soil. However, most people find that keeping enough distilled water on hand is a hassle and switch back to tap water.
You may also want to consider whether your water source is hard or soft. Hard water has an abundance of minerals, like magnesium or calcium, dissolved into it. While beneficial to plants, the old adage "too much of a good thing" is still true here.
You may find that you need to change the soil in your pots more often or occasionally flush the soil with rainwater or bottled water to avoid a buildup of calcium in the soil. If your houseplant prefers acidic soil, you might have to amend the soil to combat the effects of hard water, which typically has a pH that runs basic.
Soft water has its own issues. Typically, soft water has been through an ion-exchange process that leaves the water free of minerals but replaced with higher salt content. Obviously, this can have tremendous effects on plant health, so you may want to invest in a rain barrel or use bottled water on your houseplants.
Regardless of which type of water you choose, it should be room temperature to not shock the plants when watering. Extremely hot or cold water can physically damage the plants and kill their fragile root systems.
---
How to Save Your ZZ From Root Rot
If you fear you have overwatered your ZZ Plant or are seeing some of the signs I mentioned above, you should be on the lookout for root rot, a common issue that often follows periods of overwatering.
Root rot occurs when soggy, overly-wet soil surrounds the root system of your ZZ Plant. Healthy roots need air to survive, and when deprived of it, they tend to die off and begin to rot, which can rapidly spread throughout the rest of the plant.
The only way to confirm if you have any root rot is to remove the plant from its container and brush away all the excess soil to have a clear view of the root system. Healthy roots should be white and firm. If you see any brown, mushy roots, those are rotten and will need to be cleared away.
Step-by-step instructions on how to save your ZZ Plant from root rot are outlined in this article.
It might seem like a drastic thing to put your ZZ Plant through, but root rot must be dealt with quickly before it kills the plant. ZZs are tough and can handle a hard pruning from time to time, so they'll bounce back.
---
Final Thoughts
Sometimes it's hard to comb through all of the plant care advice we have access to these days. Something as simple as watering can seem overly complicated at times. However, my hope is that you've learned that ZZ Plants are fantastic additions to any houseplant collection, and, as long as you understand their watering needs, it's unlikely you'll ever have an issue with them.
Remember that ZZ Plants like to be watered deeply, but only occasionally. Check for dry soil before watering again and make sure your plant has porous soil and sufficient drainage. As long as you meet these requirements, you'll be rewarded with a happy, healthy ZZ Plant for years to come.