ZZ Plants (Zamiifolia Zamioculcas) are loved by many because of their low maintenance, easy to follow care routine. These plants can thrive in almost any environment from sitting near a bright, sunny window to living in an office with little light. But there is a silent killer among these beloved plants: Root rot.
How can you save a ZZ Plant from root rot? Take the plant out of its container and gently remove as much soil as possible from around the roots and rhizomes. Cut back any root or rhizome that is brown and mushy instead of white and crisp and consider watering your plant less moving forward.
Because root rot happens under the surface of your ZZ Plant, it does not announce itself loudly upon arrival. Oftentimes the only way to know your plant is suffering from this ailment is by noticing the effect it has on the upper part of the plant. If you are able to catch the problem soon enough, you may be able to save your ZZ Plant.
---
What is Root Rot? Why Does It Happen?
Root rot is exactly what it sounds like: rotting roots. It is almost always a result of overwatering your ZZ Plant and if left unchecked will send it to an early grave. Unfortunately, sometimes a ZZ suffering from root rot cannot be saved. Because the first symptoms are happening underneath the soil, most of us don't even begin to check for the issue until it has become a major problem
Root rot is caused by one of two things: constant overwatering or fungi in the soil of your houseplant. Fungi can lie dormant in your soil for a long time. Once the plant has been overwatered once or twice, the fungi comes to life, taking over the root system of your ZZ Plant. Both lead to the rotting of your ZZ's roots and both will kill your plant if not addressed.
---
Why Too Much Water Is Bad for Your Zamiifolia Zamioculcas
Plants need three basic things to survive: light, oxygen, and water. However, too much of any of those components can harm your plant, with overwatering definitely being the most common cause of problems.
When you give your ZZ too much water, the soil stays wet all of the time, which has a major effect on the root system. Over time, roots that are too wet no longer absorb oxygen and literally drown. Once they've become damaged, they won't be able to send water to the rest of the plant efficiently. If not corrected quickly, your ZZ Plant will die.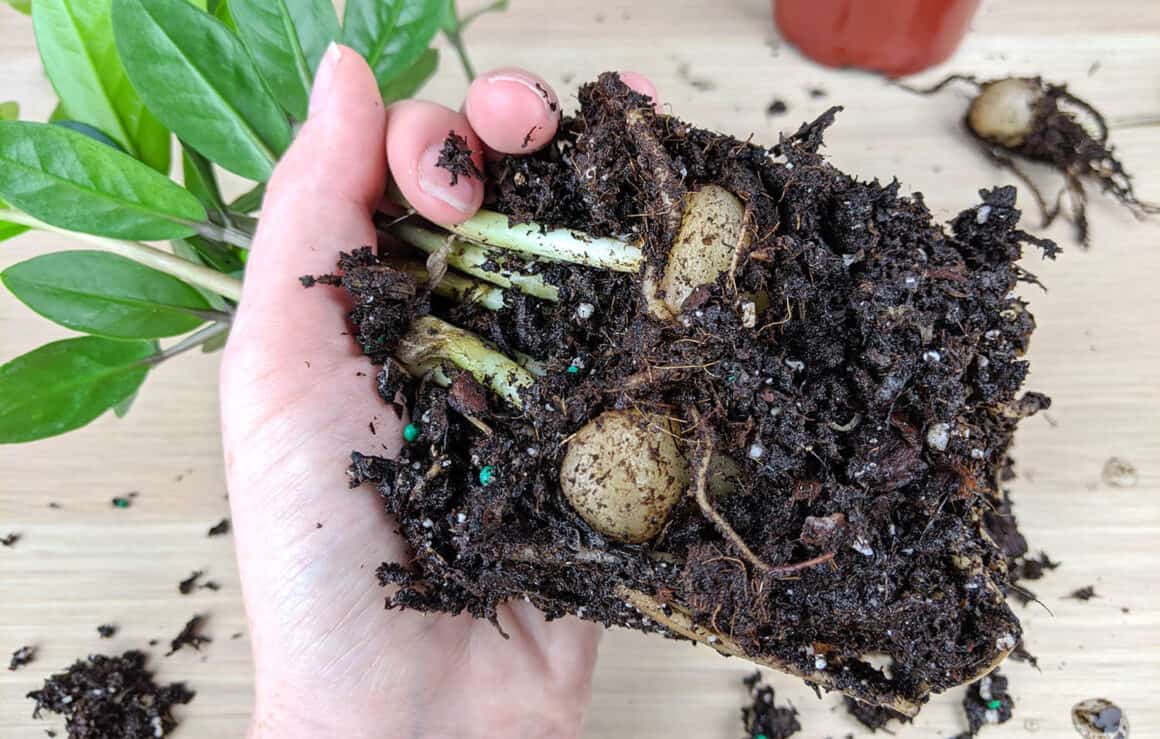 ZZ Plants have large rhizomes under the soil. These rhizomes look similar to bulbs but are actually quite different (more on that here). They serve as a sort of underground reservoir that stores the water your ZZ Plant needs. Because of this, your plant can actually go for quite some time without you adding any additional water.
Your ZZ should only be watered when the top inch or two of the soil is completely dry. I always check by inserting my finger into the soil and feeling for moisture. For a more scientific approach, you can purchase a simple moisture meter and check the moisture levels in your soil. When in doubt, always wait an extra day or two before adding more water. Underwatering a ZZ is much better than overwatering it. 
In addition to adding too much water to your plant, overwatering can occur when the soil cannot drain quickly. This is either the result of using an incorrect potting soil or a planter without a drainage hole. ZZs should be planted in a quick draining soil (I suggest half regular potting soil and half cactus or succulent blend) in a container that will allow the excess water to flow out through the bottom.
For more information on the best practices for watering ZZ Plants, read this article.
---
Above Ground Signs of Root Rot
The most common sign of root rot in ZZ Plants is discoloration. ZZs that have damaged roots lose their deep green color and instead start to fade from pale green to yellow before the leaves fall off and die.
Soft or drooping ZZ stems is also a symptom of root rot. You should note that some drooping occurs naturally as your plant grows larger and starts to spread out. However, if all of your stems are soft and drooping, you'll need to check under the surface for root rot.
Lastly, if you see mold or algae around the base of your plant or you smell a musty smell in the soil, your plant is probably suffering from root rot. To further determine the status of your roots, you'll need to take a look underground.
---
READ OUR EBOOK
Keep Your ZZ Happy With Our Guide
ZZ Plants are tough. They can survive a range of conditions and require little input from us. But if you want your ZZ to thrive, you'll need to know a thing or two about what they need and love. Get our 80+ page care guide and you'll be on your way to a very healthy houseplant.
GET YOUR COPY NOW
---
Underground Signs of Root Rot
Roots that are healthy are white and crisp while roots that have been affected by root rot are gray, brown, or black and slimy/mushy. If the roots on your ZZ Plant are less than healthy, they are most likely casualties of root rot.
Rot can also be identified by smell. If the surface of your plant is not smelly, but once you've removed it from its container and you're noticing a foul, musty odor, you probably have a root rot problem.
If you are noticing any of these symptoms in your ZZs root system, you need to act as soon as possible. The best chance at saving a ZZ Plant from root rot is to solve the problem quickly.
---
How to Check Your ZZ Plant for Root Rot
To be certain that it is indeed root rot that you're dealing with and to assess the severity of the problem, you'll need to take a look at the roots of your plant. Don't worry, this is a pretty straight-forward process.
To check the roots, the first thing you'll have to do is remove your ZZ from it's container. While ZZs are hardy plants, they can be damaged by handling them too harshly. To grab a ZZ by the stem and try to yank it from its container will most likely break or damage the plant.
Instead of pulling the ZZ up, flip your container over and slide the plant out while it is upside down, using your other hand to support the main portion of the plant. If your plant is not budging when you flip it, you can either tap or squeeze the sides of the container or use a butter knife to slide around the inside edge of the container before flipping it and trying again.
To see the roots more clearly, gently run the root system under warm water in your sink and remove as much soil from the roots as possible, while being very careful not to damage the roots. If the roots are brown, gray, mushy, or slimy instead of white and crisp, you have a root rot problem.
Another thing to check is the condition of the rhizomes on your ZZ Plant. These ZZ rhizomes (which look similar to bulbs) act as a reservoir for your ZZ, holding the water and nutrition a ZZ needs. Rhizomes should be white and crisp like healthy roots. A brown or mushy rhizome is a casualty of root rot.
Note: Handling ZZs can cause irritation to your skin. If you have sensitive skin, you may want to consider wearing gloves to handle your plant. At the very least, you should always wash your hands and avoid touching your face after handling your ZZ Plant. For more info on ZZ toxicity, read this article.
---
Steps to Recovering ZZ Plants from Root Rot
To give your ZZ Plant the best odds at recovering from root rot, you'll need to do some serious pruning to the plant and the roots. I've listed out the steps below that you should follow to try to save your plant.
As I said before, sometimes even our best efforts at reviving ZZs are not successful. You should know that depending on how much of the root system is affected, you may or may not be able to save your plant.
---
Step 1: Remove Your ZZ From Its Container & Rinse Off the Roots
Even though I just discussed this, I want to repeat it for those of you who, like me, just scroll down to the steps portion of a blog post. If you've read the entire article you can skip on to the next step. Otherwise, read on.
Removing your ZZ from its container should be done gently as using excessive force will often damage or break the plant. To remove your ZZ, use one hand to support the stems of the plant and flip the container upside down, gently sliding it out. If it is not budging, consider running a butter knife along the inside rim of the pot to loosen its grip.
Once your plant is out of its container, you'll want to get the best possible view of the roots. To do this, remove as much soil as you can from the roots by gently using your fingers while running the root system under room temperature water. Once most of the soil is gone, you'll be able to see best for what comes next – pruning back dying roots.
---
Step 2: Prune Back Damaged ZZ Roots
If you examine your roots and find that they are black, brown, mushy, or slimy, these roots will need to be pruned immediately to allow your ZZ the best chance at survival.
When doing any type of pruning, it is important to make sure the tools you use are sharp and clean. I like to think of pruning a houseplant like surgery, and I treat it with the same seriousness. I always wash my tools before and after I prune and make sure that any cuts I create are clean and quick, the opposite of sawing and jagged.
To prune your ZZ's roots, you'll need to use your knife or scissors to remove any of the roots that are not healthy, even if that includes most of what is available to the plant. Remember, once a root has died it will never "come back to life." By removing dying roots, we can give ZZs the best shot at growing new ones.
In addition to pruning roots, rhizomes that have become brown and mushy will also need to be removed as well. Again, remember to use quick and clean cuts. Jagged edges are not good for your ZZs roots or rhizomes.
---
Step 3: Find a New Pot or Clean Your Old One
Once you've pruned back your roots and rhizomes, you should not immediately plant your ZZ back into the same pot. Fungus can cling to your pot and replanting in it without cleaning it first will often reintroduce the problem you're working to solve.
To clean a pot, I always use a mild bleach solution of one part bleach to ten parts water. Once you've scrubbed the pot thoroughly, you'll want to let it dry. While you're waiting on your pot to dry out completely, you can leave your ZZ out on a baking rack or tray.
It is important that ZZ Plants be potted into containers with a drainage hole at the bottom. If the pot your ZZ was originally planted in did not have a drainage hole, it may have contributed to the root rot issue. ZZ soil needs to be able to drain and dry out between waterings and pots without holes in them often cause the plant to sit in overly wet soil for long periods of time – hence the root rot.
---
Step 4: Throw Out Old Potting Soil and Replant
Once you've pruned your ZZ roots and rhizomes and cleaned out your pot, you're ready to replant your ZZ.
I recommend throwing out all the old potting soil that was in your container and not reusing any of it. Especially if your root rot was caused by fungus, replanting in the same soil can repeat the problem or make it impossible for your ZZ's root system to heal.
To facilitate quick draining for your ZZ, you'll need to choose a soil that is light and allows water to run through it. Most people find that a mixture of half regular potting soil and half cactus/succulent blends are just right for ZZs.
Once your plant has been repotted in a proper container with the correct type of soil, you'll need to water it lightly. Now it's time to do some slight pruning to the top of the plant.
---
Step 5: Remove Dead Leaves and Stems
Once a stem or leaf has turned yellow or brown on your ZZ, the leaf needs to be removed as there is no chance of it returning to its former glory. In most cases this can be done by simply pinching the yellow or brown leaves off at the base close to the stem or pulling the stems gently from the soil. If you would prefer to use scissors to prune back these leaves, be sure to use a clean and sharp pair.
Once you've removed the dead stems and leaves from your ZZ, you should leave it in a shaded area for a few weeks to allow it the best chance of bouncing back from this stressful situation.
---
Step 6: In Extreme Cases, Cut Back Most of the Leaves
If nearly all of the roots and rhizomes of your ZZ have been affected by root rot, you'll need to take more drastic measures to give your plant the best odds. Truthfully, plants that are severely damaged by root rot seldom recover. But you've come this far, you should give it your best effort.
To free up as much of your plant's energy as possible to allow it to begin to regrow new roots, you should remove any stems that are soft or appear slightly unhealthy leaving your plant only about ⅓ of its original size.
Be sure to clean your scissors in between pruning the roots and stems as the roots could be contaminated with fungus that you don't want to transfer to your leaves. To clean your scissors, you can either use rubbing alcohol or a mild bleach solution (one part bleach to ten parts water).
---
Afterwards: Avoid Fertilizer Until New Growth Starts to Appear
If you are in the habit of fertilizing your ZZs, you'll need to refrain until after new growth starts to appear in your plant. Fertilizer can burn roots, especially those that are sensitive from recent pruning, and should not be put onto ZZs who've just gone through these steps to be saved from root rot.
---
Afterwards: Go Easy On the Water
The most likely reason that your plant has suffered from root rot is that you've overwatered it. Whether that has been from adding too much water or planting in the wrong soil or container, if you don't remedy the initial cause, you'll have this problem again in the future.
Remember that ZZs only need to be watered once the top inch or so of soil is completely dry. These hardy plants can go for quite some time without being watered. For more info on watering ZZs, read this article.
---
When All Else Fails, Propagate
If all of these steps are not enough to save your ZZ, you may want to remove the healthy stems and leaves that are left and propagate them to create a new plant. However, you should know that ZZ plants grow incredibly slowly and it could take months to a year before you see any new growth on the surface as they form their rhizomes underground before they push any new leaf growth.
ZZs can be propagated in many ways, but two of the simplest are to put the leaves directly into soil or root the stems in water. I'll briefly explain each option below.
To replant a healthy ZZ leaf from your plant, you'll need to pull it gently off the stem and plant it at an angle into some quick-draining potting soil (like succulent and cactus blends). It could take up to a year before you notice anything happening with the leaf as they grow roots and rhizomes first under the ground before producing new leaves or stems.
To replant a healthy ZZ stem, clip the stem at the base and let it callous over for a day or two. When the bottom has dried over, insert the tip of the stem into a bottle of water. After two or three months, you'll begin to see roots and a rhizome develop on the tip. Once you have roots about an inch or two long, your ZZ stem is ready to be planted in soil.
There is no guarantee that each leaf or stem will grow roots so it is best to take multiple cuttings to increase your odds. If you don't think your ZZ can be saved from root rot, pull all the healthy leaves and stems off and propagate them.
This was a brief overview, but we have another article that goes into extensive detail about propagating ZZ Plants. For more information, find that article here.
---
Don't Forget to Wash Your Hands
ZZ Plants produce a compound called calcium oxalate which can cause irritation if it gets onto your hands or face. This compound is mostly found in the sap of the plant which resides inside the stem. If you've been handling the stem or roots of your ZZ, there is a chance that you've been exposed to this compound.
To minimize the chance of irritation to your skin, you should always wash your hands after touching your ZZ Plant. If you have sensitive skin, you should consider wearing gloves while handling your ZZ leaves, stems, and roots.
If you've made it to the end of this article, I want to offer you a bit of encouragement! Saving ZZs from root rot can be a bit scary, but in my opinion, it's always worth the try. Even if your current plant is beyond saving, you can always remove the healthy parts and propagate. Good luck to you my friend! May the odds be ever in your favor!
---
For More Help With Your Ailing ZZ
Have more questions about what is wrong with your ZZ Plant? Want to know what you can do to keep it happy and healthy? Grab our latest book, Caring for ZZ Plants, and get all that and more.
Our eBook covers:
How Toxic Are ZZs Really?
What Is a Rhizome and Why Do ZZs Have Them?
Proper Watering Techniques and Light Levels
Tips for Fertilizing ZZ Plants
The Most Common Reasons for Pruning Your Plant
Step By Step Instructions for Repotting ZZs
How to Propagate ZZs from Stems, Leaves and Rhizomes
Help Diagnosing Unhealthy Plants and How to Treat Them
And More!
If you've got more to learn, grab a copy of our book today and get your Zamiifolia Zamioculcas back on track. Get your copy now!