My ZZ Plants (Zamioculcas Zamiifolias) are quickly becoming my favorite houseplants. They bring bright foliage to a dark room, grow three to five feet in height, and take very little maintenance. A little bit of water and a little bit of light goes a long way with a ZZ. But if you're like me, sometimes you might get a little overexcited and give the plant more care than it needs. If you're in that boat, what should you do?
How can you save an overwatered ZZ Plant? Saving ZZs starts with allowing the plant to completely dry out. Once it's dry, prune back dying leaves and stems, and repot it in new soil into a pot with a drainage hole. If the roots or rhizomes have begun to rot, you'll need to follow additional steps.
If you've noticed yellowing stems or leaves on your plant, or droopy stalks that will no longer stand up, odds are that you've overwatered your ZZ. Depending on the extent of the damage done to the root structure of your plant, you may be able to save it and help return it to its former glory. But be warned, it is possible that your plant won't recover. Extremely overwatered houseplants can rot from the bottom up. When that happens, it may be too late to save your usually indestructible ZZ.
---
The Problem With Overwatering ZZs
Many new houseplant owners fear that they will kill their plants by forgetting about them, or not giving them everything they need. The issue is that they overcompensate and, in the end, kill their poor plants with kindness instead.
Most house plants, ZZs included, need a lot less water than we think they do. In fact, ZZs need even less water than the average indoor plant because of the underground reservoir they use to store water and nutrients for themselves, but more on that in a minute.
When we give too much water to our beloved houseplants, we drown them. This seems backwards, I know. Plants need water. Roots were designed to absorb water. And that's true, but only to a point.
When roots have been soaking in water for an extended period of time, they become overly saturated and drown, meaning they can no longer absorb oxygen, nutrients, or ironically, water. When they cannot absorb what they need from the soil, the whole plant suffers, resulting in yellow or brown leaves and stems and eventually rotten roots and rhizomes.
---
What's Going on Under the Surface of Your ZZ?
I see this question a lot: Do ZZ Plants have bulbs? If you've done any digging under the surface of your plant, you've probably noticed the large bulb-like structure beneath the soil. These are not actually bulbs (if you want to see the differences between roots, tubers, and rhizomes, read this article) but are rather a storage system your plant uses to put away what it needs for later, called a rhizome.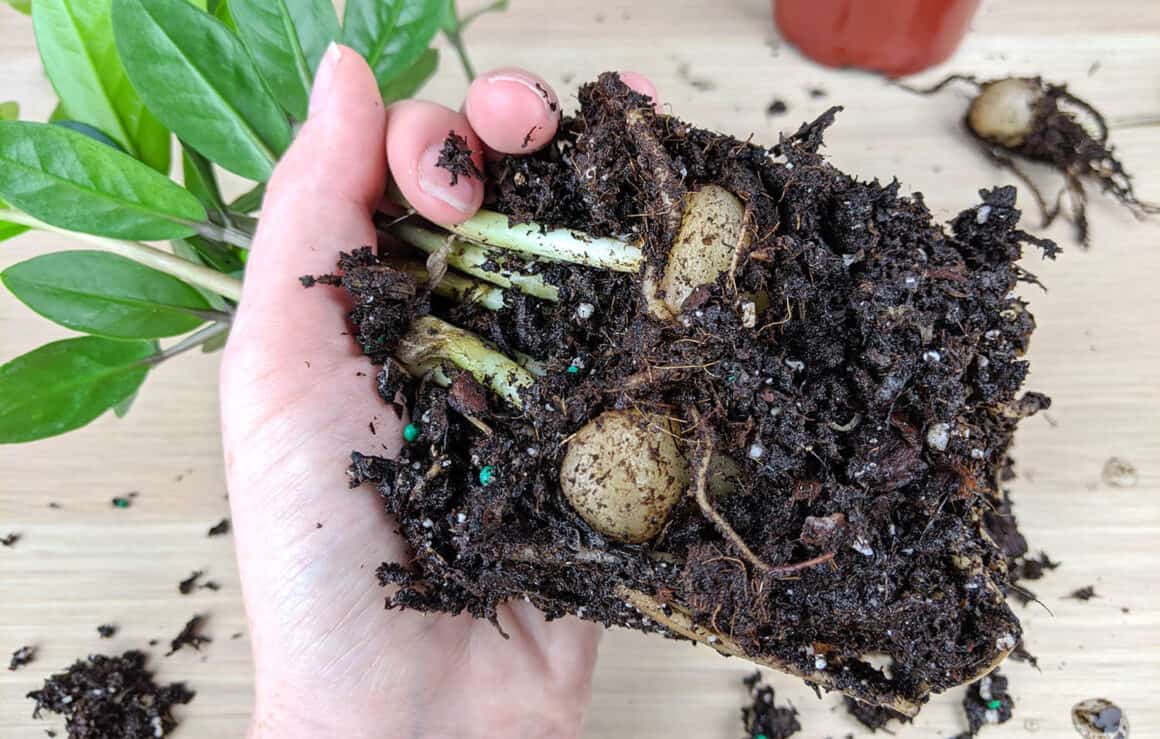 These rhizomes are part of what makes ZZ Plants so indestructible. When ZZs are fed and watered on a healthy schedule, these rhizomes store up food and water which will slowly release to the plant as needed. ZZs are extremely drought tolerant because of this ability.
Normally, these rhizomes are hard a white, but can become mushy and brown when overwatered. In order to know how deep the overwatering problem goes, and before I can tell you what steps to take, you'll need to take a good look at the roots and rhizomes of your ZZ.
---
Assessing the Damage: How Bad Is It?
When deciding what to do about your overwatered plant, you'll need to do a little digging *pun intended* to see how severe the issue is. If you've just started noticing drooping or yellowing leaves and stems, hopefully, you've caught the problem in time.
To investigate, you'll need to first remove your ZZ Plant from its container. The leaves and stems of your plant can clue you in on what is going on under the soil, but you'll need to see it for yourself to really know what steps to take.
Rather than pulling up on the stems of your ZZ, remove it from its pot by flipping it upside down and letting it fall out into your hand. If your plant isn't budging, try running a butter knife around the inside edge to separate the soil from the pot and try again.
Once the ZZ is out of the container, check for signs of rot in the roots and rhizomes. If you can't get a good look, use your fingers or gently rinse the base of the plant under water to remove as much of the soil as possible. Then take a closer look at the roots and rhizomes to assess the damage.
Healthy roots and rhizomes are crisp and white. Ones that have begun to rot are brown, gray, and mushy. If you're seeing any of these signs of root rot, the steps you'll want to take are slightly different than the ones I'll list here. I've written a different article outlining those steps. To read about saving a ZZ from root rot, click here.
If you don't see any signs of root rot, but can see that the soil is saturated, read on and follow these steps to help dry out your plant and keep this from happening again in the future.
---
READ OUR EBOOK
Keep Your ZZ Happy With Our Guide
ZZ Plants are tough. They can survive a range of conditions and require little input from us. But if you want your ZZ to thrive, you'll need to know a thing or two about what they need and love. Get our 80+ page care guide and you'll be on your way to a very healthy houseplant.
GET YOUR COPY NOW
---
Dry Out the Plant Completely Before Watering Again
This may seem like a no brainer, but it's the most important step. If you do not let the soil dry out between waterings you will have a root rot issue on your hands in no time.
Before I ever water my ZZs, I like to check the soil first. Even if the top two inches of soil is completely dry, I usually still wait another 2-3 days before watering. In some cases, I check the moisture level with my finger by inserting it down into the soil and checking for dampness, but I also have a moisture meter that I like to use, especially on plants that are prone to overwatering, like ZZs.
If your plant is extremely wet, you'll need to help it dry out. To do this, gently remove the plant from its container and set it on a baking rack. This will greatly speed up the time it takes for the soil and root ball to dry out. Once it is completely dry, there are a few more steps you'll need to take to keep this from happening again.
---
Prune Out Dead Leaves and Stems
Those yellow or brown leaves and stems will not serve your plant any more. In fact, oftentimes dying plant matter is consuming energy from our plants that they could be using to start new growth or recover from stress, like overwatering.
To prune, use a sharp and clean knife or scissors and remove leaves at the base, close to the stem and stems at the base, close to the soil. Sometimes, when the overwatering has reached the rhizome of a certain stem the whole piece will come up cleanly with an easy tug. Don't force it though, if the plant has a good hold on the ground, just use your knife or scissors to clip it at the base.
You should note that the sap within the stalks of a ZZ Plant can irritate your skin. For this reason, you may want to consider wearing gloves while pruning your plant, or, at the very least, washing them thoroughly after you're finished and avoid touching your face and eyes. For more information on this, click here to read an article on ZZ toxicity.
---
Water Less
Water your plant less in the future. Again, this sounds simple, but it is important. Remember that your ZZ has an underground reservoir full of water and nutrients, so it doesn't need a ton of input from you.
When the soil is dry, water it again, but not before. Use your finger to check for moisture in the top two inches of soil, or invest in a moisture meter and know for sure. 
---
Choose A Different Potting Soil
When it comes to overwatering, sometimes the answer is as simple as "water less", but other times there are more factors at play. Overwatering usually occurs in one of three ways: giving your plant too much water, choosing the wrong potting soil. or choosing the wrong pot (the latter two lead to poor drainage for your plant,keeping it wet for too long between waterings.)
The best potting soil for ZZ Plants is one that drains quickly. When making a selection, think about using a premixed blend for Cactus & Succulents. These blends are formulated to drain quickly and keep plants from sitting in water for too long, which makes them excellent choices for ZZs.
If you prefer a more hands on method, mix your regular potting soil with perlite, vermiculite or sand to increase its drainability and keep your ZZ happy in the future.
Worried your potting soil isn't allowing the proper amount of drainage? Replant your dried ZZ into a new soil designed to drain more quickly.
---
Choose A New Container
The other aspects of overwatering have to do with the container you plant your ZZ into. A container without a drainage hole or one that is too large will retain too much moisture after each watering and eventually harm your plant.
When picking the right container, you will want to choose one that has at least one drainage hole drilled into the base. This will allow excess water to flow from the soil after each watering and keep your plant from sitting in standing water.
Also, you'll want a pot that is the proper size. Planters that are too small don't allow enough room for your plant to grow, while ones that are too large take too long to dry out between waterings. Choose a pot that will allow only about one to two inches of soil surrounding the plant.
For more information on the best pots and soils for ZZ Plants, click here.
---
When It's Too Bad: Propagate and Restart
Sometimes the issue seems too big and you don't want to deal with it. In those instances, save what you can save. Healthy stems and leaves can both be propagated to start a new and healthy ZZ Plant. But remember, those yellow and dying pieces won't do any good. You'll need to pick the healthiest parts of your plant to propagate and restart.
For more information on taking ZZ cuttings and propagating them, read this article which goes over all the options you have to restart your ZZ Plant.
---
Need More Help With Your ZZ?
Have more questions about what is wrong with your ZZ Plant? Want to know what you can do to keep it happy and healthy? Grab our latest book, Caring for ZZ Plants, and get all that and more.
Our eBook covers:
How Toxic Are ZZs Really?
What Is a Rhizome and Why Do ZZs Have Them?
Proper Watering Techniques and Light Levels
Tips for Fertilizing ZZ Plants
The Most Common Reasons for Pruning Your Plant
Step By Step Instructions for Repotting ZZs
How to Propagate ZZs from Stems, Leaves and Rhizomes
Help Diagnosing Unhealthy Plants and How to Treat Them
And More!
If you've got more to learn, grab a copy of our book today and get your Zamiifolia Zamioculcas back on track. Get your copy now!