ZZ Plants (Zamioculcas zamiifolia) are a wonderful option for a plant enthusiast of any skill level, due to their low-maintenance qualities. But when you're picturing that perfect spot in your home, you may wonder how much space this plant will take up.
How big will a ZZ Plant grow? Like any plant, the conditions it is exposed to determine how big a ZZ Plant will grow. With proper care and the ideal environment, you can expect a ZZ to grow 2 to 3 feet tall and wide, and sometimes even up to 5 feet!
Many factors determine how big a ZZ Plant will get. By understanding how the plant grows and what is needed for it to thrive, you can encourage your plant to either push growth or stay small to fit your space.
---
How Big Do ZZ Plants Grow? How Fast Do They Grow?
ZZ plants are always a popular choice for a houseplant collection because they truly are easy to care for. They are somewhat of a "set it and forget it" plant, in that they can stand being ignored or forgotten by their owner for weeks at a time without the loss of even one leaf.
However, if the goal is to get your ZZ to grow to its full potential, you need to pay it the same love and attention you give to the rest of your houseplants. There are some key inputs that, if provided for, will keep your ZZ growing and thriving for years.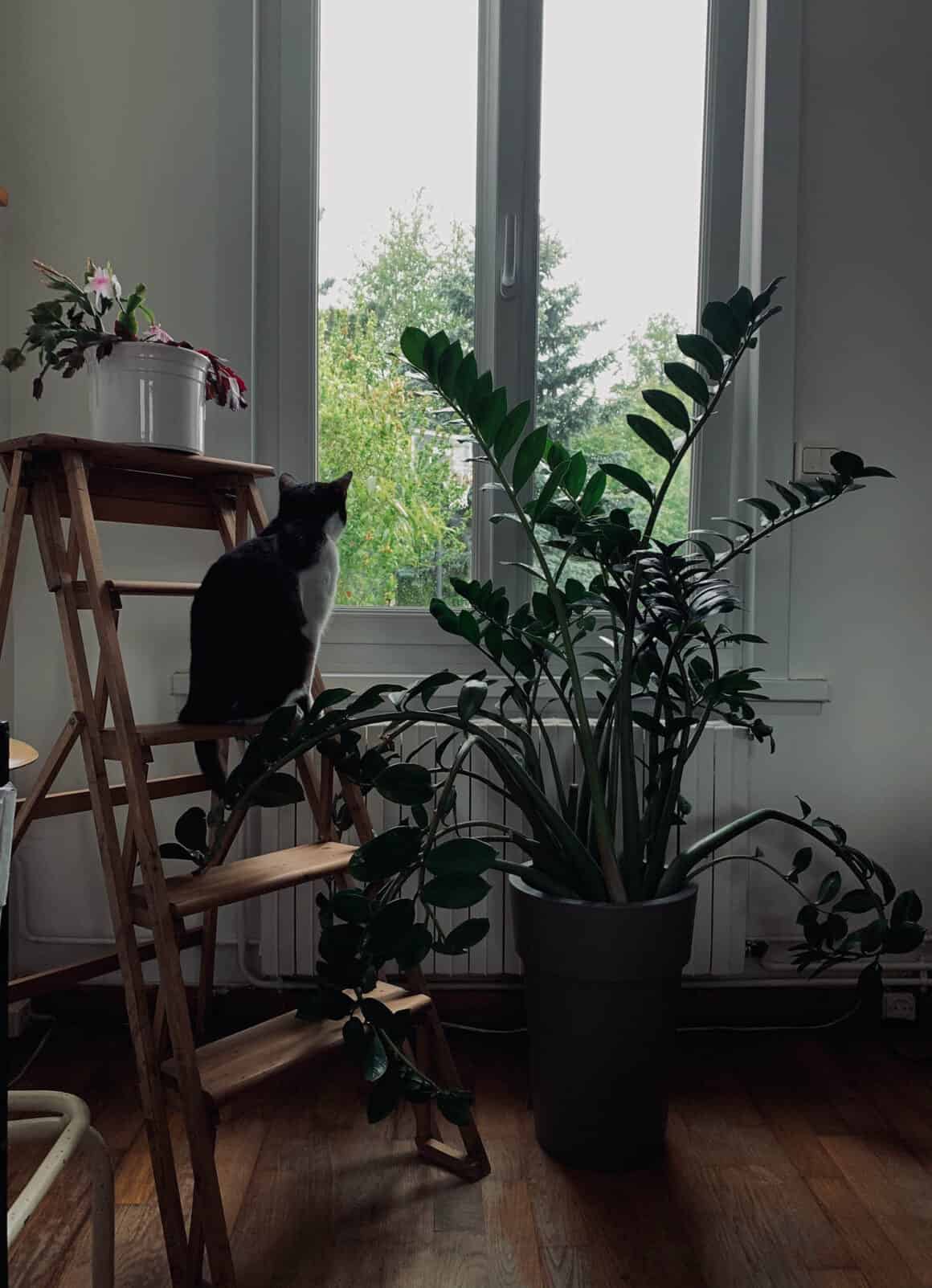 So, just how big do they grow? Well, the easy answer is that your ZZ, with proper care, will eventually grow 2-3 feet tall and wide, sometimes even up to 5 feet tall. Sounds good, right? Well, the more truthful (and unsatisfying) answer is, "It depends." I know, I know…you want a definitive answer. But, hear me out.
ZZ plants are not fast growers. Typical growth can be anywhere from 12"-16" in a season (rare) to just a couple inches or no growth at all (much more common). This variation in growth rate has to do with a number of factors which, when correctly accounted for, tend to push more growth in the ZZ Plant, and when ignored, slow it down tremendously.
The good news is that these factors are easy to manipulate, and by doing so, you have the ability to control the amount of growth your ZZ Plant produces.
---
Factors that Affect Your ZZ Plant's Size
The idea of controlling the amount of growth your ZZ Plant puts out might seem like magic, but it's actually quite simple. By manipulating a few variables in your plant care routine, you can effectively promote or discourage your ZZ Plant from producing new growth. Here's what you should be paying attention to:
Light Levels – Sunlight is one of the most important factors in promoting plant growth. Photosynthesis is the process that converts nutrients into usable energy for the plant to build more tissue, so when light is limited, growth is slowed down.
Nutrition – Another obvious variable that has an effect on growth is proper nutrition. Just like we need to fuel our bodies with the appropriate foods to grow big and strong, plants need certain nutrients to flourish. It's easy to forget about fertilizing your houseplants, especially ones like the ZZ.
Water – A tale as old as time: You don't water your plant, it dies. Pretty straightforward. Keeping your plants well-watered will keep essential cellular functions working and promote growth. Plot twist! Water too much and you may kill your plant. So, knowing what your ZZ Plant's water requirements are is essential before using this variable to manipulate growth.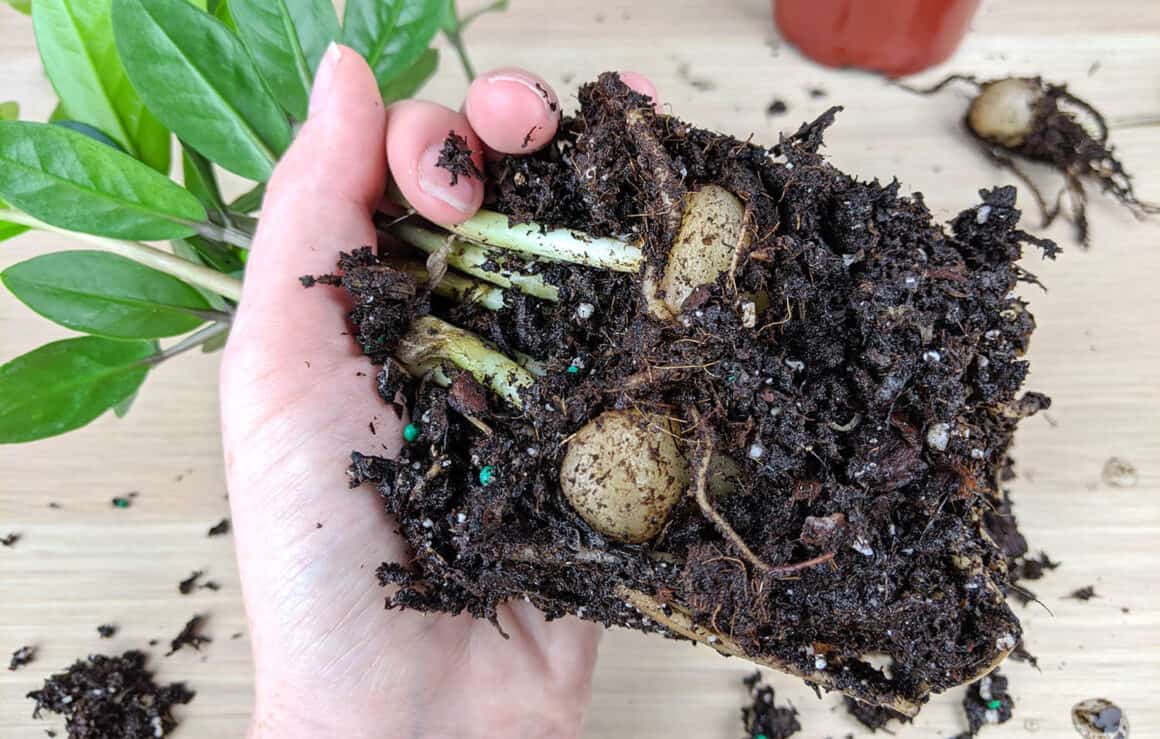 Rhizome Size – ZZ plants grow from rhizomes (big, potato-like root structures that store water and nutrients). As the plant ages, the rhizomes grow bigger and start filling up the pot. Eventually, the rhizome will grow too large for the pot and growth will be hindered.
Temperature – How hot or cold your house is can have an effect on how your plants grow. Your ZZs have optimal growing temperatures that, when met, will promote more growth. However, because most of us have our own preferred temperature, this variable is typically one we don't often utilize to control growth.
---
How to Make Your ZZ Plant Grow Bigger, Faster
Knowing the factors that are key to a ZZ Plant's growth is an important first step to getting your ZZ to thrive in your home. If you are hoping to eventually have a full-sized ZZ all your friends can "ooh and aah" over, make sure you are giving it what it wants.
Up the Light – ZZ Plants love bright, indirect light, so pull it out of that dark corner and give it a prime spot in your home.
Fertilize Your ZZ – Giving your ZZ a dose of a balanced, liquid fertilizer (20-20-20 works well) every so often to ensure it has all the building blocks it needs for growth. I always recommend diluting fertilizers to half strength for houseplants.
Figure Out the Best Water Schedule – Get your watering schedule just right. ZZ Plants can go weeks without water, but that's just to survive. Keep a regular schedule, allowing the soil to dry out in between, and keep your ZZ hydrated. Careful, though! Overwatering is a common mistake and can hinder growth, so cut back if you notice any rot or yellowing leaves.
Give It Room – If you notice your ZZ Plant's rhizomes are too large for the pot or crowded, it might be time to pot up to a larger size or divide the plant to allow ample space for the root system.
Keep It Warm – ZZ Plants prefer temperatures between 65°F-75°F, and can be stunted from temperatures below 45°F. Be sure not to place your ZZ too close to an AC vent or allow the nighttime temperature in your house to drop too low.
These simple changes will have the biggest impact on the growth of your ZZ Plant and will encourage it to reach its full size. Remember, though, ZZ Plants are slow growers by nature, so even with these tips, you may only witness moderate growth. Your ZZ will get there eventually, but it may take longer than you think. If you have a ZZ that isn't growing as fast as you think it should, read this article for tips to get it growing again.
---
The Opposite Approach: How to Keep Your ZZ Plant Small
Consider the opposite scenario. What if your ZZ Plant is just the perfect size and you want it to stay that way forever? It is possible to discourage growth from your ZZ Plant, but you have to be mindful of how you do it.
In theory, doing the opposite of all the growth tips above would definitely discourage your ZZ Plant from growing, but it also looks a lot like plant neglect, and the goal here is not to kill the ZZ. So, we have to tweak our care approach a bit.
You'll still want to water the plant properly, as over- or under-watering can cause health issues and encourage disease. Same goes for feeding. Plants use nutrients and minerals for other things besides growth, so starving them compromises their wellness. However, here are a few things you can do to control your ZZ plant's growth:
Reduce the Light – ZZ plants do love that bright, indirect light, but can handle a wide range of light exposure. By keeping them in a darker corner or room, you can discourage growth and still keep them happy.
Divide Your ZZ – If your ZZ plant is getting a little out of control, the solution might be as simple as dividing up the rhizomes into new pots. This is often a short-term solution to controlling size until the plant gets established in its new pot and starts to grow again.
Prune It Back – ZZ plants are perfectly accepting of the occasional pruning. You may notice that a stem or two are growing faster than the others, leaving you with an uneven look. You can simply cut them down to size using a sharp, clean pair of shears or scissors. For more information on pruning ZZs, check out this article.
---
Final Thoughts
ZZ Plants are definitely not the fastest-growing houseplants out there, but by learning about how they grow and what conditions they prefer, you can easily manage the size and height of your ZZ. Proper care and paying attention to the things you can control will have your ZZ thriving in your home for many years to come.